The entire community is invited to join Central and East Contra Costa County Ceasefire who will be hosting a Nightwalk in the City of Pittsburg on Friday at 6:00 pm. The mission is to work on reducing gun violence across the community.
Participants will meet in the parking lot of 60 Civic Ave. Pittsburg, where they will begin a walk into the Parkside neighborhood. Please wear an orange shirt if you have one!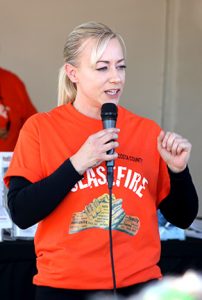 "Our goal here is two fold. One, is to end gun violence and also to heal and strengthen the neighborhoods and families who have already been traumatized by gun violence," said Sergeant Cassidy Wilkerson of Pittsburg Police Department.
Wilkerson explained how this program was not actually a police program being offered, but rather a program that was going to be community driven once it is in place and that the community has the power to ensure it grows and it begins to call for less gun violence.
She said faith based organizations and the community will continue to work together to expand the program and messaging to help take guns off the street.
For more information on the organization, follow them on Facebook.