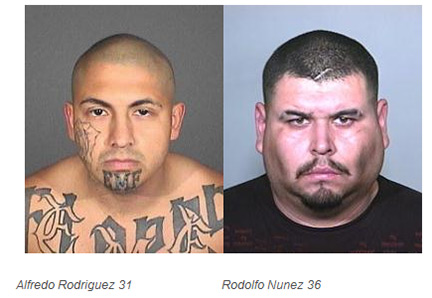 On July 10, 2017, at approximately 11:30 am, Fontana Police Officers responded to the 8200 block of Tokay Ave, in the City of Fontana, reference shots fired.
Upon arrival, victim Kofu Ofakitonga was located with a gunshot wound to his lower extremities. Ofakitonga was transported to a local hospital where he eventually succumbed to his injuries.
Fontana Police Investigations Unit took over the crime scene and investigation and were able to learn of a suspect vehicle that was seen driving away.
After nearly three weeks passed, a Fontana Police Officer on patrol located the suspect vehicle being driven by one of the suspects. Fontana Detectives worked diligently to identify suspect one, Rodolfo Nunez 08-18-1980 of Fontana, who was currently on felony probation for robbery. Also identified was suspect two (the suspected shooter) Alfredo Lucio Rodriguez 07-31-1986 of Fontana, who is currently on active PRCS for felony auto theft.
It is believed on the morning of 7/10/2017, Nunez and Rodriguez were driving in the area of the 8200 block of Tokay Ave. when they were littering in front of the victim's residence.
Both suspects got into a verbal altercation with the victim who confronted them about the littering, which eventually led to the deadly shooting.
On August 7, both suspects were arrested without incident and charged with PC 187, Murder.