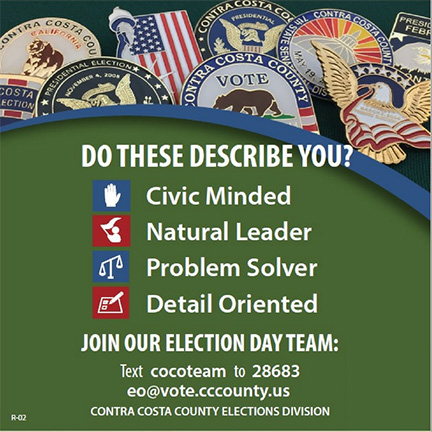 The Contra Costa County Elections Division is looking for civic-minded men and women to volunteer as poll workers on Election Day.
A poll worker must be 18 years old, a U.S. citizen, and a registered voter in California. Non-citizens with permanent resident status who would otherwise be eligible to vote also are allowed to serve as poll workers.
Election Day can be long (14+ hours), busy, and occasionally stressful. To serve on Election Day a poll worker must:
Attend training.
Have a reliable email address that is checked regularly.
Be able to lift 25-50 pounds.
Be in good physical condition that allows sitting and/or standing for long periods of time.
Be able to follow written and verbal instructions.
Have reliable transportation to training class and to the polls on Election Day.
To find out more about providing this vital service for democracy and to sign up, go to https://www.cocoteam.us/PollWorkerReview.aspx.