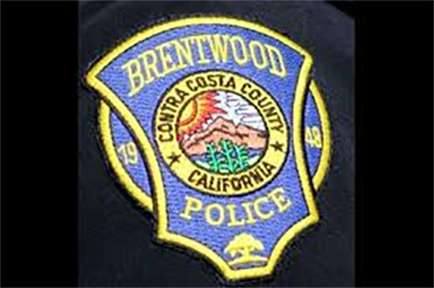 Here is a look at a sampling of the Brentwood Police Call logs between April 17-26 according to their call logs–the sampling is focused on the higher priority calls.
Auto Burglary
4/18 – Sand Creek Rd: POSS VEH BREAK IN – RP SAWS SUBJS IN A UHUAL NEAR THE VEH THEN SAW THE WINDOW SMASH
4/20 – Balfour Rd: . VEH BROKEN INTO – W/I LAST 2 HOURS, UNK HOW VEH WAS ACCESSED, TAKE: TRANSPONDER, ALSO ITEMS FROM TRUNK, OTHER MISC ITEMS
4/25 – Lone Tree Way: OCC ON TUESDAY 4/24 BTWN 1740 AND 1820HRS/SMASHED REAR DRIVER SIDE WINDOW/ LOSS: YEL BACKPACK W/SCHOOL STUFF AND HOUSE
Burglary – Commercial
4/19 – Lone Tree Way: OCC AROUND 0400***TOOL RENTAL CAGE UNK WHAT WAS TAKEN, MRG WILL BE STANDING AT PRO DESK
Burglary – Residential
4/21 – Chestnut St.: OCC SOMETIME IN THE PAST WEEK**SOMEONE BROKE INTO RESD AND TOOK COMPUTER AND JEWELRY. UNK HOW THEY GOT INTO RESD
4/25 – Central Park Pl: . OCCD 0945-1200 HOUR VIA FORCED ENTRY TO SIDE GARAGE DOOR – HOUSE WAS RUMMAGED THROUGH.
Defrauding an Innkeeper
4/23 – Second St: CUSTOMER LEFT WITHOUT PAYING – THE OTHER CUSTOMER THAT CAME WITH HER IS STILL ON SCENE – —RP THINKS SHE IS ALSO GOING TO LEAVE WITHOUT PAYING
Grand Theft
4/26 – Sand Creek Rd: OCC 10 AGO/ NOT WITNESSED/ FRONT TABLE MISSING – APPROX $1800.00 IN MERCHANDIS
Man With a Gun
4/19 – Griffith Lane: MALE GRN SHIRT HOLDING A 9MM.
Outside Assist
4/21 – Summerfield Dr (Antioch) – BURGLARY IN PROGRESS – SUBJ INSIDE AND LOC SURROUNDED – More Info
Petty Theft
4/17 – Dainty Ave: Rear plt taken off the open deck car trailer, entrance for location is through the garage
4/20 – Monte Verde Lane: THEFT OF MAIL. SOMEONE FOUND ENVELOPES ON MARSH CREEK TRL AND RETURNED THEM TO RP HOWEVER ITEMS FROM THE ENVELOPES ARE MISSING
4/20 – Sand Creek Rd: 2 BFA 30'S 2 BFA'S APPROX 19 YO STOLE A BUNCH OF MERCHANDISE ALL WEARING TK SUITS, ASSOC VEH DRK COLORED FORD EXPLORER – REVIEWING VIDEO
4/21 – Brandon Miles Way: WHI SEDAN UNK LIC PLT OCCUPIED BY WFA LT COLORED SHIRT W/ FLORAL PANTS STOLE MAIL, RP'S WIFE GOT INTO A VERBAL ARGUMENT W/ FEM. FEM ADVD SHE WAS FROM USPS EXCHANGING MAIL. FEM TOOK 5-6 PIECES OF MAIL. WHEN RP CHECKED MAILBOX OPENED PIECE OF MAIL ADDRESSED TO A PERSON IN ANTIOCH
4/21 – Lone Tree Way: OCC 10-15AGO**RP ADV HMA TOOK TIP JAR WHEN LEAVING FROM INTERVIEW. RP LEFT ON BIKE
4/22 – Oxford Lane: PACKAGE TAKEN FROM COMMUNITY MAIL BOX —LOOKS LIKE SOMEONE DAMAGED THE ENTRE BOX
4/22 – Second St: SAME MALE THAT WAS REPORTED EARLIER – TAKE 2 BAGS FULL OF ALCOHOL —–LEAVING IN A GRY VEH
4/22 – Solitude Way: . MAIL THEFT —SOME PACKAGES WERE OPENED AND THROWN ABOUT – NEIGHBOR BROUGHT RP HER SOME MAIL THAT SHE FOUND ON THE GROUND
4/22 – Lone Tree Way: BMA STOLE 3 PACKS OF BEER – LEFT IN A BLK SATURN
4/23 – Elkins Way: BOX OF CHECKS WERE SITTING IN THE BUSINESS AND SOME ARE MISSING
4/24 – Lone Tree Way: Brentwood. SUSP IN A BRIGHT BLUE MUSTANG OLDER MODEL —2 MALES.
4/24 – Lone Tree Way: BMA LSW GRY HOODIE AND JEANS – BACK PACK ON THE SIDEWALK – HEADED TOWDS OHARA
4/24 – Brentwood Blvd: 15 AGO.. 2 BMAS CAME IN AND TOOK 6 CARTONS OF CIGARETTES NO WEPS USED. HAS SUBJS ON CAMERA. UNK IF THEY TOOK OFF ON FOOT OR IN A VEH
4/24 – Oak St.: OCCD EARLIER – RP THINKS HER WALLET WAS TAKEN FRM THIS LOCATION EARLIER..IT IS HER BUSN. RP NOW HAS CHARGES IN BRENTWOOD AND REQ PD CONTACT
Suspicious Circumstance
4/26 – Second St: RP'S DAUGHTER WAS WALKING TO WORK AT . HMA 505 WAS FOLLOWING RP. ASSOC VEH TODAY WAS A WHI IMPALA. ASSOC VEH YESTERDAY WAS A BLU FORD ESCORT. RP STANDING BY AT WORK
Vandalism
4/19 – Honeysuckle Ct: HONDA ACCORD – WINDOW SMASHED – NOTHING TAKEN – RP WILL FILE OCR – NO SUSP INFO
4/26 – Jefferson Dr: RP'S SON GRY HONDA ACCORD WINDOW WAS SMASHED