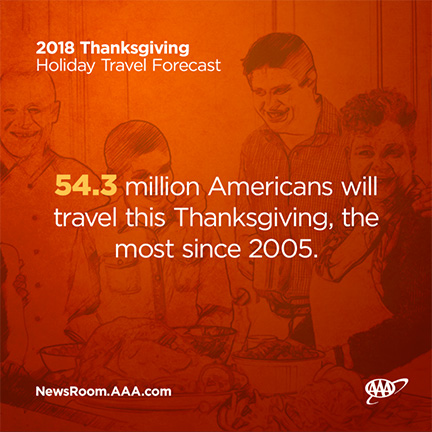 Walnut Creek, Calif. — AAA projects more than 54 million Americans will travel nationwide this Thanksgiving, a 4.8 percent increase over last year. The 2018 holiday weekend will see more than 6.8 million California travelers, up 5.1 percent from last year.
"Consumers have a lot to be thankful for this holiday season: higher wages, more disposable income and rising levels of household wealth," said Michael Blasky, spokesman for AAA Northern California. "This is translating into more travelers kicking off the holiday season with a Thanksgiving getaway, building on a positive year for the travel industry."
By the Numbers: AAA's 2018 Thanksgiving Travel Forecast
Road trip ready: The vast majority of Californians – nearly 5.9 million – will hit the road for Thanksgiving, an increase of over 5 percent over last year. Motorists can expect to pay the highest Thanksgiving gas prices in four years, with a statewide average of $3.75 as of November 5, 54-cents more than a year ago.
Fuller skies: More than 770,000 Californians will take flight, up nearly 6 percent from last year. Most travelers booked their flights for Thanksgiving between September 23 and October 25, paying an average ticket price of $478 roundtrip.
Car rental costs fall: Travelers can expect to save on car rentals this Thanksgiving holiday season. At $63, the average daily rate is 10 percent less than last year.
Hotel prices mixed: Travelers can also save on AAA Three Diamond hotels, with an average nightly rate of $166, a decline of six percent compared to last year. Conversely, the average rate for AAA Two Diamond hotels has increased six percent with an average nightly cost of $124.
Drivers Beware: Thanksgiving's Terrible Traffic
Based on historical and recent travel trends, INRIX, in collaboration with AAA, predicts drivers will experience the greatest amount of congestion Thanksgiving week during the early evening commute period, with travel times starting to increase on Monday. Drivers in San Francisco, New York City and Boston will see the largest delays – nearly quadruple normal drive times.
AAA and INRIX have identified 10 hot spots in the metro San Francisco area for Thanksgiving travel congestion:
• I-80 E @ Pinole Valley Road (Eastbound)
• I-580 E @ Santa Rita Road/Tassajara Road (Eastbound)
• I-80 W @ Bay Bridge (Westbound)
• I-680 N @ Calaveras Road (Northbound)
• CA-37 E @ Wilson Avenue (Eastbound)
• I-880 N @ 23rd Avenue (Northbound)
• CA-24 E @ I-680 (Eastbound)
• US-101 N @ Petaluma Boulevard (Northbound)
• CA-1 N @ US-101 (Northbound)
• I-80 E @ I-80/I-580 (Eastbound)
"Thanksgiving is one of the busiest holidays for road trips, and this year will be no different," says Trevor Reed, transportation analyst at INRIX. "Knowing when and where congestion will build can help drivers avoid the stress of sitting in traffic. Our advice to drivers is to avoid commuting times in major cities altogether or plan alternative routes."
AAA to Rescue Over 101,000 California Motorists
AAA expects to rescue more than 101,000 California motorists at the roadside over the five-day Thanksgiving travel period. Dead batteries, lockouts and flat tires will be the leading reasons AAA members will experience car trouble. AAA recommends motorists take their vehicle to a trusted repair facility to perform any needed maintenance before heading out. Oil changes, fluid level checks, battery tests and tire inspections go a long way toward reducing the chances of a breakdown.
AAA offers a variety of travel resources. This includes AAA Mobile, a free app for Smartphone users. The app uses GPS navigation to help travelers map a route, locate nearby discounts, summon roadside assistance, find current gas prices and more. Travelers can learn more at AAA.com/mobile.
The Thanksgiving holiday period is defined as Wednesday, November 21 to Sunday, November 25.
AAA's projections are based on economic forecasting and research by IHS Markit. The London-based business information provider teamed with AAA in 2009 to jointly analyze travel trends during major holidays. AAA has been reporting on holiday travel trends for more than two decades. The complete AAA/IHS Markit 2018 Thanksgiving holiday travel forecast is available here.
About INRIX:
INRIX is the global leader in connected car services and transportation analytics. Leveraging big data and the cloud, INRIX delivers comprehensive services and solutions to help move people, cities and businesses forward. Our partners are automakers, governments, mobile operators, developers, advertisers, as well as enterprises large and small. Learn more at INRIX.com.
About AAA Northern California:
AAA has a proud history of serving Members for over 100 years. AAA is on a mission to create Members for life by unleashing the innovative spirit of 4,000 employees representing nearly 6 million Members across Northern California, Arizona, Utah, Nevada, Montana, Wyoming and Alaska. In addition to legendary roadside assistance, AAA offers home, auto and life insurance, and extraordinary travel services. According to Via Magazine's Smart Guide, being a AAA Member can save you more than $1,200 a year. Learn more at AAA.com.