On Thursday, May 11, the Youth Intervention Network (YIN), with support from the Antioch Community Foundation and Emerald HPC International, LLC hosted a community forum/luncheon: "Building Safe Schools, Healthy Families, and a Flourishing Community" in Antioch.
The forum highlighted the formal incorporation of the YIN strategy into the Antioch Unified School District
The YIN was founded in 2006 by Iris Archuleta and then Antioch Police Chief Jim Hyde where a year later they facilitated a year of planning and build a stakeholder group of over 50 community, city, county, faith, business, labor, educational, nonprofit and civic leaders.
Keith Archuleta shared how through YIN, the community is working together to reduce truancy as well as suspensions and expulsions resulting in students missing school; in order to improve academic performance, graduation, college-going, and employability rates; promote healthy choices and positive relationships among youth; enhance youth and family engagement; and nurture healthy families, safe schools, and a flourishing community.
According to YIN, they utilize a unique assessment tool that consist of a 3-to-5 month, 6-stage mediation process with the youth, family, and two trained and certified volunteers who assist the youth and family in developing and agreeing to a personalized plan of action for reengaging the youth in both school and community. YIN's innovative mentoring system is based on the use of trained community volunteers who then serve as education advocates. They assist the youth in the process of getting back into the classroom and focused academically and they support the family in accessing any necessary wraparound servic3s to achieve the educational objectives set forth in the agreed to plan.
Antioch Unified School District Board President Walter Ruehlig welcomes YIN into the school district and showcased their positive impact.
"The YIN will now become an integrated part of the AUSD," said Ruehlig. "Since YINS inception in 2006, along the way it has trained over 300 youth and adult mentors and directly impacted the lives of more than 100 youths."
He highlighted how youths have seen a grade point average of 1.0 go to 3.2 which the results justify YIN's recognition on the global, state, national and international stage. He called this as one of the practices for community bridge building.
Mayor Sean Wright explained how he first got involved when Keith and iris Archuleta when they first were getting started—it happened over an hour-long conversation and he took the training.
"I had the opportunity to go through peaceful youth training with many people of the people in this room who became my friends and here we are 8-years later," explained Wright. "I still give them hugs because of that training and how it bonded us. More than bonded us, it taught us."
He further highlighted how the training introduced him to Gary Agopian and they became partners in helping a family change their life.
"They have since left Antioch and we still get Facebook messages thanking us. But it wasn't us, it was us just doing the process that is taught through this. I volunteered to be an advocate and advocated for a young woman who then changed her life," said Wright.  "This creates relationships, community and it changes lives. I've seen it."
Wright thanked the school district for partnering as he highlighted most efforts focus on the youth, while YIN focuses on the family.
"The focus is on helping the family and so you are not just changing the youth and putting the youth back into a home that is broken. It's about fixing the home," said Wright. "So you help the youth and the parents to empower them on how to communicate with each other. To work together, then you give them an advocate to work through the system to help them change their lives. It's a support system."
Wright stated this was unlike any other program that he has ever seen and again thanked the school district for supporting the program.
Nancy Kaiser, who is the City of Antioch Recreation Director and serves on the Antioch Community Foundation, stated how they are striving to make the community better while providing grants as a foundation.
"Along came the Youth Intervention Network who shared their vision and information with the Antioch Community Foundation, we were so impressed," stated Kaiser. "They believe that a strong education is the central foundation to growing a good individual foundation. If we can get them working in school and they can feel good about themselves, they will grow, become engaged with their community and give back. So we did step to the plate and partner. We are pleased to fund Youth Intervention Network."
Ron Bernal, Antioch City Manager, stated this community was amazing because of everyone who was volunteering their time to make it better and make a difference.
"The Youth Intervention Network has been a big part of seeing lives change. Many of us who have teenagers realize that those aren't just any kids, those could be our kids and this could be our family," explained Bernal. "That is the reason why I think it does make a difference for those who help out, because we are really helping out each other when people come together to make a difference in not just individual children, but the family as well. We are excited as the city of Antioch who want to partner with Youth Intervention and Antioch Unified School District who want to see this program continued on the level with the school district and see the young  people and families who are going to be impacted by it. Through that, Antioch will get better and better because our future is with our young people."
Antioch Police Chief Tammany Brooks stated he supported the integration of the Youth Intervention Network with the Antioch Unified School District.
"With former police chief Jim Hyde as one of the founding principals in this endeavor, the partnership between YIN and the Antioch Police Department has been unwavering," said Chief Brooks. "The philosophy not just addressing the symptom of problem, but identifying and healing its root cause is invaluable in creating long-term and valuable change."
He noted that being involved in Antioch Police Activities League; he has firsthand seen the positive change in YIN Youth where they thrive in various PAL events.
"I truly believe it does take a village and this collaboration takes that to heart. Our youth and our community will be better off because of it," said Brooks.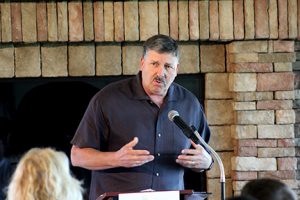 Retired Antioch Police Jim Hyde stated how he sees a lot of anger when he turns on the television.
"He says the solution is the hearts of the men women and children of Antioch. You fight through adversity, it all started with a lunch which Iris and I sat down and talked about the struggles of our kids. Our own struggles and no matter what money you have, education you have, support you have there are times you just feel lost as a parent," explained Hyde. "It started off just like that, how do you help families at the family level and just build from there."
Hyde stated that he was simply a catalyst for this; the work is being done by the men, women and youth of Antioch.
Karena Melton highlighted her experience with YIN which began in her Sophomore Year after she was called to the principal's office and told she had an opportunity—noting that she was just keeping her head down and just getting by.
"I had no drive and it was sad, so when I started all of this it gave me a purpose and drive. It really kicked off my sophomore year and got involved with everything," explained Melton. "You go in there as an individual and you truly leave as a group. I remember one of the people we trained with missed a class and I remember if you miss a class you don't graduate and I remember we all stood there we can't graduate without them. We pushed and we talked and he got the training he needed so we could all graduate together. "
Melton explained how she went from barely scrapping by with a 2.0 GPA to making the Dean's List at LMC every full semester I had.
"To say this has really changed my life, it's really minute. It took a girl that had no drive her sophomore year who just lost her dad going into high school to what I am today and I have a lot of graduate to these two people (Iris and Keith Archuleta)," said Melton. "It's hard to put into words what YIN means to me because I have a lot to thank you guys for."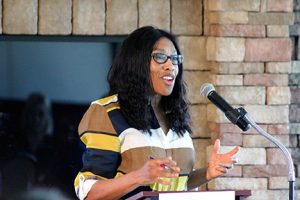 Iris Archuleta explained that it's really important that the public understand that the Youth Intervention Network is not now, nor has it ever been a program.
"It was never intended to be a program, because it came out of a vision," said Archuleta. "I found myself coming into Antioch, a different type of community from growing up in a place like San Francisco in the 1950's and 1960's and having a mother who was a Black Panther while growing up militant and not being very open and inclusive. Having a hard time thinking about police because of the experiences I had growing up. So coming to Antioch, I know that was nothing but god."
She continued.
"I came here and learned the importance of not being limited by the mythology of race. Coming to a place where people told me not to come to and the very first person who I was able to really work with in a way that was able to really make a difference in children from all ethnicity's was Jim Hyde, a white police chief," said Archuleta. "You don't understand how counter my upbringing that is."
She further highlighted how the community she has engaged with has fundamentally changed her life explained that 12-years ago she walked the hill behind my her home praying about what to do with youth.
"I got these words clearly, I am going to show you something and it's not going to be a program," said Archuleta. "It's going to be different and you are going to engage youth and families and in the process you are going to bring the community together in a way you wouldn't have been able to do before. It will be recognized locally, at the county level, at the state level, nationally and internationally. And the Youth Intervention Network has been recognized at every level including the United Nations."
She noted that they finally have a Superintendent in the Antioch School District who is willing to integrate it and say yes.
"This is not a program nor is it competing against anyone or their funding, this is not saying the YIN is better than anyone else's program, but it was always meant to be a form of engaging youth and families in transforming them," said Archuleta. "Another thing you need to understand is this disburse the mythology, this was not a program for black kids; we have found no distinction in youth who are displaying the indicators of truancy."
She noted that they have youth of all ethnicity's and encouraged Antioch to get over the competition and low self-esteem to stop disparaging the community.
The following were prepared comments made by AUSD Superintendent Stephanie Anello.
Thank you for the wonderful introduction and the opportunity to speak with you today. Most importantly, thank you to Iris Archuleta and Chief Hyde for their amazing work on behalf of our students, our families, the Antioch Unified School District, and the greater Antioch Community.
I often hear individuals in the community characterize our District as 'Failing.' I have to passionately disagree with that statement. While I do not underestimate our challenges, I have to disagree that our district is a 'failing district'. Rather, I would adamantly argue that we are the misguided target of a failed accountability system.  In short,   Federal Acts such as the National Housing Act of 1934 that resulted in redlining, the Federal No Child Left Behind Act which further marginalized already marginalized students, and our most recent school accountability system which is essentially a repackaging of previous flawed school accountability systems, have created false narratives of failure for communities facing significant challenges such as poverty, homelessness, large populations of homeless and foster youth etc.
For those of you not familiar with redlining, it resulted from the Federal National Housing Act of 1934. Essentially, the federal government sent auditors into cities to 'grade' them in order to determine the quality of federally-backed mortgage loans residents would receive. Those cities with high concentrations of diverse populations  and poverty were given grades of C and D while those communities with more affluent, less diverse populations received a letter grade of A and B. This system further marginalized and limited opportunity for already struggling populations. The practice was called out and ceased in the late 1970's only to be replaced a new flawed accountability system that resulted from another Federal Act, the No Child Left Behind Act. This time, school systems were given a number grade and those systems with high concentrations of families in poverty, students who spoke a language other than English in the home, and whose students represented diverse populations, were given grades of 1, 2, and 3 while those communities with less diverse populations and with affluent families were given grades of 8, 9, and 10. Essentially, one flawed accountability system was replaced by another. Letters were replaced by numbers and real estate followed. Those who had more got more, those who were struggling and marginalized were further marginalized as the Federal government mandated that schools and systems graded 1, 2, and 3 teach only math and English while others had a full complement of enrichment courses.
Sadly, what has been recently touted as a 'new and innovative' school accountability system is yet another flawed accountability system. We went from giving cities and consequently systems a letter grade in redlining, to a number grade via the No Child Left Behind Act. Our newest school accountability system assigns school districts and schools a color grade: red for failing, orange for almost failing, yellow for satisfactory, and green for great.  You guessed it, it is the same system dressed up to look different.
In short, school systems and cities that face significant challenges that are not of their own doing are blamed for trying to respond to the symptoms of a much bigger problem. When I challenge people about the false narrative created by the school accountability system,  I always ask the question, "Do you truly believe that if we replaced all of our programs, policies, and staff with programs, policies, and staff from what is labeled a 'good district' our challenges would disappear?  Almost always, the answer is no because deep down people realize that most of these issues are the symptoms of years of misguided social policy and marginalization that resulted in a lack of opportunity for some groups of people.
I have been sharing the following data to highlight the significant challenges faced by AUSD. However, despite such challenges, we have also experienced success which should not be ignored when discussing the state of our District.
A Few of the Challenges:
From 2000–2013, the number of students who speak a language other than English in the home increased from 6% – 20%.
The number of students residing in group homes has risen 144%.
11,468 AUSD students (68%) receive free or reduced lunch, 85% free and 15% reduced.
The number of students in foster care has risen 252% in the past six years.
More than 3,100 AUSD students live in poverty as defined by the federal government with families earning less than $10,830 for a one-parent family and $14,570 for a two parent family;
Currently 441 AUSD students are homeless.
Despite These Challenges, Successes:
AUSD increased its graduation rate 6.8% in the past year; AUSD now outpaces the state graduation rate.
The percentage of students graduating eligible to attend a UC/CSU has increased 8.6% since 2010.
The number of students taking an Advanced Placement exam has grown nearly 71.6% in the last five years while the number of students taking the SAT has increased 29.2%.
Suspension occurrences have reduced 38% since 2011 while the number of days students are suspended has decreased 48%.
AUSD now has nine career-themed high school pathways that provide students with real-world experiences; AUSD is a lead district in implementing linked learning in the State;
After years of deficit spending, the District balanced its budget in 2015 and is no longer deficit spending.
Unfortunately, in many communities and, in Antioch, we continue to believe the myth promoted by The Federal No Child Left Behind Act; we talk with great frequency about the challenges yet fail to acknowledge the successes.  This has caused many in the community to unnecessarily work as agents who, although they may believe they are working for a greater Antioch and a better school system, are actually working against it and unwittingly further promoting the myth of No Child Left Behind and with it, a failed school accountability system. That is why I so appreciate the work of the Youth Intervention Program. It is filled with community volunteers who are not looking for someone to blame but, rather, looking to come together for the greater good to build something bigger than ourselves. This spirit of community and the greater good is what will ultimately improve our school system and the greater Antioch community.
In closing, let me say that the Youth Intervention Network is not disconnected from the work that we are already engaged in in the Antioch Unified School District. With YIN, we now have a full continuum of social/emotional interventions for students. We have Positive Behavior Interventions and Supports (PBIS) to assist all students in making good choices. We also have Restorative Practices to respond and intervene when students don't make the best choice –and we know that they don't always do so. Restorative Practices ensure that students who may have harmed another in the school community are restored back into the community through a process that acknowledges that harm and works to repair it. Finally, we now have YIN to support the 1-3% of youth who continue to struggle and whose family dynamic may not be promoting the best outcomes. YIN volunteers step in to not only work with the students but their families as well.
Again, please know how grateful we are to be integrating the YIN into the AUSD and for the continued generosity and support of both Iris and Keith Archuleta, Jim Hyde and all of the other amazing volunteers who are part of the Youth Intervention Network.  I look forward to continuing to work together as I truly believe Antioch's best days are yet to come.
Interested community volunteers must attend a week long training in the DPC methodology. The next scheduled training is June 12-16, 2017. Please contact Dineen Burdick for more information and to register for the training: [email protected].