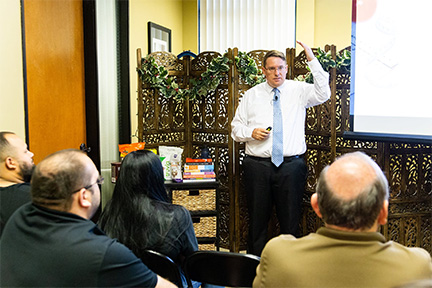 Chiropractor Sean Wright will be hosting a "Magic of Keto" lunchtime Seminar on August 29 in the City of Antioch.
On Wednesday, the one hour session is free where he will go over a proper outline of the diet while providing some basic tips and tricks on how you can succeed.
Wright is hosting the event after he lost 57 lbs in one year after embracing the ketogenic diet and began teaching weekly classes.
"One year ago I was Pre-Diabetic with labs showing a fatty liver and not very health," said Wright. "My wife was studying to earn her Masters degree in nutrition and came upon a new way of eating that she believed was exactly what I needed."
Wright says he has battled weight issues for 15-years and tried everything from Weight Watchers to Nutri-System to Medi-fast and others. He says he would lose weight only to have it return.
He says keto has changed his life and be able to do more activities. He now is working to share the keto diet with as many people as possible to help others change their lifestyle. He admits the lifestyle change may not be for everyone, but explained he wants others to at least have an opportunity to see what it is about.
Space is limited, click here to RSVP.
For more on Dr. Wrights program, you may follow him on Facebook: www.facebook.com/ketodoneright
Date & Time:
Wed, August 29, 2018
12:00 PM – 1:00 PM PDT
Location:
3428 Hillcrest Ave # 200
Antioch, CA 94531