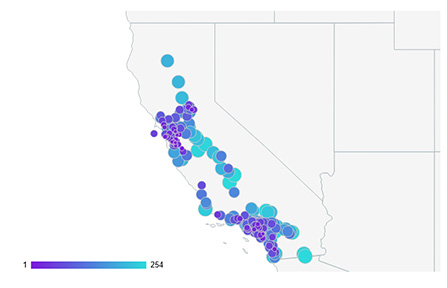 On Thursday, Wallet Hub released its list for the best and worst cities to look for a job in the State of California.
Although California peaked at 12.2 percent unemployment during the financial crisis, it now stands at 4.1 percent today. They also say the median household income in California in 2018 was $64,500.
WalletHub compared 254 cities in the state across 16 key metrics. Our data set ranges from monthly median starting salary to employment growth to housing and transportation costs.
The top 10 included:
City (Job Market Rank / Social-economics rank)
San Ramon, CA (2/8)
Palo Alto, CA (1/71)
Danville, CA (9/2)
Los Gatos, CA (3/50)
Santa Clara, CA (4/38)
Pleasanton, CA (16/6)
Rancho Santa Margarita, CA (12/12)
Livermore, CA (11/21)
Los Altos, CA (10/25)
Morgan Hill, CA (8/53)
Contra Costa County Cities
1. San Ramon (2/8)
3. Danville (9/2)
33. Walnut Creek (25/88)
58. Martinez (104/31)
75. Brentwood (101/55)
86. Pleasant Hill (63/117)
108. Concord (64/150)
133. Oakley (162/64)
157. Antioch (132/192)
176. Pittsburg (163/190)
188. Richmond (124/239)
A total of 254 cities were listed.
According to the numbers, the City of Oakley ranked 4rd with the highest monthly average starting salary while Pittsburg ranked 5th.  Danville ranked 4th in highest median annual income (adjusted cost of living).
About WalletHub
WalletHub is the first-ever website to offer free credit scores and full credit reports that are updated on a daily basis. But we consider that just an appetizer, as we've built the brain of an artificially intelligent financial advisor that will truly leave your wallet full. WalletHub's brain performs three primary functions, providing: 1) Customized credit-improvement advice; 2) Personalized savings alerts; and 3) 24/7 wallet surveillance. Such features are supplemented by more reviews of financial products, professionals and companies than any other website offers and a diverse community of subject matter experts. WalletHub is owned by Evolution Finance, Inc. and is based in Washington, DC.