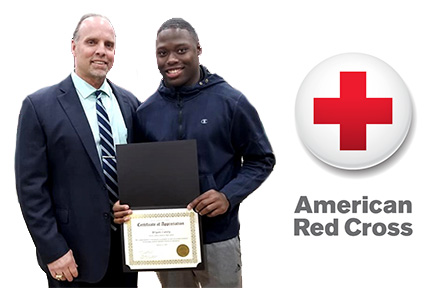 The American Red Cross announced that two Antioch residents and the San Damiano Retreat will be honored during their Sound the Alarm Luncheon on April 23, 2019.
Bryan Canty, a Dozier-Libbey Medical High School student in Antioch, is being honored with the Good Samaritan Award.  Meanwhile, Samantha Barnhouse of Antioch is being honored with the Disaster Services Award.
---
Full press release from
WALNUT CREEK, CA — The American Red Cross of the Bay Area will be honoring nine fire districts and three community members and organizations from Contra Costa County for their acts of courage and compassion at the Sound the Alarm Kickoff Luncheon.
The event will be held on Tuesday, April 23, 2019, at 11:30 a.m. at the Round Hill Country Club, 3169 Roundhill Road, Alamo. Dan Ashley of ABC7 News will be the Master of Ceremonies, and the San Ramon Valley Firefighters Honor Guard will be the color guard for the event.
The county's nine fire districts are being recognized for their life-saving work when disaster strikes our community, and the collaboration and support for Sound the Alarm activities. Also, these community members and organizations will be recognized for their acts of bravery and assistance in times of need. Detailed descriptions of each honoree are featured below.
 Good Samaritan Award: Bryan Canty (Antioch)
Disaster Services Award: Samantha Barnhouse (Antioch)
Community Service Award: San Damiano Retreat (Danville)
"I am pleased to be a part of the American Red Cross' effort to make our communities safer," said Contra Costa County Supervisor Candace Andersen, Honorary Chair of the Sound the Alarm Kickoff Luncheon.  "The installation of smoke alarms in a home is a simple step that saves lives, and we encourage more people to sign up and volunteer at one of our upcoming installation events."
Good Samaritan Award-Bryan Canty (Antioch)

For most students, a typical day in high school means homework, sports practice, and exams.  However, for Bryan Canty, a student studying emergency medicine at Dozier-Libbey Medical High School in Antioch, California, he had a day recently that was anything but typical when he found an unresponsive student in the school's gymnasium.
His medical training was put to the test as he stabilized the fallen student and waited for first responders to arrive.  After providing a thorough report on the student's condition, the first responder team came away impressed with Canty's professionalism and thoughtfulness. After seeing her return to school after an extended stay in the hospital, Canty was happy to see the student back at school and reflected, "All I know is I did something right when I saw her walking and talking."
Canty currently holds the title of Certified First Responder and aspires to continue his medical training upon high school graduation.  He feels overwhelming gratitude that he has found his passion so young and can see firsthand the impact of his training.  His career path includes becoming an EMT, to a full paramedic, on to nursing school to find his home as a flight nurse finally.
Disaster Services Award-Samantha Barnhouse (Antioch)
Samantha Barnhouse stepped out of her Antioch apartment one Saturday morning to spend time with her daughter at a local park. Little did she know that her actions during the next few minutes would be credited to saving her neighbor's life. That's when she saw smoke coming from an apartment across the driveway. A female resident yelled at her and Barnhouse told her to evacuate.
"I can't.  My roommate is paralyzed. He won't get up. He can't get up, you have to help me,'" said the female resident. Barnhouse quickly realized she was the only one who could help and ran into the burning apartment.
Barnhouse darted past the flaming kitchen and headed towards the back bedrooms where she found 77-year-old Louis Burton sitting in an office chair.  Barnhouse put a robe over Burton's face to protect him from the smoke and started pulling the chair toward the front door. At that point, the smoke was so thick that she closed her eyes and followed the sound of the female resident's voice to safety.
"For her, it was incredibly dangerous, without her the victim wouldn't have been alive potentially," said Billy Small, Contra Costa County Fire Protection District.
Community Service Award-San Damiano Retreat (Danville)
Last year's Camp Fire was the deadliest and most devastating wildfire in California history to date.  The fact that it occurred shortly before the holiday season was a cruel reality for the residents who lived in the fire area that destroyed over 18,800 structures. High in the hills above Danville, the San Damiano Retreat Center is usually closed during the Christmas week, but the friars decided to open their 78-bedroom center to Camp Fire victims to come and stay and over 40 families accepted.
Jeremy Feske and his family had been living in a camper since losing their home in the Camp Fire.  However, for a few days, they had their bedrooms and free time to spend playing board games.  They also got free food, free clothes, and free amenities, like toiletries – all donated by local groups. A nearby salon even offered free haircuts, and a therapist offered free massages.
Much of the facility is staffed by volunteers like Cher Orio of Pleasanton. She said she and husband decided to skip their holiday vacation and instead spend time here.
"People lost everything. It's devastating. We have to volunteer and be with these people and help out," explains Orio.
---
JOIN US TO #ENDHOMEFIRES Working smoke alarms can cut the risk of dying in a home fire by half, yet one in 10 adults reported not purchasing an alarm because of the expense. Also, nearly half of those surveyed said they've disconnected an alarm or taken the batteries out when it went off.
That's why the Red Cross is seeking volunteers for the upcoming Sound the Alarm home fire safety and smoke alarm installation events below. People can register now at SoundTheAlarm.org/NorCalCoastal to help install free smoke alarms and raise funds for lifesaving services.
April 27, 2019, 9 a.m. to 3 p.m.: Pacheco
May 1, 2019, 9 a.m. to 3 p.m.: Antioch
May 4, 2019, 9 a.m. to 3 p.m.: Richmond

Sound the Alarm, home fire safety, and smoke alarm installation events is a part of the Home Fire Campaign, which the Red Cross launched in 2014 to reduce fire deaths and injuries. So far, nationwide, it has reached more than 1.7 million people and saved more than 500 lives.  This spring, the American Red Cross is rallying thousands of volunteers and partners to install 100,000 free smoke alarms nationwide and help families create home fire escape plans in three weeks.
About American Red Cross of the Bay Area: The American Red Cross shelters, feeds, and provides emotional support to victims of disasters; supplies about 40 percent of the nation's blood; teaches skills that save lives; provides international humanitarian aid; and supports military members and their families. The Red Cross is a not-for-profit organization that depends on volunteers and the generosity of the American public to perform its mission.
For more information, please call 1-888-4-HELP-BAY (1-888-443-5722) or visit redcross.org/bayarea to learn more. You may also find us on Facebook and Twitter.
Source: https://www.redcross.org/local/california/northern-california-coastal/about-us/news-and-events/press-releases/announcing-contra-costa-county-sta-honorees.html