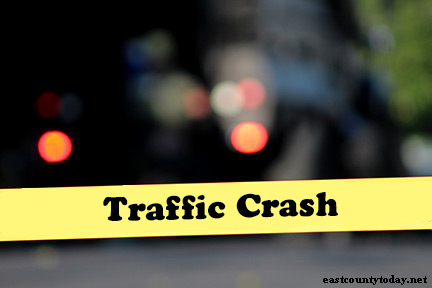 At 10:05 am Monday, Contra Costa County Fire Protection District responded to a report of a vehicle crash on eastbound Highway 4 at Hillcrest in the City of Antioch.
Upon arrival, it was stated that 3 vehicles were involved and blocking all lanes of traffic. It was reported that all parties involved sustained minor injuries.
By 11:15, lanes were open
Check back for updates.
Detail Information
11:15 AM 23 [43] [FSP] has closed their incident []
11:15 AM 22 [42] ETA 10 / HAD TO REROUTE [Shared]
11:15 AM 21 [41] 404M REQ ETA FOR BR TOW [Shared]
11:08 AM 20 [40] A19-403A REQ BR TOW TO FRWY / FSP CLR'D [Shared]
10:56 AM 19 [38] A19-403A 3 VEH 1181 [Shared]
10:50 AM 18 [37] [Rotation Request Comment] 1039 BR TOW TO TREGALLES AT SHADDICK / 925-757-3100 [Shared]
10:49 AM 17 [36] A19-241A REQ 1185 FOR MINI VAN TO TREGALLES AT SHATTUCK / FSP TAKING VEH OFF [Shared]
10:37 AM 16 [32] BC 19 / 403 CPZ – WORKING ON OPENING THE 1-3 LNS [Shared]
10:37 AM 15 [31] [Notification] [CHP]-PER ANOTHER VEH ARE GOING UP THE WB A ST ONR WW AVOID TRFC CONGESTION [Shared]
10:27 AM 14 [25] [Notification] [CHP]-HMA OR WMA DRVR IN BRO SD, TRYING TO PASS OTHER VEHS ON RHS, YELLING AT OTHER DRVRS TO GET OO THE WAY [Shared]
10:23 AM 13 [24] [Rotation Request Comment] 1039 TEMPLERS W/ 2 – 925-754-4477 [Shared]
10:22 AM 12 [22] A19-403A PD 1097 / TRYING TO CLR LNS TO RHS [Shared]
10:21 AM 11 [21] A19-403A REQ 1185 FOR GRY CHARGER AND HOND CIV W/ FE DMG [Shared]
10:20 AM 10 [20] A19-403A ALL TRFC IS STOPPED / ALL LNS SHUT DWN [Shared]
10:17 AM 9 [19] A19-403A ALL LNS BLKD [Shared]
10:17 AM 8 [18] A19-403A CORR BLKG #1-2 [Shared]
10:17 AM 7 [17] A19-403A BLKG #11-2 [Shared]
10:09 AM 6 [13] [Appended, 10:10:48] [1] 3 VEHS
10:07 AM 5 [9] RP WILL START OWN 1185 VIA ROADSIDE SVC [Shared]
10:07 AM 4 [6] [Appended, 10:07:32] [1] BLKG #4 // BLK SD SIDEWAYS
10:06 AM 3 [3] [Notification] [CHP]-RP ADV'NG DAUGHTER IS AUTISTIC AND POSS IN SHOCK AND NOW ADV'NG TO NOT ROLL 1141
10:05 AM 2 [2] BLKNG 1/2 LN
10:05 AM 1 [1] RP IN BLU FORD ENTEROUGE VS 2 OTHER VEHS