On Saturday, around10,000 people gathered in Walnut Creek for the Contra Costa Women's March where they battled rain, mud and wind to stand strong.
The goal was to demonstrate solidarity to the new administration in the White House and seek justice and equity for all.
Locally, supporters stood together for the protection of their rights, safety and health, and the rights of their families, believing that vibrant and diverse communities are the backbone of our country.
The march remained peaceful as participants walked streets in downtown Walnut Creek with Walnut Creek Police providing traffic control.
The Walnut Creek March was just one of hundreds across the country with many attending either the Oakland or San Francisco Marches later in the day.
Senator Nancy Skinner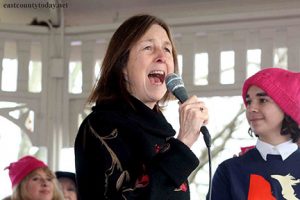 I am here to thank you all for gathering and for coming together proclaim clearly loudly and without reservation our commitment to defend and honor our right to control our own bodies. Our right to equal pay for equal work. Our right to clean air, clean water, and to equal justice and to quality education regardless of our income or the color of our skin. I am al also here with you to declare and proclaim loudly on record our right to freedom of expression to choose who we love and define our own gender and personhood. And the right of our families to stay together regardless of their immigration status.
Skinner also highlighted what the event demonstrated.
"It demonstrates that we will combine our grass action with flexing our muscle in state government and local government to fight back on any threats to our healthcare, our civil right's, our economic justice our immigration rights, and any other threat that the new occupant of the white house tries to throw at us," said Skinner.
Congressman Eric Swalwell

"I am here for my wife, I am here for my mom, I am here for women across America and for their healthcare. I am here for you and I came to see the hats.  I love those hats. But I also came because I know why you are here. In the mud, in the rain and the cold. Its because we are not helpless. We are stronger when we all come together. I am here because I know its not just us across the country, in the heartland, in the south, in the steel belt, we are coming together. I am here because the more we come together we are all going to connect and show the world that together we are stronger," said Swalwell. "We are unified. It's so heartening it's not just in San Francisco or Oakland, but here in Walnut Creek we are standing together. I am standing here for a woman who a couple weeks ago said I did not vote for President Barack Obama, but I have breast cancer, and I am terrified about what is going to happen when by breast cancer is considered a pre-existing condition. So we are all hear for her and being a woman does not mean you are a pre-existing condition. Defending healthcare will be our first stand, but it will not be our last stand."
Senator Steve Glazer

I am here because you are here. We know this country was not founded because we were passive, or accepted things. But we have values that we are willing to fight for, stand for stand in the rain for. That is why I am here, for the dreamers, fight for Planned Parenthood and I am here to fight for the values that made our country great and I am not going to sit passively by. What strikes me about today, the meaningfulness is that last year was about a he and she fight and that skewed a lot of important conversations about what this country is about. This is a pivoting moment for our country because today is that moment where we change the conversation from a he to she to a who and a what and a where and a why," said Glazer. "We are going to change it from a personality contest to a values contest and that is why we are standing in the rain today because we have something to fight for and we are going to fight for me."
Congressman Mark DeSaulnier

"I am here and I wouldn't be anywhere else because if you can see what we see standing up here and look at all of you, we are so lucky to represent you.  To represent this blessed part of the country and just a little note—we didn't vote for him. We didn't vote for him by a lot and we are not a bubble, we are at the edge. We in California and in the Bay Area, we are at the edge, we are not afraid of the future, we embrace the future. A future that respects everyone, that understands that everyone, 7 billion souls, to be respected and honored and listen to," said DeSaulnier. "We won't be divided and we will do what Dr. King stated shortly before he was assassinated."
Contra Costa Labor Leader Margaret Hanlon Gradie

"The California Labor Movement is standing here to march with, to stand with, to fight with our colleagues and are brothers and sisters in the disability community, in the choice community and the immigrant community because what we in the union community is working people standing together. These women who organized this march in these organizations they know one thing that collective action is democracy and that is the power we are going to build to keep California values, not the Trump values. We have our own agenda here in California," said Hanlon-Gradie. "We are not going to stand for attacks on immigrants' rights, attacks on workers' rights. Those are California values, our Contra Costa values."
Here is the official Press Release on the event–we have included photographs below from Saturday.
Strong Showing of Unity in Contra Costa County
Women's March: The community rallies and marches in solidarity to effect a change
(Walnut Creek, Calif. – Jan. 16, 2017) – The day after Trump comes into office, communities around the world seek to send a strong message of solidarity to the new administration. The Women's March on Washington will be held Jan. 21, 2017 with over 300 sister marches being held worldwide, including a march in Walnut Creek. Organizers have been thrilled by the amount of support for and interest in the event, held in a community not typically known for activism. To date, nearly 1,200 people locally plan to stand together for the protection of their rights, safety and health, and the rights of their families, believing that our vibrant and diverse communities are the backbone of our country.
Several of the women organizing the Women's March Contra Costa County/Walnut Creek are not your typical organizers and activists. Most are local mothers and students who have never attended political events, but are concerned with threats to our civil liberties under the new administration. A team of over 60 volunteers has worked tirelessly to ensure this will be a safe and unifying family-friendly event.
While each person has their own reasons for marching, the mission is to bring people together to take a stand on issues that deeply impact all of us. Sienna Terry, a youth organizer at Las Lomas High School said, "We are concerned with human rights, the environment, justice and democracy. We are inviting the local community to show unity, with the sister marchers around the world, at a time in which women's rights and access to healthcare are at risk." The gathering will begin in Civic Park at 10 a.m, with the program starting at 11:00 a.m. The march will start at approximately 12:15 p.m. from Civic Park and circle downtown Walnut Creek. Following the walk, marchers are encouraged to take BART to the San Francisco rally at 3:00 p.m. The Women's March Contra Costa County/Walnut Creek event is nonpartisan and all are welcome to attend.
Marchers can expect to feel empowered by an inspiring line-up of speakers, as well as an array of local area musicians. Speakers include Labor Leader Margaret Hanlon Gradie, Reproductive Rights Leader Julie Rabinovitz, LBGTQ poet and author Cheryl Dumesnil.  Muslim Leader Ejaz Naqvi, Rev. Will McGarvey and Rev. Leslie Takahashi from the Interfaith Council of Contra Costa County, Race Educator Lori Watson, as well as local area students and residents will also be speaking. There will also be performances from the chorus groups from The Peter Pan Foundation and the Meher School, as well as the Las Lomas Jazz Combo and  local legend Ron Lorenz from Juice. US House Reps.e Eric Swalwell and Mark DeSaulnier and State Sen. Nancy Skinner plan to participate in the event.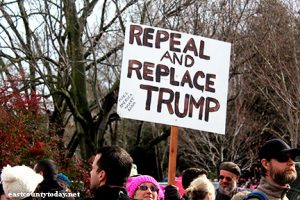 Leslie Shafton, one of the organizers, has been amazed with the positive response. "Many people have come forward wanting to ensure that we protect the rights, safety, health and religious freedoms of all families, especially those whose voices are constantly under attack," as she referred to Muslims, people of color, undocumented, LGBTQ community and low income families.
Organizer Rachel McCutchen said, "I am not normally a 'marcher,' but these are not normal times. Complacency is no longer an option for me and it is time for me to stand up and make my voice heard against injustice anywhere and everywhere. We must stand up to protect every woman's right to choose and get affordable health care and birth control. We must stand up for the First Amendment and free press. We must stand up for equality and equal opportunities for all and we must stand up to protect our environment."
Teri Frangie was driven to join as an organizer to secure equal opportunity for her daughters. Frangie said, "I march so I can sleep comfortably at night knowing that basic human rights are not being violated and that health care is being provided to my neighbors who need it most but who often need to go without. I march with my diverse friends and my immigrant family who are scared about being different but contribute a great deal to our society even though they are often marginalized."
The Women's March Contra Costa County/Walnut Creek is one step towards unifying our community, building new relationships, and creating grassroots change. We work peacefully while recognizing there is no true peace without justice and equity for all.
To learn more about the Women's March Contra Costa County or RSVP visit https://womensmarchwccc.wixsite.com/march.