Salt & Fig is a new gourmet food and kitchen specialty store that opened last week in downtown Brentwood.
The marketplace was the brainchild of Socialyte owner Lenna Billeci who had been looking for not only a new challenge, but also something that allows her to combine fashion and retail expertise as she enters the next phase of her life.
Admittingly, she says the concept had been planned in her head for a while, but it really got moving towards a reality when a space opened on Oak Street—she had to have it while comparing it to "beachfront property" saying when it opens up, you get it or you are left out.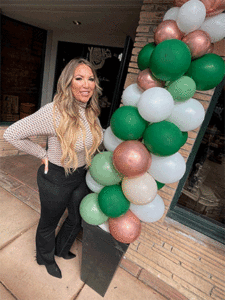 "I saw this building available, and I knew it was an opportunity to either expand Socialyte or try something different for the next phase of my life. I chose to bring something fun to the downtown and the community," said Billeci.
The concept is all over the map as she wants to encompass many things into a single market, including a huge mural that greets patrons upon entry by Tori Spinola.
This includes the agricultural community, foodie community, and playing off Brentwood further becoming a destination community while offering something complimentary to the Saturday farmers markets.
"We have something for everyone from some gourmet food, special gift options, and entertainment," explained Billeci. "I thought about my customers and what they would do if they were entertaining and what they might want and need."
She explained she started at David M. Brian in Walnut Creek years ago and it was always a dream to do something similar.
"This place has more of a wine country type of feel," says Billeci. "There is a champagne section, tea section, coffee section, wine and gourmet foods. A lot of this is trial and error right now."
She admits that the process wasn't easy taking a vision and turning it into a reality but credits a lot of self-pitches that she could do it. But she also credits Deb Spinola for consulting with her on the store—including helping with the logo and visions.
"When you add in all the wants and try to interpret it into a community like Brentwood, this is what we felt was missing," explained Billeci. "I love home gifts, anything that has to do with being over the top, anything specialty I am always trying to find the latest in both clothes and my home."
Billeci also said she is learning the market noting the major difference between fashion and the store is fashion is fast paced and the turn of items is fast, while items in the store is more finding the goods and re-ordering.
Locally, the store currently has partnered with local agricultural businesses with items from Gursky Ranch and they will soon have items from McCauley Olive Groves and Nunn Farms with more as they go.
"I am excited to see something in the downtown area that nobody has. I am excited to see the look on peoples faces when they see the sign, enter the store for the first time," said Billeci. "It is a new chapter that started in October and a lot of planning went into this store with a lot of TLC with crossovers."
One serve Salt & Fig will be able to offer is special orders for the perfect gift as well as creating specialty gift baskets for all occasions—whether one is looking to send something to a client, or create baskets to donate for a cause.  special orders creating gift baskets
Billeci is eager to work with other businesses and the community.
"It is really exciting to work with businesses I've never worked with before because I was fashion for so long, but now I am able to crossover and work with everyone," said Billeci. "I hope this store can help everyone work together and the store can compliment the farmers market and the entire downtown."
Billeci says in time the store will becomes a destination for holiday gifts for men and women while becoming a destination for East Contra Costa County. She looks forward to the feedback over the next several months which she says will only make her a better merchant.
Socialyte Going Strong
With nearly 9 years under her belt growing Socialyte, a boutique clothing store Billeci says she had been solely focused on bring fashion styles to East Contra Costa County. This came after a career in fashion and spending time in Manhattan, NY.
"I fell in love with the shopping there and my concept was to bring a hybrid of Los Angeles and New York to the Brentwood area," explained Billeci. "It started out of my home and grew to a store."
She noted the biggest hurdle was getting over what sold versus what she liked.
"It was a huge thing to get over," says Billeci. "It took about 2.5 years before I understand the demographics of the area. Once I understood not buying what I liked, but rather buy what customers liked, it was the gamechanger. It all made a lot more sense."
She highlighted that once she began working to accommodate customers with their fashion needs and working on their style, it helped her get to know her clients on another level. In fact, the pandemic actually helped her get closer with her customers.
"COVID actually allowed me to get more intimate with my customers and I felt like I turned into a bar tender," joked Belleci as she adjusted within the COVID rules to let people shop while sipping on champagne. "I got to know them on a different level and for who they are. There was nothing like it. I've been in retail through 9/11 so I knew what it was like to have an economic crash as I went through in 2008 and with this one, I was able to prepare myself finically and know what to expect with not overbuying and under selling myself."
The store will continue to evolve based on the latest fashion trends and needs of her customers which is updated with new item each season.
Salt & Fig Marketplace Hours
Sunday, Monday, Tuesday closed
Wednesday 11-5
Thursday 11-5
Friday 11-5
Saturday 9-5
Salt & Fig Marketplace
225 Oak Street, Brentwood CA
Facebook: https://www.facebook.com/salt.fig.marketplace
Instagram: https://www.instagram.com/salt.fig.marketplace/