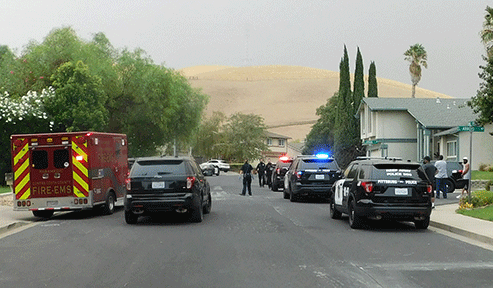 At 2:30 pm Wednesday, the Pittsburg Police Department responded to a report of shots fired on Oakdale Place in the City of Pittsburg.
At least 2 people were struck by gunfire while 1 person was transported to a local hospital along with multiple homes struck by gunfire
As of 3:00 pm, police were on scene investigating the incident.
Update via Pittsburg Police
Early this afternoon, just prior to 2:30 P.M. Pittsburg Police Officers responded to the report of a man in possession of a handgun, walking down the street in the 4300 block of Oakdale Place.  Prior to officers arriving on scene, the man approached a subject in the front yard of a residence and shot him in the upper chest one time.  As officers arrived on scene, they briefly observed the man walk across the street, but lost sight of him as he entered the front yard of a residence. The man still had the handgun in his possession.
Officers then heard a gunshot coming from the area where they had last observed the man. As officers approached this area they located the man lying face down and unresponsive, suffering from a self-inflicted gunshot wound to the head.  The man was later pronounced deceased at the scene. 
While on scene officers located the other man who had been shot in the chest.  Medical personnel responded to the scene and later transported him to an area hospital for additional treatment.  He is currently listed in serious but stable condition. 
Pittsburg Police Department Detectives and Crime Scene Personnel responded to the residence to conduct the investigation. From initial information it is unknown why the man shot the victim. It does not appear they knew each other and the identity of those involved are withheld at this time.  Detectives are currently contacting witnesses and obtaining additional statements. Additional information is not available at this time.
The Pittsburg Police Department is requesting the public's assistance and asks anyone with additional information to please contact the Pittsburg Police Department Tip-Line at 925-252-4040.