As the retired Chief of the Antioch Police Department, I find the recent proposal to repackage Measure C presented by Mayor Pro-Tem, Lamar Thorpe, and Councilwoman, Monica Wilson, very upsetting and extremely concerning.
Measure C was adopted by the voters to retain and increase the number of sworn officers in the Antioch Police Department following the loss of staff that resulted from the great recession. Since its passage, more than 50 police officers have been hired, response times have greatly improved, and crime has been reduced.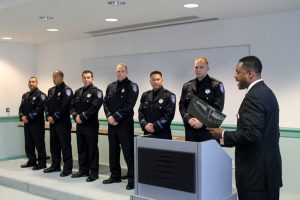 When the voters were polled about Measure C prior to the 2013 election, it was supported at a level of three-quarters of a cent for each dollar spent over a ten-year period.
Unfortunately, when the City asked for the Chamber of Commerce's support, then Chamber CEO and now Mayor Dr. Sean Wright, refused to support the initiative unless the City reduced it to a half-cent on each dollar spent for a period of 7 years. Unfortunately, city leaders took their direction from the Chamber rather than the voters and lowered the amount and length of the proposal.
Fast forward to 2018 and the Measure C tax is soon set to expire. City leaders are now proposing to the voters a tax of 1 cent per dollar for the next 10 years. However, they propose to divert 40% of that funding away from the police department to increase after school programs, senior activities and code enforcement to name a few. However, no data has been presented that I am aware of that indicates this is the best use of tax revenue. Rather, the proposal –on its face, seems to be filled with the pet projects and campaign promises of a few members of the Council.
This type of fiscal irresponsibility must stop. Voters must demand that all decisions be made using data that supports its use.
Although voting for the repackaged Measure C will provide funding to support the Antioch Police Department, the full amount should be directed towards the police department rather than the diluted amount proposed by Mayor Pro-Tem Thorpe and Councilwoman Wilson. The Antioch Police Department deserves to be staffed at a level wherein officers can be proactive with expanded traffic bureaus, violent crime patrol teams, a larger detective bureau, School Resource Officers etc.
I have serious concerns about any Councilperson who votes to approve this proposal.  Those who do clearly do not understand how understaffed their police department is, or what is truly needed to properly address the crime challenges in Antioch that threaten the quality of life for those who live here.
In reality, the Antioch Police Department should be staffed at a much higher level (125-150) so that the department can be proactive and not reactive.
The residents of Antioch deserve to have a properly staffed police department in order to prevent and respond to issues that threaten public safety rather than a menagerie of proposed programs that have little or no data to support their efficacy in improving the city.
Allan Cantando
Retired Antioch Police Chief