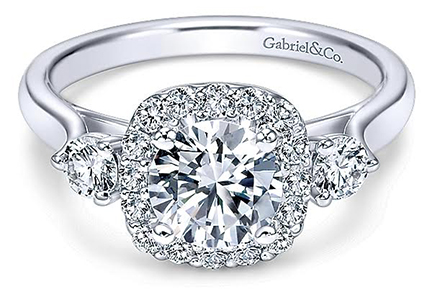 K & Co Family Jewelers has become the "go to" place in Contra Costa County for engagement rings after offering a new unique way to buy engagement rings.
While most old school jewelry stores continue to stock styles they think you'll like and continue to push those on you that result in high margins,  K & Co takes a new approach.
With the help of cutting edge designers like Gabriel & Co NY, Barkev's, Estenza, Gelin Abaci, Coast Diamond, and coming soon A. Jaffe,  K & Co has close to 500 different engagement ring styles in stock and thousands more when customized to your liking.
"Whether someone is looking for a stock ring that is ready to go or a ring that requires some customization, the decision should be up to the customer on their terms, not the agenda of a jeweler looking for a few extra bucks," says K & Co owner Rich Neciuk. "With such a large purchase, the last thing someone needs is a pushy sales person. The atmosphere should be relaxed and the sale person should be able to answer questions on each ring and style."
Neciuk can customize and re-size any ring to make it a perfect look and fit. He can also reset stones or work on upgrades.
He encourages those looking for engagement rings, and all jewelry for that matter, to stop shopping stores that push product out of their showcase on you and to start shopping the ring of your dreams.
Neciuk explained its a fine line from trying to make a sale versus providing good customer service that provides value to the customer.
"I would much rather have someone pick out something they like versus buying something I pushed on them that they may not like in the long run, that doesn't make anyone happy and the customer may not come back," says Neciuk. "Too many times the industry tells people what they should buy instead of  listening to what the customer wants and then showing them options."
He says even if K & Co family Jewelers is not for you, he understands, and admits he would direct people to other reputable stores in Walnut Creek and San Francisco. He says they may not be local, but over the life of a ring they are worth the trip.
When buying a ring from K & Co, the typical process is like this:
You come in and view our hundreds of styles and select the ring you like
K & co then go over the details/price and compare it to multiple other rings
K & Co helps you select a center stone based on; type of cut, quality, and of course budget
Your ring is custom made to match your; center stone, finger size, metal type, and any other custom detail you wish to add or modify
You pick up your custom made designer ring and have a fantastic story to tell your significant other when you pop that big question.
"Although many jewelers offer custom engagement rings they don't have tangible ring styles to touch, hold, and try on," says Neciuk. "This truly is a revolutionary way to shop for jewelry."
Don't settle for anything less than good customer service when buying high quality rings or jewelry. Visit K & Co Family Jewelers will help you "Find Your Happy Ever After"
For more information, visit K & Co Family Jewelers at 741 2nd Street in Brentwood or online at www.kandcofamilyjewelers.com. You may also follow them on Facebook.
Top photos: Ring viewed in store with round center and no side stones on ring shank
Bottom photos: Ring customized to include a princess cut center and added diamonds on the ring shank.