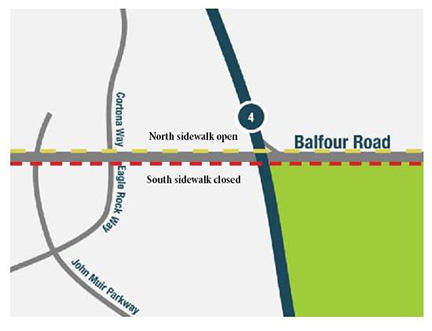 Construction on the Highway 4 & Balfour Road Interchange is making strides! Beginning Wednesday night, March 28, crews will be restriping the roadway for the upcoming traffic handling switch from Stage 3A to 3B on Balfour Road.
Pedestrian access will move from the sidewalk on the south side of Balfour Road to the north side.
Nightly lane closures on Balfour Road will take place between 8:00 p.m. and 5:00 a.m. on Wednesday, March 28 through Thursday, March 29, 2018. Lane closures will be in place both nights. One lane of traffic in each direction will remain open at all times.
Pedestrian Access
The north sidewalk on Balfour Road will be open for pedestrian access.
The south sidewalk on Balfour Road will be closed to pedestrian access.