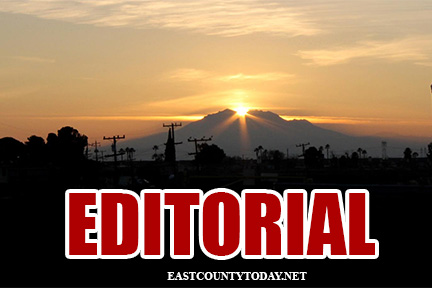 As California and the rest of the world continue to adjust to what I hope is a temporary "normal",  I can't help but think about how fast we have all been forced to adjust our lives as we are at war against the coronavirus (COVID-19).
The latest numbers out of Contra Costa County on Saturday show 353 cases and 5 deaths with 4,929 cases and 31 currently in the hospital. Meanwhile, California is reporting as of April 4, there are a total of 12,026 positive cases and 276 deaths in California.
Like in all wartime efforts, we all have to do our part. In this case, work to bend the curve which is why so many companies now doing their part to create ventilators, create masks, make hand sanitizer… to a hundred other things I could list.
At this time, I can see no greater debate than are we overreacting or are we underreacting? Its been the question of protecting the economy or lives? What will our economy look like after many are forced to stay home, shutter their business and the government continues to adjust its financial assistance response by what seems like each week. Right now, I would suggest to find ways to save money and reduce expenses anyway you can—buy necessities, not Nike's!
Make no mistake, our economy right now is science and our soldiers are all the folks in the medical field, our police and our firefighters.  For everyone else, our economy is supporting them.
As a society, we are in an unprecedented time that doesn't offer a lot of answers—that is what makes this scary, there are no answers for a lot of our questions because they are making it up as they go. As people we want to be assured and reassured and we are not getting that.
So it is okay to be scared. It is okay to be fearful. It is okay to be frustrated. It is okay to feel like you are having cabin fever. It is okay to feel stressed. You are not the only one. We are all feeling a wide range of emotions depending on the day.
But ultimately, we have a responsibility to one another to do things that impact not only ourselves and our families, but a society.
Here are some things I think are working and some things I believe need improvements in Contra Costa County and the State of California:
What Is Working:
Governor Gavin Newsom: I will be the first one to admit I dislike a majority of policies and where he has taken the state of California. That said, this Gavin Newsom battling the COVID-19, I do like. He is not apologizing nor making excuses, but rather he is working in reality. He has dropped the politics and is doing what is needed. He has become a worldwide leader while following the Bay Area's lead (yes, our seven bay area counties have enabled him to take this leadership role). He is also making nice with President Donald Trump by treading the needle with Trump to get us what we need without being handcuffed.
Contra Costa County: We have some wonderful minds at the county that understand infectious disease who are being creative and direct in their response to COVID-19.  These folks knew very early on that we needed a regional approach and they were able to accomplish that with the other Bay Area counties to flatten the curve which has brought worldwide kudos on how our numbers remain lower than other areas.  While there have been some bumps in the road, they have been better than 90% of the state while our county is not looking for TV time or kudos, which I can't say the same for the Mayor of San Francisco in London Breed who rushes to the TV camera any chance she can get… our county folks are keeping their heads down and simply doing the work. While we still do not have a city list and we need more testing available, I can confirm each city in Contra Costa County has at least 1 case of coronavirus, I am comfortable that the county so far has addressed 95% of my concerns and requests for information.
Health Care Workers
This goes without saying. Everyone working to save lives right now my hats off to you. With a mother who works in a Bay Area Hospital Emergency Room, I am hearing firsthand horror stories of what is really going on. How understaffed, overworked, likely exposures, nurses and doctors who are sick and of course the lack of supplies. Yet, these people still are going to work each day. I don't know what else to say here other than thank you and you are appreciated.
First Responders
If the public was aware just how much planning these folks are doing it would surprise you. They have contingency plan after contingency plan in place and they realize it still will not be enough. From firefighters to AMR, these folks are taking on a lot of medical calls these days with little to no protection in the field. They know their coworkers are sick and yet they still show up each day. Mad respect!  As far as police departments go, they are working responses to the best of their ability with social distancing. Different shifts are being separated to ensure if one batch of officers get sick, the rest of the department will not be impacted—for example, not every shift is meeting at the police department briefing rooms, they are at alternate locations. These folks are still showing up, I tip my hat to you all.
School Superintendents /Teachers
Having spoken with several superintendents over the past few weeks, these folks have been thrown for a loop. In what many parents are now finding out is one of the toughest jobs out there in dealing with children and education, teachers have had to adjust their entire school plan in favor of distance education. In what typically would take several years to plan something like this, they have had to do this in weeks—and it's a shotgun approach. The school superintendents have had little to no time to execute a district wide plan and now the teachers get days to execute the plan.  These folks are rockstars! I am warning you all now there is going to be bumps on the road, but it is better than youths playing video games and watching Netflix all day. This no longer is about what a school district or a teacher is doing for your child, its about how families will enable their child to succeed in this environment.
What Is Not Working:
Panic/Information
I will be the first to admit that there is so much information out there and it can be overwhelming, scary, and seem like the end of the world is coming. Ultimately, it causes panic. We are just starting to learn about this virus and the news coming out will likely be negative, but at some point the news will get better.  For some of the naysayers spreading false rhetoric and some crazy conspiracy theories, shame on you! I encourage people to use reliable news sources and if you don't like the news reports, go straight to the city, county, state or government websites. Stay off conspiracy blogs and distance yourself from social media if you must.
Testing
This one is simple. We need more testing and we need it now.
The Non-Essential vs. Essential List:
Look, I wish every business could stay open but for the greater good of bending the curve, businesses must shutter temporarily. I'd be lying if I said there are days where I wish everything would close other than the grocery stores but I've had those thoughts. People need to stay home.  Every business could make an argument they are essential but truth is very few businesses are. This is a never-ending debate but people really do need to make a sacrifice right now. The shift has to be made from making money to ensuring the best possible health outcome.  If the State and County have a list that includes essential business, they sure as heck better define it which stops giving people the ability to skirt the rules based on some phony interpretation of it.
That $1,200 Check is an Insult
If we are being told to stay home. The Federal Government and State should be funding Californian's properly and with as much ease as possible. We need to ensure there as few bankruptcies as possible and home are not lost due to lack of payments.  When this is done, even with forbearance or delayed payments, most will be unable to pay them back because they burned through savings or had no means of income for a long period of time. A simple solution would be to pay a living wage for people to stay home for 90-days. The $1,200 check is an insult to all Americans while the US is bailing out airlines, cruise ships and other industries.  When it comes to mortgages, the law should be any delay in payment is automatically added to the back-end of a mortgage with no questions asked, penalty or "gotcha" policy. Perhaps the caveat could be if you sell your home after this is over, those 3-months are taken out of any profits made.
Common Sense:
Ironically, the best way to fight the coronavirus is social distancing yet some folks are still so self-absorbed that they must "screw the man" and continue life as they know it. It is people like this that will force the State and County to further put tougher lock down rules in place. Parents, pay attention to your kids who are running amuck out on the streets and not practicing social distancing. The point of getting exercise outside is not to go to trails, parks and to congregate—its to walk around in your neighborhood. If your neighborhood is not safe, find a nearby neighborhood that is. It doesn't mean traveling across town, across the county to a park. When you go to the store, have a plan and that allows you to get in and get out as quickly as possible.  Right now, common sense just might be our biggest enemy. We can change this by simply ensuring we all have a plan for how we go about our daily lives.
---
As I close this out, my plea to all of you is just work to become the best human being you can right now for the greater good of society. As Americans, we are tight to fight back against an enemy, but the COVID-19 virus is different. We are being told to stay home and not fight back.
We will get through this and as positive news on a virus test, cure, or vaccine comes at some point, that will provide us the hope we need. Wars are never easy, there will continue to be casualties on many levels, but we will get through this.
I am proud of our community. I am proud of how many have stepped up and are being creative in response to all of this.  If we all do our part and allow science to work, this will at some point pass.
But for now, we are all in this together and we have a duty to do what we can to assist. There will be no normal economy or society until the virus is contained.
---
Mike Burkholder
Publisher of ECT
[email protected]
---