If your year was anything like mine, you might feel like just yesterday was the start of a new year. Today, Christmas is upon us which made for a very quick year, albeit a very challenging one on many levels. I encourage everyone to slow down and spend time with loved ones and embrace your holiday traditions.
Today, forget about the crummy stock market, the nasty political climate, keyboard warriors on social media, impacts of homelessness in our area, blight and remove negativity from your life and instead focus on love. Take a breather and just truly sit back and think about tradition and memories as life is moving pretty quickly.
For many, today is about the celebration of Christ, others its celebrating holiday traditions from the final countdown of the advent calendar, saying goodbye to Elf on a Shelf, listening to Christmas music, holiday feasts, cookie exchanges, roaming around the community observing Christmas lights, or just sharing memories.
For others, some spend the day giving back to those in need.
Cherish the sounds of little voices waking you up before dark, running around the house hoping to open presents as quickly as possible. Remember the glee in their eyes, smiles and laughs. As my kids get older, it truly is a amazing how quickly the time goes. Embrace long hugs and strong handshakes with all your loved ones. Take it all in with a mental note and never forget it.
Be thankful for everyone and everything you have—it could be a lot worse.
2018 was a very challenging year for many which starts with the worst California wildfire season in the history of the state which burned more 1.6 million acres according to CALFIRE. The Mendocino Complex fire burned 459,123 acres while the Carr Fire burned 229,651 acres with the Camp Fire burning another 153,336 acres. Combined each of these three fires destroyed 20,688 structures and resulted in 94 deaths. While surely the Bay Area was impacted with the annoyance of smoke for about a weeks' time, many people's lives have been forever changed.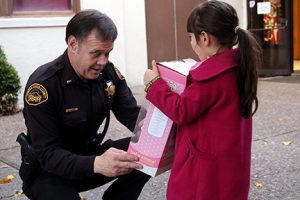 On the flip side, it showed how we as human beings are incredible people stepping up and giving in the time of need. Many people donated in a variety of ways from monetary donations to goods or even time—too many to list so I won't try. Either way, people around the state came together to help people.
The giving continued into this holiday season as many police departments reported they had more donations this year than they ever had. From Bay Point to Brentwood, police departments were able to assist the community more than ever thanks to the support of the community.
Many local businesses and non-profits also held toy and food drives, again too many to name, but every little bit helps but I would like to mention the nice jobs done by Malu Fitness and Golfballin.
Again, there was so much good in people who gave without seeking praise or recognition that will never see print in any publication — I say thank you and cheers to you!
While we were all challenged in 2018 on a variety of things, the old saying of its better to give than receive continues to ring true. This holiday season was a big victory for humanity as the amount of giving was a blessing.
As you prepare your afternoon feasts and toast with wine or whatever other beverage of choice you select, embrace tradition and the good in people, the kindness, and the hope for a better tomorrow of more love and peace.
For those without traditions, start a new one today. Reach out to family whom you may owe a phone call too, reach out to old friends. Show kindness.
Finally, lets also not forget law enforcement, firefighters, medics, doctors, nurses, military and everyone else who are working today. Thank you!
Today, I wish you a day full of peace, goodwill and love.
Have a very Merry Christmas.
Mike Burkholder
Publisher of ECT
[email protected]