On Tuesday, the Contra Costa County Board of Supervisors selected four cannabis retail storefront proposals and seven commercial cannabis cultivation proposals to invite to apply for a land use permit.
The move comes after a February meeting where the Board issued a formal request for proposals which resulted in 40 proposals which included 21 for storefronts and 19 for commercial cultivation.
According to the County Staff Report, the storefront proposals for business are in Pacheco, El Sobrante, Bay Point and Clyde. Meanwhile, the proposals for cultivation are in Brentwood, Byron and Richmond.
Supervisor John Gioia stated prior to the hearing that the county has tried to conduct a process that has transparency, consistency and integrity and said there was a misunderstanding.
"What we are doing today is not approving permits for operation of a dispensary, cultivation or manufacturer," said Gioia. "We are basically selecting based on rankings and other factors,   the best proposes and I use that term broadly defined in the RFP that goes out, to apply for a land use permit. There is no guarantee that anyone who applies is successful at the end of the process."
Gioia explained that there is going to be a full public process that they have with all land use issues approving any type of development along with public notices and public hearings.
"We have a process that is going to probably take 6-to-12 months as a reasonable estimate," said Gioia. "Then we will see some of these appealed or not and if any are not successful, it opens up the possibility to revisit."
He continued by saying there are a lot of issues that the public raises on these that will get analyzed and looked at during an environmental review process and the environmental review will analyze issues of traffic and parking.
Prior to Board Discussion, the Board of Supervisors listened to a diverse variety of comments from the public both in support and against cannabis and the locations. In total, there were nearly 50 public comments including several comments from the Brentwood Area against a cannabis cultivation location on Chestnut Street just east of Sellers.
Cultivation Application Discussion
Supervisor Gioia said he was supported of the three cultivations in his District of North Richmond which included 703 Chesley, Casa Rasta Farms and Magic Glower Gardens. He added he wanted them to be able to move forward to be eligible for the land use process.
Supervisor Burgis stated Element 7's application looked impressive, but was disappointed in the community's reaction coming before them Tuesday by not having communication.
"This is an invitation to apply and I will say that it was communicated pretty clearly from the community that they're not interested in some of those areas," explained Burgis while saying she would not support the Royal Craft applicant in the Knightsen area. "If Element 7 wants to apply, I want them to understand that the community has spoken and its up to them."
Burgis clarified at the request of Gioia she would support all the applicants in the Top 7 of the Commercial Cultivation Ranking which allows them to apply for a land use permit.
The board approved this recommendation in a 5-0 vote.
Retail Storefront Discussion
During this part of the discussion, Gioia encouraged all those going forward to be transparent with the community.
"I want to respect that process moving forward and encourage everyone who moves forward to be very aggressive about being open, transparent, working with the community and listening to what their concerns are if any of them are going to be success," stated Gioia.
G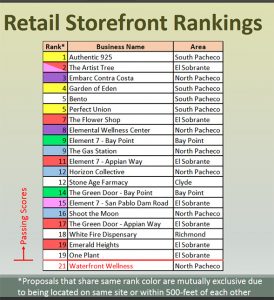 oia the moved forward with recommending that The Artist Tree (El Sobrante) move forward in the process which was approved in a unanimous vote leaving 3 open spots for applicants.
Supervisor Federal Glover said there were some close rankings to one another, but he really liked Element 7 (Bay Point) which ranked 9th in scoring and wanted to get approval for a Bay Point storefront.
"I think that it's going to be very helpful in terms of the community and removal or blight and at the same time bringing in other retail with the possibility of bringing in other retail and maybe some houses also," said Glover. "I'm ready to propose that we would move forward with that application."
The Board of Supervisors approved Element 7 in a unanimous vote leaving 2 open spots for applicants.
Glover then recommended Authentic 925 (South Pacheco) who ranked number 1 in the rankings.
Supervisor Candace Andersen brought up the idea of allowing up to two backups into the process based on the close scoring should one of the applicants not get approval or drop out.
Gioia was not against the idea of backups, but said given the process and what is involved with land use, could it create a dynamic where the backups work aggressively to defeat the ones moving forward today.
"Are we setting up some conflict where if we're identifying a backup, then their belief as well, if we can take them out," stated Gioia. "I mean that's my only concern about backup in general. I know there's conflict in this process, I want to say competition, there's friendly and maybe not so friendly competition in this process. What I hope it doesn't get into is, is because we've seen some of it earlier on is folks that make accusations about other general that weren't true."
Glover said they did not need to do a backup because these are so close in scoring, everyone should be on alert while Supervisor Karen Mitchoff stated they just pick the applicants now and get updates through the process and make a decision at a later date should someone fall out in the process.
Supervisor Candace Andersen said she agreed but did not want another applicant already scored to start from "ground zero".
Mitchoff said they should pick one applicant from each geographic area and then report back on the process after March 9 on the status.
In a 5-0 vote, Authentic 925 was approved and left 1 open spot.
Glover then proposed that due to site position and closeness to one another, proposed moving forward with Elemental Wellness Center (North Pacheco) which scored number 8.
Mitchoff said she thought that security and a business plan were the two most important parts of this process and was going to support Embarc Contra Costa (North Pacheco) even though Elemental Wellness Center came in second in geography. She further highlighted when comparing the two, Embarc received an 180 out of 200 points in the business plan scoring while Elemental Wellness scored 160. She said she was "struck by the difference in points on the business plan" while security was only a 10-point difference."
"Embarc on my two categories gets 380 and Elemental Wellness gets 350," said Mitchoff.
Gioia said both proposals were good and his recommendation was to support the recommendation that comes from the Supervisor in that district since they are the ones that are going to have to work with the community to live with this issue and would support the recommendation of Supervisor Glover.
Burgis highlighted that today they saw a diverse amount of opinions in support and opposition for cannabis in general while dealing with different levels of understanding versus misinformation.
"The County doing their due diligence to try to bring the best businesses to Contra Costa's as we entered this field," stated Burgis who said security and customer services are huge issues as this is a business, not a hobby. "The thing we're trying to do here in Contra Costa is eliminate the illegitimate market, so we want to bring good actors that are going to help us with that goal."
Burgis said she would support Embarc.
Andersen wanted to respect the rankings and scoring.
"We know we're not going to end up with only four businesses. We wanted to start very, very small. We want to do it right. We want to make sure that we have the security, the controls, the necessary services that we need, whether it be police services, whether it be health services, to go along with his process," explained Andersen. "So my inclination is to stick with the ranking and if Embarc does not have control of the property, then it's going to come back to us and we're going to have the evaluated at that point. So I would prefer to stick with the integrity of the rankings that we have right now and the geographic distribution."
Glover moved forward with a motion to support Elemental Wellness Center which failed in a 2-3 vote with Glover and Gioia supporting and Andersen, Burgis and Mitchoff against.
The motion was then put forward for Embarc Contra Costa which passed in a 5-0 vote.
Upon selection of the invitees for land use permit applications, in accordance with the Board-approved RFP, the invitees will have 90 days to submit their land use permit applications (the recommended specific deadline is Monday, March 9, 2020 at 4 p.m.).
For more information: