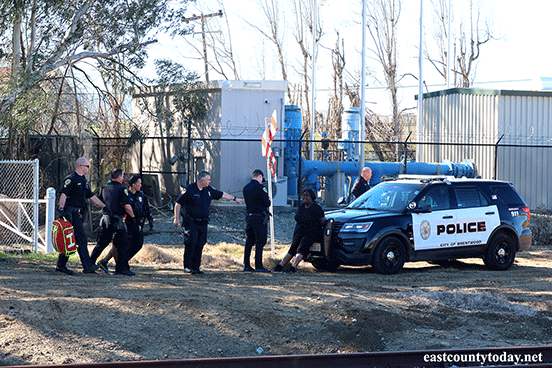 The Brentwood Police Department confirmed that four people were in custody around 1:00 pm Monday after a theft at a local store resulted in a pursuit into the City of Oakley.
The suspects fled in a vehicle out of the Streets of Brentwood at Ulta around 11:45 am.
According to Lt. Walter O'Grodnick, as the call was being dispatched, the suspects collided with one of their patrol cars as they were fleeing the area.  The officer was not injured and initiated a short pursuit until the suspects dumped the car in a field near the railroad tracks by JC Penny's.
Brentowod Police were joined by both Antioch and Oakley Police Departments for the search of the three females including a yard to yard search in the Freesia Drive and Geranium Drive neighborhoods where one female was taken into custody.
A short time later, the two other females were taken into custody in an open field. At least one female required medical attention for a head injury.
O'Grodnick added that a fourth subject arrived to pick up the 3 suspects in hiding and he was arrested too.
Police are still actively investigating the incident.
UPDATE per Brentwood PD:
On February 10, 2020 at 1145 hours, officers were dispatched to Ulta Beauty Supply (in the Streets of Brentwood Shopping Center) to investigate a theft. Keilaysha Usher (24 year old female, Oakland) Talmika Bates (24 year old female, Hayward) and Ramiah Armstrong (22 year old female, Richmond) left the store with about $10,000 worth of merchandise and fled in a Nissan Murano toward Lone Tree Way.
A responding Brentwood Police Officer located the vehicle at the intersection of Shady Willow Lane and Lone Tree Way and attempted a traffic enforcement stop. The driver of the Nissan collided with the patrol car and fled. The vehicle was located in a field at the north end of Slatten Ranch Road where the occupants fled on foot into a nearby neighborhood. A perimeter was set up by Brentwood, Antioch and Oakley Police units until all three females were located and taken into custody.
An additional subject, Adrian Benton Jr. (21 year old male, Richmond) appeared in the area to pick up the females and help them flee the area. He was also taken into custody without incident.
All four subjects are being booked into Martinez Detention Facility.
This case is currently under investigation. Anyone with additional information is encouraged to call Brentwood PD dispatch at 925-809-7911.