The Brentwood Police Department will be launching a special traffic campaign on Monday April 1, 2019 aimed at reminding the public to routinely drive with due regard and safety for others at all times.
"Traffic has always been a top priority in our community and will remain a top priority going forward," said Brentwood Police Lieutenant Walter O'Grodnick. "When we identify a problematic area in our city, we work closely with our staff and the City's traffic engineer to rectify the issue."
Brentwood's traffic campaign, a first for the city, is aimed at raising awareness for the motoring public, bicyclists, and pedestrians in the community regarding the importance of traffic safety. Not dissimilar to the famous "Click It Or Ticket" campaign from the early 2000's, Brentwood's traffic campaign will use the slogan, "Obey The Fine or Pay The Fine", with the goal to change people's driving behavior and for those to become more aware about safety on the road.
"The bottom line is to get people to pay more attention, being aggressive on issuing tickets, and enforcing them," said Brentwood Chief Police Tom Hansen. "There is something about a ticket that changes people's behavior. Verbal warnings just aren't as effective."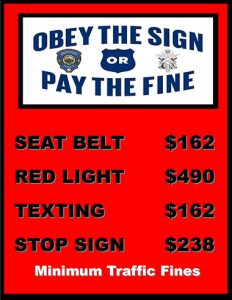 Traffic is said to be the number one complaint amongst residents in Brentwood. According to Sergeant Mark Louwerens, supervisor of Brentwood's Traffic Unit, the City of Brentwood had 445 traffic collisions with injuries in 2018, noting that the number of non-injury vehicle collisions was higher. Additionally, there were a reported 1,776 speeding citations, which equates to approximately 150 citations a month.
As part of the traffic campaign, citizens can also expect to see more officers on the street. The California Office of Traffic Safety will be issuing a $100,000 grant to the City of Brentwood for the sole purpose of putting more officers on the streets or even allowing overtime to enforce traffic safety. It is hoped that Brentwood's traffic campaign will serve as a reminder for the public to take traffic safety very seriously.
"The driver is not necessarily just young people, it's all ages; every age group," said Louwerens. "You can look at the numbers and older drivers are just as much responsible as younger drivers. So there's no specific number as far as the age."
Louwerens cites the repainting of and adding more bolts to all crosswalks around the schools for the purpose of making them more visible, as well as the recent red-light timing at the intersection of Balfour Road and Fairview Avenue as examples of traffic improvement. The traffic light at this intersection was altered so that the entire intersection has a red light for one second before any light turns green, due to motorists repeatedly attempting illegal U-turns and running red lights.
"That allows everyone to clear the intersection and makes it safer," said Louwerens. "As soon as we did that, the complaints went down and it was phenomenal for the city."
The traffic campaign is expected to educate the public about overall traffic safety, problematic areas, and fines associated with the top violations and primary collision factors. The traffic safety unit and school resource officers have conducted presentations in high school driver's education classes and auto shops, and more presentations are planned going forward, in addition to increased traffic education, collaboration with school districts, and using social media outlets for outreach. Brentwood residents can also expect to see 50 signs placed at various points throughout the city, with the aforementioned slogan, "Obey the Sign or Pay the Fine".
"Going with the 'Better in Brentwood' city slogan, that shouldn't just include businesses," added Louwerens. "That should include if you're traveling through the city, whether you're in a vehicle, on a bicycle, or just a pedestrian walking around in some of these great places."
Added O'Grodnick, "This campaign is the first for our Department, and we are very excited about launching it."
---
Sean Tongson, writer, is a resident of East Contra Costa County, a proud husband and father, and enjoys outdoor activities such as hiking, road tripping, and traveling.
An avid bay area sports fan, Sean's favorite teams include the 49ers, Giants, Sharks, and Warriors.
---