On Tuesday, the Brentwood could approve an ordinance to establish a campaign contribution limit for candidates running for city elected office.
The move would be made under an "urgency ordinance" and a "non-urgency ordinance" and would limit campaign contributions to $500 per person, per election for a candidate running for elected office. The city is also proposing allocating $25k to retain a third-party investigator to ensure enforcement of the ordinance. The full cost will depend on any potential violations of the ordinance or potential complaints filed with the City alleging such violations.
Based on federal law, political committees (PACs) that are not controlled by candidates can still spend unlimited money on behalf of a candidate or against a candidate. Political candidates can also loan/contribute unlimited funds to their own campaign.
At the June 14 meeting (see recap), councilmember, this item was brought forward by councilmembers Jovita Mendoza and Karen Rarey.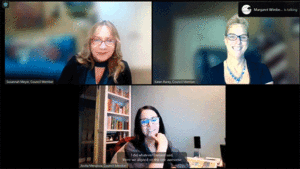 "I think it makes it easier, you are on an even playing field instead of someone with a $20k donation from one person," said Rarey who acknowledged there is now a cap of $5k. "Still, if we have a limit, it makes it more on an even playing field for everyone.  I would also like to look at it that contributions can only be received during the campaign year."
At the meeting, Mendoza agreed.
"This has been a topic within the community since way before I was elected. We don't understand why in a small town of Brentwood why you would need that much money to run a campaign," stated Mendoza. "You should be able to run with smaller donations and I think the even playing field is important."
Mendoza said people should be looking at "substance" versus "shiny ads" in a campaign.
"This way everyone has the same kind of money and do the same kind of things with lawn signs, flyers, door hangers, just the basic stuff and then it becomes more about your messaging versus how much marketing and how good you are at marketing because funds will be limited," said Mendoza. "Our community wants this."
In the past election, Mayor Joel Bryant accepted a $20k donation from Sierra Pacific Properties (owned by Seeno). He also received $1,500 from Tim Grayson for Assembly 2020. Meanwhile, Indrani Golden, a council candidate for District 3, received an accepted a $5k contribution from Sierra Pacific Properties.  Olga Vidriales, also a candidate in District 3, received a $1k donation from the Jim Frazier for Assembly 2020 and $1k from the California Real Estate Political Action Committee. In the District 1 race, Faye Maloney received $500 from the Contra Costa County District Attorney's Association.
Summary of the proposed ordinances
The ordinances would impose a $500 per person, per election limit on contributions to a candidate for City elective office, which includes the mayor and four city councilmembers. The new contribution limit would only apply to contributions made after the ordinances go into effect. The ordinances make clear that a person can contribute up to $500 to a candidate after the effective date of the ordinances even if they gave to that same candidate up to the State's current default contribution limit before the effective date.
Following this upcoming election cycle, the limit would apply for any contribution or contributions from a single source, regardless of when the contribution(s) are made. For example, if a person made a $300 contribution to a candidate two years before the relevant election, that person could only give an additional $200 to the candidate for that election, regardless of when they made the subsequent contribution.
Candidate committees versus other political committees, and candidate self donations
The United States Supreme Court has generally upheld limits on contributions to candidates, but not to other types of political committees that are not controlled by candidates. Thus, the Court has struck down limits on contributions to independent expenditure committees, ballot measure committees, and general-purpose committees (PACs) that are not controlled by candidates. In addition, the Court has held that a candidate can loan or contribute unlimited amounts to their own campaign because such activity – contributing to one's own campaign – does not involve the possibility of corruption. The attached ordinances adhere to these constitutional constraints.
Under Assembly Bill 571 which became law in January 2021, it gave cities the discretion to either set contribution limits of their own choosing (including having no limits on contributions) or default to the State's contribution limit. Because Brentwood has not adopted a different contribution limit, the current State default limit of $4,900 per election per source applies in the City. Under State law, the default contribution limit increases every two years to account for inflation.
A look at campaign donation limits from other cities across California according to the FPPC.
$4,400: City of Fresno (limits committee donations to $8,800)
$2,500: City of Richmond
$2,000: City of Vacaville (at large candidate)
$1,554: City of Hayward
$1,000: City of San Diego (Mayor's Race) – Council is $500 limit
$1,000: City of Turlock (per election cycle)
$1,000: City of Vacaville (by district)
$760: Dana Point
$500: City of Burlingame
$500: City of Chico (per election)
$500: City of Dublin
$500: City of Fremont
$500: City of Healdsburg
$500: City of Merced or $2,000 per election.
$500: City of Milpitas
$500: City of Monterey
$500: City of Pinole (note – in-kind contributions of $1k per person or $2k by political committee
$500: City of Pleasant Hill or $2,000 from a political committee
Note – in-kind contributions of $1k per person or $2k by political committee.
$500: City of Roseville or $250 if you don't accept voluntary campaign limits.
$500: City of Santa Rosa
$500: City of Sausalito
$400: City of Monterey
$400: City of Navoto
$300: City of Irvine
$250: Agoura Hills
$250: City of Benicia
$250: West Sacramento
$150: City of Folsom
$125: City of Beverely Hills (This limit increases to $450 if the candidate agrees to spend $80,000 or less.)
More Notes:
On March 17, 2021, the City of Bakerfield lifted its $4,700 cap and now have no campaign contribution limits.
On June 20, 2020, City of Monterey established a $0.60 per resident meaning campaigns could voluntarily spend no more than $36,000 per election.
On July 24, 2017, city of Livermore abolished its campaign limits for elections.  Prior to this, the limit was $250.  At this time, the Mayor stated lifting the campaign limits leveled the playing field.
On Nov. 8, 2016, the City Council of Cupertino limited council spending on elections to $33,000.
---
Brentwood City Council Meeting
July 12, 2022 at 7:00 pm
Staff Report: click here