On Tuesday, the Brentwood City Council will discuss its compensation and benefits which could lead to a 40% pay increase for councilmembers.
The current salary of a city council member is $939.26 per month. The last pay increase came in 2014 where the council gave itself a six-five percent (65%) increase. Prior to that increase, the council last set its pay in 2001 at $569.25.
According to the staff report, the council is eligible for a 40% salary increase and could go into effect when at least one council member commences a new term of office—which would mean December 2022 after new council members are sworn into office following the 2022 municipal election.
State law allows council members to receive an annual salary increase of up to five percent (5%) per year since the last salary increase. The council could see its monthly salary jump from $939.26 to $1,314.96 per month beginning in December.
The council could also opt to tie its salary increase to non-sworn employees at 2.8% annual increase. This would jump their salary to $1,150.59 per month.  The council can also elect any increase under 5% should they choose.
The council will discuss the following:
A salary increase of forty percent (40%), consistent with state law,
A salary increase of twenty-two and one-half percent (5%), which is an average of the salary increases over eight years received by non-sworn employees, or
Increase Council salaries by any amount less than the maximum allowed of 40%.
There is a total annual cost of approximately $656 per 1% City Council salary increase. As such, the annual cost of a 40% salary increase for the full Council would be approximately $26,240; while a 22.5% salary increase would have an annual cost of approximately $14,760.
The staff report failed to provide a salary survey of what neighboring city councils are making.
Note Back in August of 2019, the Antioch City Council approved a salary increase for the first time in 14-years which bumped the pay of the city council to $1,600.04 per month.
Antioch Salary Survey of August 2019:
$1,600 – City of Antioch
$1,402 – City of Richmond
$1,352 – City of Concord
$939 – City of Brentwood
$938 – City of San Ramon
$650 – City of Walnut Creek
$585 – City of Martinez
$500 – City of Pittsburg
$457 – City of Oakley
---
Receive an Update on the Request for Funding for the John Marsh House Interpretive Center and Provide Direction on Use of City Funding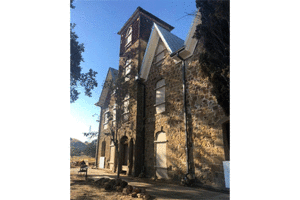 The Brentwood City Council will also discuss possible funding for the John Marsh House.
Staff requests direction from the City Council to 1) coordinate with the Office of State Senator Glazer and California State Parks on the use of State budget funds to open Marsh Creek State Historic Park to the public; and 2) determine a source and amount of City funds, if any, to be
allocated by the City Council for use on the John Marsh Interpretive Center project.
This comes after a March 2 meeting of the Agricultural Enterprise Committee who stated it supports the Interpretive Center, but did not believe the funds should come from the Agriculture Mitigation Funds—multiple farmers spoke out about the use of the funds for this project — the March 2 hour long meeting can be viewed by clicking here.
City Council direction is requested in identifying the total amount and source of funds, if any, to be allocated to the Interpretive Center through the John Muir Historic Trust
Capital Infrastructure Funds
This fund accounts for funds to be utilized for non-residential development related infrastructure projects and are not to be used for ongoing operating expenses. The Capital Infrastructure Fund currently has approximately $1.7 million, however, $1.3 million of this amount was allocated to prior Economic Development Strategic Initiatives and is planned for future Economic Development purposes. The remaining $400,000 in funding is unobligated and available for non-residential development projects. Historically, Capital Infrastructure Funds have been used on targeted infrastructure projects, such as PA-1 and related economic development efforts.
General Fund
The General Fund is the City government's primary operating fund and accounts for all financial resources for general government services. The General Fund analysis presented at the Operating Budget workshop in May 2022 projected a break even result from operations over the FY 2022/23 – FY 2023/24 two-year budget period, excluding proceeds from the planned sale of surplus City properties of approximately $3 million. This General Fund projection included the cost of the adopted Strategic Plan, which utilized the full amount of the existing General Fund capacity.
If the City Council wished to utilize General Fund related resources, one-time financial support could be funded by a reallocation of funding from currently approved City Council Strategic Initiatives, from a portion of the proceeds from the sale of surplus properties, or a draw from the Budget Stabilization Fund. Although separate from the General Fund, the Budget Stabilization Fund is a key component of the City's long-term fiscal sustainability plan, and is projected to be used to balance the General Fund budget over the upcoming ten-year period, offsetting increases in pension or retiree medical contributions so that City service levels are not impacted. Recently, the general economic outlook and the City's long-term fiscal projections have become more challenging, with inflation running at historically high levels and CalPERS announcing a preliminary 6.1% investment loss for the most recently completed fiscal year. This loss will result in significant cost increases in the intermediate term.
---
Brentwood City Council Meeting
7:00 pm
Zoom: www.brentwoodca.gov/vcc or Zoom Webinar ID: 760 1397 0037
Phone Numbers:
Dial (for higher quality, dial a number based on your current location): US: +1 720 707 2699 or +1 253 215 8782 or +1 346 248 7799 or +1 646 558 8656 or +1 301 715 8592 or +1 312 626 6799 or 888 788 0099 (Toll Free) or 833 548 0276 (Toll Free) or 833 548 0282 (Toll Free) or 877 853 5247 (Toll Free
Agenda/Staff Report: https://brentwoodca.iqm2.com/citizens/FileOpen.aspx?Type=1&ID=2797&Inline=True