After two-years of hard work and dedication of attempting to turn around a nearly lifeless marina into a destination, Big Break Marina has come back to life.
Located at 100 Big Break Road in the City of Oakley and fresh off a successful Wild West Bass Tournament of 140 boats, the Marina is now thriving after blight and safety issues have been resolved. People are again visiting the hidden gem along the delta waterfront.
That was not the case just two-years ago when Sequoia Mortgage Capital, Inc. took back the property after defaulted loan payments by the previous owner. The property was in disarray after neglect of more than a decade.
According to Sean Ferguson, Harbor Master, it's been a 180 degree change. When the new management group took over, the place was a mess and he admits it was embarrassing.
"It was in bad shape," recalls Ferguson. "The docks had holes in them, the walkways were rickety. There were all kinds of abandoned vehicles and boats on the property. The boat shed had holes in the panels, buildings on the property were not occupied. The list goes on… There was a lot of work to do."
Ferguson and his team were up for the task as they filled 50 dumpsters full of garbage and items across the property.
"It was just not an appropriate facility to launch a boat. Sure, if you wanted a place to launch that was quiet, but not for bass boats and it was certainly not a place to bring your family to spend the day," says Ferguson.
He says that has all changed after several beautification projects were completed. Now people are coming and enjoying the marina. He highlighted how communication was key to learning what the customers wanted and needed out of the Marina.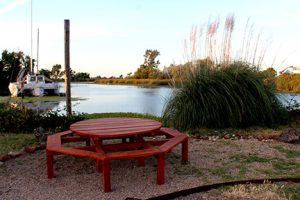 "We started by greeting every person who came in. We told them that the old owner was gone and that the Marina was now under new management. Our first couple of months was basically private investigation work, determining what boat belonged to who and figuring out the most urgent needs based on feedback we received on the status of the marina," explained Ferguson. "I heard over a hundred tales of woe from what happened to people here. One of the first things we identified was that people did not feel treated properly or safe launching from here—one person even fell through the dock. We repaired the launch docks first, and added new walkways."
The next step was beautification projects from fresh paint across the property, new public restrooms, flowers, plants, and ground covers. They also added several picnic table locations across the property for people to come enjoy the scenery.
To address safety, cameras were installed across the property and they can see who comes in and who comes out explaining the importance of safety.
The effort has paid off as just two-years ago the marina had just 35% of its boat slips and dry storage areas full. Today, they are approaching 75% capacity.  They are also seeing an uptick in kayak activity.
The facility also now has water and power hook ups for RV's that can come spend a weekend or stay during a fishing tournament—12 spots are available and has been a great addition for tournaments.
Ferguson says this was in part due to the support of the City of Oakley who are rooting for the Marina to come back to life and were helpful with permitting and communication.  They also helped sponsor fishing tournaments.
Ferguson says getting the Wild West Bass Trail was huge for the Marina to bring back some of the history that had been lost saying it's what both the city and community had wanted because he always heard stories of how people said they used to fish here with their dad or grandparent.
"From what I see and how I understand the history, when Big Break Marina lost the tournaments under previous management, there were sour feelings and tournament directors needed a place to go. Other marinas welcomed them with open arms, "explained Ferguson. "Those marinas went out of their way to make them comfortable. After a decade of that, there is a sense of loyalty. I can respect that. All we can do is continue to make progress and make the place great for everyone and hope they give us a chance in the future like the Wild West Bass Trail did."
He explained how when the Wild West Bass Trail did came back, there were concerns if Big Break Marina could even host 150 boats. Sure enough, after some measuring and planning, it was determined the marina could hold a little over 200 vehicles parked onsite.
"We heard that people were concerned about the number of boats that could be launched for a large tournament and the impression was that we couldn't handle it. However, we can comfortably accommodate up to 200 boats parked on the property, and we reassured the tournament organizers of this fact. They were very happy with how organized and efficient we were for launching and parking." said Ferguson.
Next week is the Wild West Bass Trail Pro-Am event from Friday June 9th to Sunday June 11th. The public are welcome to attend the weigh in each day at 3 pm. In addition, the marina is now working to bring more tournaments next year to go along with the Wild West Bass Trail and Dan's Delta Outdoors.
They are seeking a chance from tournament promoters to give them a try.
"Dan's Delta Outdoors was willing right away, he is a big supporter of bringing fishing tournaments back to Oakley so he was willing without question," said Ferguson. "To get Wild West, that was a bigger deal and had to convince the City of Oakley. Right from the start, they saw this place was a safe place to come so they sponsored Wild West Bass Trail."
Ferguson admits the Wild West Bass Trail team said they heard some horror stories, but admitted the marina had cleaned things up and looked great.
In fact, last year Gary Dobyns, co-founder of the Wild West Bass Trail explained they used to run the tournaments out of Big Break Marina and that it was great to be back.
"We would go every weekend out of Big Break and then new ownership took over and tournaments began to disburse and it's just nice to be back. This is a nice family friendly atmosphere with parking and an awesome weigh in area. They want us here, it's a big deal," said Dobyns.
He further highlighted that people talk and had heard horror stories before coming back. He says the current rumors about Big Break Marina were unfounded and it's a great facility.
Dan Mathisen of Dan's Outdoor Delta echoed Dobyn's thoughts.
"Big Break Marina has put in a ton of work to bring it back up the standards it was when it was the tournament headquarters for the delta," says Mathisen. "It's great to see the facility return to its glory and have an inviting environment to not only fisherman but recreation in the heart of the west delta fishery. Angles can catch striped bass, sturgeons and black bass from this convenient location. As someone who is a big supporter in bringing fishing back to Oakley, this was the missing piece and now it's back."
Ferguson expressed how thankful he was for getting this overwhelming support from tournament directors as well as the community.
"The support has been incredible. The marina went through the dark ages. It was almost like Big Break Marina had become a bad word. I am grateful for the second chance and proud of what we are offering. This is a safe and fun place to come and recreation with the most gorgeous nature. It's so beautiful and we are next to east bay regional park land in Big Break" says Ferguson. "Ultimately, everybody in the community wanted this marina to be successful so people can come and enjoy their recreation. We are not only getting some of the experienced people back, but we are getting a lot of first timers who want to enjoy the outdoors on the delta, from jet skiers to boaters to bass fisherman. People can again launch from Oakley or right off Highway 4 without driving an additional 15-30 minutes to another location."
With the marina now friendly, safe and attractive, they are open to hosting events from parties to weddings, to community picnics saying the opportunities are endless.
"We hope people from the community come down and feel like they can just hang out and look at the water if they want, take photographs or have a picnic. Its so beautiful here that we hope everyone can enjoy it," said Ferguson.
To visit Big Break Marina, they are located at 100 Big Break Road in Oakley. You may also visit them on the web at www.bigbreakmarina.com or email [email protected]. You can also call them at 925-679-0900.
Upcoming Tournaments:
Wild West Bass Trail:
June 9-11 Pro AM – weigh in at 3:00 pm
The Black Bass Tournament Series
July 15th
August 19th
September 30th
October 28th-29th
Yak-a-Bass Tournament
Rick Doyle Striper Derby (Charity Event)