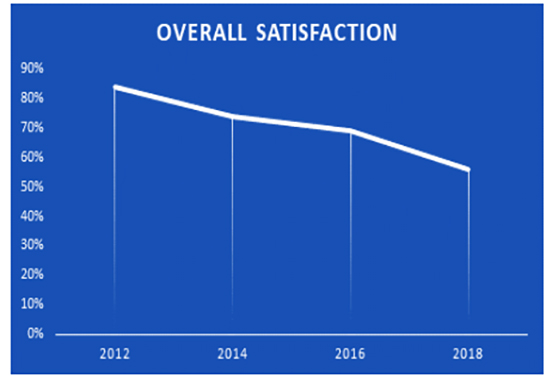 The Alameda County Grand Jury issued its report Monday where it stated violent crime had increased by 115% over the past 5-years while fare evasion was at a rate of 15% of total ridership which may cost BART as much as $80 million per year.
The grand jury highlighted how BART's average weekday ridership has declined from Fiscal Year 2016 from 433,4000 riders to 407,600—a 6% loss. Meanwhile, forecasted ridership in 2020 is expected to go even lower even while the Bay Area population continues to increase.
Meanwhile, BART's rider satisfaction fell from a high of 84% in 2012 to a low of 56% in 2018.
The Grand Jury concluded that crime, fare evasion, and perception of dirty train cars and stations threaten the agency amid other transportation choices. They also say BART has been slow to react to many of the problems.
Fare Evasion:
The Grand Jury learned from BART senior management that an estimated 15% of riders do not pay their fares, which means that approximately 17.7 million passengers annually are not paying, out of the 118 million total passengers—its estimated fare evasion costs BART as much as $80 million per year. The comparable rate of fare evaders on similar transit systems is much lower (about8%) according to the same source.
The report highlights how BART is spending $2.5 million annually on fare inspectors, however, since 2018, only $29,000 has been collected in fines with only 9% of recipients paid the fines. It notes that only 0.04% of violators were caught during the first six months of 2018 and for every violator cited, 2,300 got away with not paying.
Editors note – Board Member Deb Allen, according to the February Minutes, requested that staff come back to the Board in the next 60 days with a plan of how to quantify the fare evasion rate, with a goal of adding a true estimated numeric value on future quarterly reports. Minutes, click here.
Security & Perception of Safety
Violent Crimes increased by 115% between 2014 to 2018 based on FBI Uniform Crime Reporting Data with robberies and aggravated assaults accounting for nearly all of those crimes. However, BART's website says, "much of the violent crime increase has been driven by snatch-and-run cellphone thefts that are considered robberies because they involve the use of force or fear".
To address security, BART is hiring 94-new patrol officers over the next 5-years (18-19 each year). BART has also taken steps to attract more police officers with a 16% pay raise over the next 4-years and a $15,000 hiring bonus.  The Grand Jury, however, believes BART needs to accelerate its hiring of patrol officers to make riders feel safer and restore their confidence in BART.
Here are the findings and recommendations:
Finding 19-30:
BART's police department staffing has been insufficient to meet crime levels, as reported by an outside expert, who recommended substantially more patrol officers and revamped patrol assignments.
Finding 19-31:
Although overall crime on BART is up only slightly from 2014 to 2018, the incidence of violent crime more than doubled during that time. All crime is serious, but the potential for violent crime is particularly frightening to riders. The high volume of lesser offenses, especially thefts of items like phones, computers, wallets, etc., dramatically affects riders' perceptions of safety and well-being on the BART system. 
Finding 19-32:
Public concern about fare evasion has been one of the top issues on every customer satisfaction study since 2014. The lack of enforcement erodes confidence in BART and costs upwards of  $25 million, or 5% of passenger revenue. 
Finding 19-33:
Cleanliness of BART trains and stations was the concern most cited in the Customer Satisfaction Study from 2012 through 2018. BART introduced several initiatives to target cleaning resources where most needed and to prevent messes in the first place (e.g., elevator attendants, Pit Stop program). However, continuing dissatisfaction with cleanliness was repeatedly cited in the most recent survey, in large part due to an increase in the homeless population using BART facilities.
Finding 19-34:
Board-related documents are difficult to find on the BART website because some, especially those related to the board, are not searchable.
The Recommendations
Recommendation 19-30:
BART must increase police patrol officer staffing over the next five years to make the entire BART system safer, in accordance with the expert study it commissioned and received in 2018. 
Recommendation 19-31:
BART must better educate the public on crime prevention to reduce opportunities for robberies and thefts on the transit system.
Recommendation 19-32:
BART should continue the enforcement crackdown on fare evaders and improve its overall process for handling the collection of fare evasion fines.
Recommendation 19-33:
BART must continue and expand its initiatives to keep trains and stations clean and to respond more quickly to bio-hazard complaints.  
Recommendation 19-34:
BART should continue to partner with social service agencies that serve the homeless, while strongly advocating for a comprehensive regional, rather than county by county, program to aid the homeless, especially those with mental health conditions.
Recommendation 19-35:
BART must establish a method to track and report on emerging concerns within the Customer Satisfaction Study report, initially drawing on passenger comments that document new and persistent concerns of riders. 
Recommendation 19-36:
BART must increase the transparency of BART policies, decisions, and operations by making all Board-related documents and staff reports searchable, so information may be more easily found by the public using the BART website's search feature.
For the full Grand Jury Report, click here.