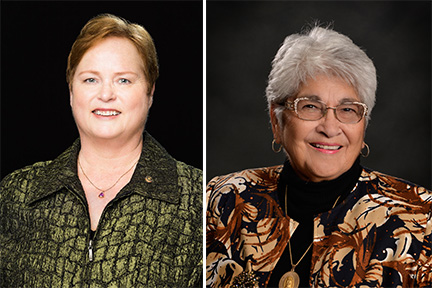 On Wednesday, the Antioch Unified School District Board of Trustees selected Diane Gibson-Gray as president of the board with Mary Rocha being named Vice President. The sections came in a split board decision.
Rocha made the motion to appoint Gibson-Gray for chair in which Trustee Ellie Householder stated she preferred Trustee Crystal Sawyer-White be board president for the upcoming year.
"Just based on the fact she hasn't gotten to be the board president at all and in the last year she has gone to a ton of different trainings. I think I have just seen a huge growth in her knowledge of what is current in the district, what is going on at the state, the county," stated Householder who added Gibson-Gray brings a wealth of knowledge being on the board for 9-years. "Out of fairness, its time to give somebody else a shot at being in the leadership position."
Householder attempted to make a motion, but there was already a motion on the table that they needed to take action on.
Sawyer-White stated she thought there would be some consideration for her but was not surprised while suggesting Householder be vice president since she was not being nominated.
Gibson-Gay responded by explaining how at last years reorganization of the board, she wanted Sawyer-White to be vice president to spend the year learning but she walked out of the meeting early.
"I agree with Ellie, you have grown but its difficult to run the meetings if you haven't been vice president, I help Gary (Hack) all the time," stated Gibson-Gray. "I would like you (Sawyer-White) to be vice president and help mentor you for the presidency if you are willing. That is what I want to do."
Sawyer-White responded in other districts that it was a rotation each year.
"I've been vice president, I hear what you are saying. We are in the 21st century. I've put a lot into this position," stated Sawyer-White. "With Ellie, even though she is new to the board, we work well together."
Householder contended she understood the idea of being vice president then president noting that Sawyer-White was the vice president at one point and completed the governance training and was very active in advocating for AUSD at the state level, the county level and attending things at other districts while learning.
"One point is I think she is extremely qualified to be president, and the other point is just fairness," said Householder who added she didn't understand why they were not giving everyone a fair shot.
Householder continued.
"We have a high African American student population here and I think it would be amazing to have a strong black woman in this position of leadership for the District," said Householder.
Gibson-Gray reiterated her goal from last year about appointing Sawyer-White as vice president.
"I wanted Crystal to be the vice president but she was upset and walked out of the meeting. If she had stayed, that is what it would have been," said Gibson-Gray. "She would have stayed in the vice presidency one more year and then she would be moving up."
Householder replied.
"To have one bad day and we are judging somebody based on one bad day, could you imagine being attacked for the way you were born and the amount of melanin in your skin," stated Householder.
Gibson-Gray replied she took "offense to that" while Hack and Rocha also took offense and objected to the statement.
"I am saying that is how she felt and that is why she left," stated Householder.
The board then moved forward with Rocha's motion for Gibson-Gray as president which passed in a 3-2 vote with Householder and Sawyer-White dissenting.
Gibson-Gray then nominated Sawyer-White for vice president. Sawyer-White then declined the opportunity and then nominated Householder as vice president.
"This is not about leadership, its about the students. I just think that once they look at how leadership has changed, its really empowersome for the students," said Sawyer-White. "I am wishing for our graduate students of color to come back and teach in the district. I have many visions and its not about me."
With a motion on the table, Sawyer-White declined being vice president which then killed the motion. Sawyer-White then nominated Householder.
The board then voted 2-2 with Hack and Sawyer-White in favor and Gibson-Gray and Rocha against with Householder abstaining. That killed that motion.
At that point, Gibson-Gray nominated Mary Rocha as vice president with a 3-2 vote with Householder and Sawyer-White dissenting.
To watch the exchange, the discussion begins at the 1-hour 41-minute mark.