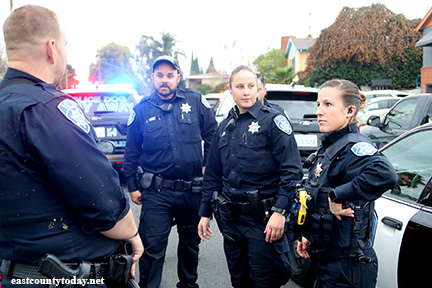 On Tuesday, the Antioch City Council approved the overhire for the Antioch Police Department by up to six sworn officers above the current authorized allocated staffing level of 115 sworn officers.
According to the staff report, it is anticipated the salaries paid during this current fiscal year would come from existing salary saving from unfilled positions. Future years would have to be approved through budget appropriations.
The City of Antioch currently has 112 sworn police officers with one police trainee attending a local police academy and slated to graduate on May 8, 2020. A conditional job offer was given to a police trainee applicant, who if successful, would begin the academy in April. There is also an open recruitment for a police lieutenant position. The last remaining conditional job offer is being held for the successful applicant of this process, which means, no further conditional job offers can be given at this time.
"As I stand here today, I have no more conditional job offers to give to anyone else in our process now," said Police Chief Tammany Brooks. "That was the good news. The bad news is as I look ahead in the future, I know that we as a police department have anywhere between three and six people separating from employment due to medical service retirements within the next 12 months."
Brooks said between 2014-2019, they have had three to four separations each year that were unexpected and another 3-6 who are anticipated separations. Since Measure C was approved by voters in 2013, 82 officers have been hired, while 52 have separated which is a net gain of 30 police officers.
The typical turnaround time for candidates applying for a police officers or police trainee position to complete the hiring process is 3-6 months. Current police academies run another 6-months. Currently, a best-case scenario to fill a vacancy is 4-months and worst-case is close to 12-months.
Councilwoman Monica Wilson asked since there have been a couple times they have been asked to overhire, if they have a policy to allow the Chief to overhire to maintain the hire amount instead of always going before the council.
Chief Brooks said he was aware of both the City of Brentwood and City of Walnut Creek who have an overhire policy in an effort to maintain their authorized staffing levels.
City Manager Ron Bernal said the council can provide direction on a policy that would require the item to come back and ask for permission to maintain an overhire policy.
Councilmember Lamar Thorpe agreed saying it "should be a standard practice" and would also include code enforcement.
Mayor Sean Wright thanked Chief Brooks saying the police department have been doing a phenomenal job noting they are moving towards a 1-officer per 1,000 residents' ratio.
"This is necessary, whatever number your trying to hire too. I have always said we're not going to get to that number. Not because you don't try but because of attrition, because of retirement," explained Wright. "This is the only way that we actually get to the number that we've allotted to you. So thank you for coming with this request.
The goal to overhire allows the police department to hire officers to help limit or eliminate any lapse in police services to the community. This is a tool that allows the police department to offer conditional job offers and does not change the allocated staffing level.
The council then approved the authorization of hiring six additional officers through the overhire process in a 5-0 vote.