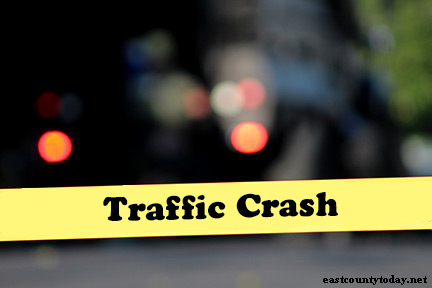 At 12:24 pm, Contra Costa County Fire Protection District responded to a report of a vehicle crash in the area of westbound Highway 4 just west of Bailey Road.
The crash resulted in a SIGALERT being issued by CHP as all lanes are blocked. A total of 5 AMR units were requested.
Update:
All lanes have since been re-opened.
Detail Information
1:18 PM
26
[44] A19-405A REQ 1185 FB 4 WHEEL DRIVE VEH [Shared]
1:03 PM
25
[42] 1039 ARROWHEAD TOW W/ LN 404M [Shared]
1:03 PM
24
[41] 404M ADV SEE 1185 REQ THAT THEY FOLLOW [Shared]
1:01 PM
23
[40] [CHP] has closed their incident [180718GG01411]
12:55 PM
22
[38] PITT PD GOING 10-97 WILL CONTACT AN OFCR / NO LL
12:51 PM
21
[37] [Notification] [CHP]-PITT PD INQ IF THEY NEED TO CLOSE DOWN ANY RDWYS OR RAMPS / STILL LL
12:48 PM
20
[35] 1039 CCSO W/ LN 33
12:46 PM
19
[33] A19-405A WW VEHS ON RAILROAD ONR REQ PD
12:46 PM
18
[32] ^***UPDATE SIGALERT*** WB SR4 JEO BAILEY RD LANES 1-2-3 ARE NOW OPEN. LANE #4 REMAINS CLOSED WITH UNK ETO REF LOG 1384
12:40 PM
17
[30] 19-M5 VEH TO THE CD
12:39 PM
16
[29] ^***ISSUE SIGALERT*** WB SR4 JEO BAILEY RD ALL LANES BLOCKED DUE TO TRAFFIC COLLISION UNK ETO REF LOG 1384
12:38 PM
15
[28] 1039 DOT-CC
12:34 PM
14
[26] 19-M5 REQ SIG ALERT TRAFFIC STOPPED
12:30 PM
13
[25] [Rotation Request Comment] 1039 ARROWHEAD TOW SD 217 800-750-6539 W/ 2 TK
12:28 PM
12
[18] A19-403A REQ 2 1185
12:27 PM
11
[17] A19-403A 3 VEH ON RHS ONE WW ONE BLKD 3-4 1 BLKD CD
12:27 PM
10
[16] A19-403A ALL LANES BLKD
12:27 PM
9
[22] [Appended, 12:29:01] [4] BLKG LN 1, 3, 4
12:26 PM
8
[21] [Appended, 12:29:01] [3] SIL NISS WAS 23103 PRIOR TO TC
12:26 PM
7
[20] [Appended, 12:29:01] [2] BLK JEEP VS GRY NISS SD VS WHI KIA SD VS GRY TOYT COA
12:25 PM
6
[19] [Appended, 12:29:01] [1] 6 VEH INVD
12:24 PM
5
[9] 1125 IN MULT LNS
12:23 PM
4
[4] TAN LEXUS ON RHS
12:23 PM
3
[3] WHI SMALL SD (POSS TOYT) VS GRY SPORTS SD (23103) VS 3 ADDT VEHS
12:23 PM
2
[2] LNS 3-4 BLOCKED
12:22 PM
1
[1] APPROX 7 VEHS INVOLVED