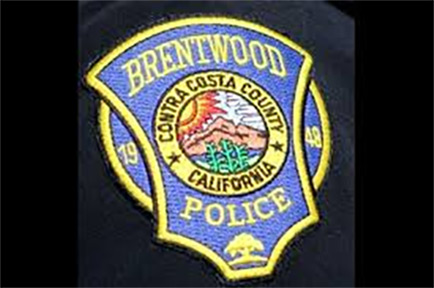 Here is a look at a sampling of the Brentwood Police Call logs between October 1-9 according to their call logs–the sampling is focused on the higher priority calls.
Assault
9/28 – Sacred Mountain: PAINTER GOT INTO A FIGHT W/ANOTHER PAINTER
10/4 – Lone Tree Way: OCC'D LAST NIGHT- ONGOING ISSUE.  REQ'ING 21 FOR THE RPT AND FOR OFCRS TO REVIEW THE CAMERAS AT IN AND OUT.
10/6  – Boulder St: RP'S DRUNK FRIEND PUNCHED HIM.
Brandishing
9/29 – Balfour Rd: RP SAYS THERE IS A MALE BRANDISHING A HANDGUN.
10/4 – Balfour Rd: OCCD 20 AGO – RP'S FRIENDS DAU WERE DRIVING IFO AND SAW SUBJ ON SIDE OF RD AND THEN ENCOUNTERED A MALE WHO POINTED A GUN @ THEM – DESC/HMA 30'S-40'S LSW/GRY SWT SHIRT AND STRIPED PANTS POSS BLU AND GRY
Burglary – Auto
9/27 – Oak St: 5 AGO RP VEH SILVER MERZ WAS JUST BROKEN INTO. WITNESSES W/ INFO ON THE SUSP: POSS BMA 510 LSW WHI OR LIGHT GRAY HOODIE OVER HIS HEAD LAST SEEN GOING TWDS PIPPO. NFD
9/29 – Brentwood Blvd: RP WILL BE IFO @ PD IN HIS TRK – FORCED ENTRY THRU LOCK – MISC ITEMS TAKEN FROM RP'S VEH – NO SUSP INFO – VEH DESC/2004 WHI FORD F150.
10/2 – Carrara St: RP WANTS REPORT. AROUND 0300 RP HEARD GARAGE DOOR BEING OPEN. WENT OUT AND NOTICED VEH:GRAY 2009 SCION TC. WAS GONE THRU. NO SUSP INFO. NFD
10/2 – Roundhill Dr: OCC'D OVER NIGHT  CONVERTIBLE TOP CUT.
10/2 – Cortona Way: CCD OVERNIGHT. ONLY TAKE WAS GLASSES. UNK HOW THEY GOT IN. RP SAYS SHE WILL MEET PD AT THE FRONT DESK.
10/3 – Brentwood Blvd: RP SAYING HIS VEH WAS BROKED, 2004 WHI F250, PAPER PLTS. WILL WAIT FOR PD IN THE PLOT . SUBJS BROKE INTO RPS TOOL BOXES AND THINKS THE BUSN MAY HAVE GOTTEN IT ON SURVIELLANCE
10/6 – Sand Creek Rd: RP WANTS OFCR TO COME OUT BECAUSE THERE IS A CAMERA IN THE LOT .. VIC EMP IS NO SCENE SOB SECURITY SAID THAT PD MUST RESPOND.
10/7 – Verizon on Lone Tree: OCCD 10 AGO, SUBJ TOOK SEVERAL ITEMS AND LEFT IN A WHI ACURA UNK DOT ON LTW, SUSP WAS PASSENGER WHO REEKED OF BOOZE, BMA 6'1 EARLY 30'S WRG RAIDER JERSEY, POSS CAME FROM DIRECTION OF BUFFALO WILD WINGS, UNK DESC OF DRIVER
10/8 – Elkins Way: OCC'D OVER WKND ENCLOSED TRAILER BROKEN IN TO, EQUIPMENT TAKEN
Burglary – Commercial
9/26 – Miwok Ave & Vineyards: PARKED @ BUILD SITE NEXT LMC COLLEGE OFF MIWOK – GOT INTO WORK 2 WORK TRUCKS AND THE SHIPPING CONTAINER – POSS SURVEILLANCE.
9/26 – Guthrie Lane: BROKEN GLASS TO OFC WINDOW/ RP HAS NOT GONE INSIDE TO CLEAR THE BLDG – RP WAS THERE EARLIER TO GRAB HER GYM BAG AT 0455 AND DIDN'T SEE THE DAMAGE , RETURNED NOW FROM THE GYM AND COULD SEE THE BROKEN WINDOW – RP HAS CAMERAS SET UP BUT UNK IF ANY FOOTAGE RETRIEVED
10/4 – Town Centr Ter: FIREARMS, AMMO,GUN CASES TAKEN FROM STORAGE UNIT // RP NOTICED IT LAST NIGHT, UNK POE, LOCK IS STILL ON//RP DRIVING TO LISTED 20 W/ETA OF 15-20 MINS
10/4 – Fairview Ave: GARDEN EQUIPMENT TAKEN FROM LOCKED SHED  LOSS $6100 .. ROTOTILLER AND ATTACHMENT
Burglary – Residential
9/28 – Trinity Dr: RP LEFT GARAGE OPEN AND ITEMS TAKEN OUT OF GARAGE
10/6 – Bougainvilla: COLD – POSS OCC OVERNIGHT/ POE: SIDE DOOR (INTACT) THEN OPENED ANOTHER DOOR (TAKEN OFF THE HINGES) IN BETWEEN TO GAIN ACCESS INTO THE GARAGE/LOSS: APPLIANCES.
10/8 – Corniglia Lane: COLD REPORT, HOUSE HAS BEEN CHECKED VEH ALSO TAKEN – RED DODG CHALLENGER.
Fight
9/27 – Sand Creek: IN PLOT OF LOC – RP THINKS DRUNK MALE IS IN AN ARGUMENT W/ ANOTHER MALE INSIDE THE TRK AND DRUNK MALE IS OUTSIDE OF TRK
10/8 – Sand Creek Rd: RP SAYS THAT 4 GIRLS ARE TRYING TO JUMP HER AND HER FRIENDS
Forgery/Fraud
9/25 – Brentwood Blvd: ON GOING ISSUE WITH SAME CUSTOMER PAYING WITH COUNTERFEIT BILLS, CUSTOMER NOW GONE, BUT BUSINESS WOULD LIKE TO SPEAK W/OFFICER
9/26 – Spigold Way: RP CALLING ON BEHALF OF ELDERLY RELATIVE THAT PURCHASED OVER $4K IN GIFT CARDS FOR UNK PERSON OVER THE PHONE
Grand Theft
10/4 – Boltzen St: Rp in pd lobby, reporting housekeeper's employee stole rings. Business requested RP make a report
10/6 – Sand Creek Rd: OCC'D 5 AGO  VEH/ OLDER GLD MERZ ,.. 2 BMS . 1) BLK HOODIE RED BASKETBALL SHORTS.. 2) YELLOW SHIRT  LOSS APPROX $1K.
10/7 – Sand Creek Rd: OCC 20MINS AGO// 3SUSP'S TOTAL // WMA AND WFA TOOK ITEMS THEN GOT INTO VEH W/A WMA DRIVER WTG FOR THEM– ALL IN THEIR EARLY 40S// SUSP VEH IS TAN HOND CIV AND LEFT OUT SHADY WILLOW // LOSS APPROX $3500.
Petty Theft
9/23 – Lone Tree Way: OLDER FEMALE TOOK A BOTTLE OF WINE AND WALKED OUT WITH IT —-WFA -FLORAL PANTS –DOT WALKING DOWN LT TOWDS BB –OCC 5 AGO
9/24 – Sand Creek Rd: BMA AND WMA, BOTH WEARING WHITE HOODIES, LATE 20S, LEFT IN SIL VEH, UNK DOT, TOOK LEGGINGS AND HOODIES
9/24 – Second St: ONE WFA AND A MIXED RACE FEM TOOK ITEMS AND LEFT IN A 2015 BLK CAMERO. UNK WHAT WAS TAKEN BUT ARE LOOKING AT THE VIDEO FOR FURTHER. NFD
9/25 – Valley Green Dr: RP IS HAVING WORK DONE ON HIS RESIDENCE, ITEMS MISSING FROM HIS HOUSE NOW. CONTRACTOR DENYING HIS EMPLOYEES TAKING ANYTHING
9/25 – Gold Poppy Dr: LOCKING MAILBOX PRIED OPEN, NO CONTENTS REMAINING
9/25 – Lone Tree Way: 2 X'S AND 1 MALE CAME IN AND TOOK SOME CHIPS AND ALCOHOL – LEFT IN A UNKWN VEH —BUT THEY HAVE VIDEO WITH A PLATE —ONLY ABLE TO BE VIEWED BY MGR TOMORROW MORNING.
9/26 – Sand Creek Rd: JO – SUSP RAN OUT W NEW NIKES ON  WMA 30S 510 LSW MULTI COL BANDANA ON HIS HEAD, LONG DRK BLN HAIR, AND SHORTS. WALKING ON FOOT W A WF BLN TWDS THEATER BEH THE BUSN
9/27 – Sand Creek Rd: OCC LESS THAN 5 AGO/ GRAB AND RUN — 2 BFA'S 19-25YO / 1 IN A BLK CROP TOP & OTHER IN A BLK ZIP UP JKT — BOTH LEFT IN A BLU 4DR LEXS SEDAN W/BLK PPR PLTS // VEH WAS ORIG PARKED IFO TILLY'S THEN DROVE TO THE REAR OF THAT BLDG – POSS TOOK SHADY WILLOW EXIT — SOB SEC IS PULLING OFF VIDEO FOOTAGE.
9/28 – Walnut Blvd: JUST OCCD. UNK SUBJ RAN IN TOOK SOME CIGARS AND RAN OUT. LS ON OAK TWDS FOOD MAXX. ASSOC VEH GOLDISH 4DR VEH
9/28 – Lone Tree Way: TOOK BAG FULL OF ITEMS – BFA SKINNY SHAVED HEAD, TATS ON FACE AND WHI SHIRT ON FOOT – ITEMS WERE SOCKS, SHAMPOO, LUNCHABLES, BLANKET
9/28 – Sand Creek Rd: SOB CALLING IN FOR RP – WHILE RP WAS TRYING ON A HOODIE @ LOC RP'S PURSE WAS STOLEN – SUSP DESC/WFA L20'S HEAVY SET, BRGT BLN HAIR, SHORT SLEEVE BLK DRESS ASSOC TO BFA IN SCRUBS.
9/28 – Lone Tree Way: WFA SKINNY LSW GRN TANK TOP BLK HAT – SCABS ALL OVER HER – IS INSIDE THE STORE AND SHE IS CONCEALING ITEMS IN A BLK BAG AND OTHER BAGS SHE HAS ON HER – SHE TOOK VITAMINS/DIET PILLS..ETC
9/30 – Balfour Rd: GRN 4DR HONDA CIVIC..NEG WEPS..GRABBED MAKE UP AND LEFT. 2 BFAS, 1 W/ BLK HALTER AND BLK PANTS AND 2ND W/ DRK SHIRT, DRK JNS
10/1 – Empire Ave: BATTERIES STOLEN FROM CONSTRUCTION EQUIPMENT OVER WEEKEND.
10/1 – Sand Creek Rd: OCCD 20 AGO..NO SUSP VEH – NO DESC OF SUBJS – RP HAS TO REVIEW SURVIELLANCE TO GET THE SUSP INFO BUT WAITING ON THEIR LP. TAKE WAS OVER 5K
10/2 – Brentwood Blvd: . J/O..NEG WEPS..UNK TAKE. 2 BFAS, POSS MID 20S, DRK CLOTHING ..UNK DOT FOR SUSV RED DODGE DURANGO
10/2 – Lone Tree Way: RP WITNESSED THEFT FROM STORE — S VEH/CREAM COLORED JEEP LIC/MALE SUBJ- CLEAN CUT POSS WM OR HM , DARK HAIR.. AND FEMALE W/ BLN HAIR LOSS POSS CLOTHES. WILL CALL STORE
102 – Sand Creek Rd: 2 SUBJS JUST LEFT W/SEVERAL HUNDRED $ WORTH OF MERCHANDISE, LEFT IN A BRIGHT BLU MITS SUV, UNK DOT. RESPS WERE BMA & BFA. RP TRYING TO GET SECURITY TO HELP W/PLT INFO & POSS DOT
10/3 – Balfour Rd: MALE JUST WALKED OUT WITH SHOPPING CART FULL OF LAUNDRY DETERGENT AND WATER, CURRENTLY IN THE PLOT.
10/4 – Second St: OCC'D AT 1318 HRS .. THE S'S ARE NOW DETAINED IN DISCO BAY BY CO CO SO
LOSS CURLING IRONS AND HAIR DRYERS.
10/6 – Sand Creek Rd: J/O – 3 BFA'S RAN OUT W/MERCHANDISE — 1 HEAVYSET W/TOP BUN AND WEARING GLASSES W/LG BGE PURSE – GOT INTO A DK TEAL 4DR.
10/6 – Sand Creek Rd: OCC A FEW MINS AGO/ GRAB AND RUN – 2 BFJ'S 17YO 1 IN GRY SWEATER AND OTHER IN A BLK TOP – GRN LEXS OLDER MODEL 2DR W/PPR PLTS — DOT WB SC – NFI.
10/8 – Pioneer Sq: Occurred on Pioneer Sq, Brentwood. OCCD LAST THURSDAY, GENERATOR FRM JOB SITE.
Robbery
10/3 – Homecoming Way: ATT. OCCD 15 MIN AGO. UNK MALE W FACE COVERED BY A YEL OR GRN RAG JUMPED ON RP AND TRIED TO TAKE RPS BACKPACK.
Shooting at Res/Veh
9/26 – Stanwick St.: RP SAYS THAT SOMEONE DROVE BY AND THREW OR SHOT SOMETHING THRU HIS WINDOW AND BROKEN –UPSTAIRS WINDOW FACING THE REAR OF THE HOUSE.
10/8 – Sycamore Ave" MALE SAID "I ALMOST GOT SHOT".. NOW SAYING 4-5 MIN AGO SOMEONE SHOT HIS CAR UP  OCC'D SOMEWHERE NEAR THE RPS HOUSE .. S ON FOOT
Vandalism
9/26 – Havenwood Ave: RP'S DAU'S TIRES AIR WERE LET OUT AS WELL AS THE RP'S TIRES – NEG SURVEILLANCE – RP THINKS IT COULD BE RELATED TO A SUBJ WHO WAS LOOKING FOR HER
Vehicle Tampering
9/30 – Grovewood Loop: RPS HUSB WORK VAN HAD THEIR IGNITION PUNCHED..1 NBR POSS HAS A DESC – SCARED OFF THE SUSP. OCCD FRIDAY NIGHT.
9/30 – Cesar Chavez Dr: BLU FORD TRK W/ WHI TRLR ATTACHED.
Vehicle Theft
9/26 – Whisper Creek Ct: OCCD 30 AGO, KNOWN RESPONSIBLE TOOK VEHICLE
9/27 – Lone Tree Way: VEH LS AN HR – RP HAD IT PARKED THERE FOR THEM TO WORK ON IT TOMORROW..VEH IS A FORD F250, WHI. RP SAYING VEH IS REGISTERED TO HIM. RP WILL BE ENR TO PD TO MAKE REPORT
9/27 – McClarren Rd: LEFT IN PLOT – NO SURVEILLANCE.
9/30 – Thicket Pl: OCCD OVERNIGHT. NRA STICKER ON THE BACK WINDOW
10/3 – Camden Ct: BLK MC, OCCD OVERNIGHT.
10/4 – Baird Cir: BLK 2017 HOND ACC 4D RP NOW SAYING SHE LEFT IT RUNNING IN DRIVEWAY
10/8 – Officer initiated activity at Roper Cir/Royal Palm Ln, Brentwood
10/8 – Camden Ct: Occurred on Camden Ct, Brentwood. PACKAGES TAKEN OFF PORCH
RP HAS VIDEO OF SUSPECT AND SUSPECT VEH. .