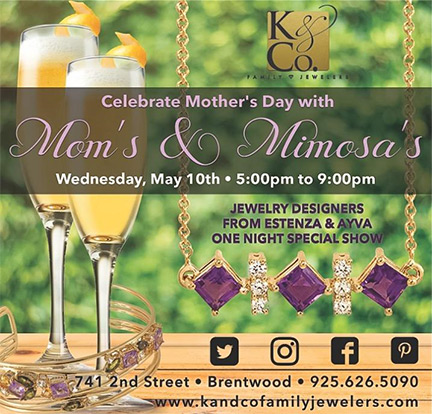 Ahead of Mothers Day weekend, K & Co Family Jewelers of Brentwood is hosting a Mom's and Mimosa event to celebrate mom.
The event will take place on May 10 (Wednesday) from 5:00 pm to 9:00 pm at K & Co Family Jewelers located at 741 2nd Street in Brentwood.  As part of the event two special guest designers will be in attendance.
Designers Vinay Kedia of Estenza Diamond and Bridal Designs and Priyanka Kedia of Ayva Gemstone Fashions for "Moms & Mimosas" jewelry show event. This husband and wife team are making an impact on the jewelry industry with classic and unique fashion forward designs. Priyanka just won the "Centurion Emerging Designer Award 2016" and "JCK Rising Star award 2016" both prestigious awards for the jewelry industry.
About the Designer

Priyanka Kedia was born and raised in a family of jewelers in Mumbai, India—a culture that loves jewelry and places a significant value on the tradition of buying and gifting jewelry.
Inspired by her family's centuries-old heritage and the strong women within it whose lives are told in gemstones and diamonds, Priyanka aims to carry on this celebration of love and life with jewelry among her Ayva collectors.
With an affinity for European style, Italian design, and a newfound American way of life in San Francisco, Priyanka works side by side with her husband in the business to keep tradition alive for their two young children whose monikers comprise AYVA.
"Each piece I create fuses India's glittering heritage with a modern contemporary flair" said Kedia.

We've all experienced it: seeing a certain image or smelling a certain scent that brings back memories. Your senses are sent into overdrive. You're transported in time, to a moment that is as important to you now as it was then.
What if every time you slipped on a ring or wiggled in a pair of earrings, you had that same flush of emotion? Where memories of a celebrated moment — big or small — are as vivid as the moments themselves?
At AYVA, we believe that all moments should be celebrated. Life is wonderful and we shouldn't always keep waiting for major milestones.. This is what inspires our designs.
Helping you share your experiences through fine jewelry is AYVA's mission. Collection after collection, we'll introduce you to unique, luxurious, and romantic fine jewelry designs that you can connect with. Pieces that make your heart sing every time you wear them and that speak to you, right down to your core.
The aim of art is to represent not the outward appearance of things, but their inward significance." -Aristotle
And, of course, pieces that tell your beautiful story… #startyourstory