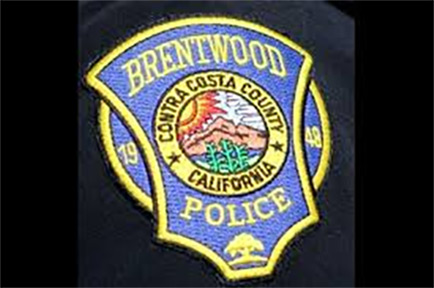 Here is a look at a sampling of the Brentwood Police Call logs between July 3-11 according to their call logs–the sampling is focused on the higher priority calls.
Assault
7/5 – Lone Tree Way: RP IS BEING HARASSED @ WORK – RP ADV MALE CAME INTO WORK AND PHSYICALLY ASSAULTED THE RP AND RP'S THROAT HURTS
Auto Burglary
7/5 – Sand Creek Rd: OCC WITHIN LAST 10 MINS***SOMEONE BROKE WINDOW OF RP'S BLK TOYT CAMRY AND TOOK BAG. RP PARKED IN PICK UP AREA OF BJ'S.PASSERBY SAW A SUBJ DO IT ASSOC TO GREY VEH. PASSERBY DID NOT PROVIDE MORE INFO TO RP
7/6 – Lone Tree Way: OCCD AROUND 0830 HOURS – RP'S VEH BURGLARIZED VIA KEY HOLE PUNCH AND STOLE VACUUM, HEATER, AND BAG FULL OF ITEMS – VEH/WHI CHEV IN N OUT VAN
7/7 – Balfour Rd: OCC IN LAST 30 MINS***BROKE WINDOW AND TOOK CAMERA EQUIP
7/8 – Sand Creek Rd: PARKED IN REAR LOT BEHIND THEATER NEAR BYPASS/WINDOW SMASH, REAR WINDOW – TAKE WIFE PURSE/NO CC INSIDE.
7/8 – Fresco Ct: RP'S FRIEND'S VEH WAS BROKEN INTO SOMETIME OVERNIGHT THROUGH AN OPEN WINDOW AND TOOK HER PURSE AND FASTRAK – VEH DESC/BLK MAZDA AND OWNER IS 97/CARMEL DULAH
7/11 – Lone Tree Way: 2015 GRAY HONDA ODDESSY VAN. RP PARKED IFO. ITEMS TAKEN FROM VEH. NFD
Burglary – Commercial
7/8 – Balfour Rd: SOMEONE SMASHED THE BACK GLASS DOOR AND – CASH TAKEN —UNKWN IF OTHER ITEMS TAKEN – RP STILL LOOKING
Burglary – Residential
7/4 – Fairview Dr. – UNK WHAT DATE — OCC'D WHILE RP WAS IN HOSPITAL BROKE IN TO RPS HOUSE AND STOLE HIS DOGS , THEN DUMPED THEM IN BERKELY.
Disturbing the Peace
7/6 – Sand Creek Rd: 5-6 JUVS IFO WERE IN A VERBAL AND MAY ESCALATE, 2-3 JUVS INSIDE ARE AFRAID TO LEAVE BECAUSE THEY MAY GET BEAT UP BY JUVS AT THE TABLES OUTSIDE DOORS
DUI
7/4 – Balfour Rd – WHITE SUV, WMA, 40'S, DRIVER, WAS 1051, SLURRING WAS IN DRIVE THRU – JUST LEFT UNK DOT (Jack in the Box on Balfour)
7/4 – Balfour Rd & Griffith – WHI FORD CA SWERVING IN THE LANES – X IS FALLING ASLEEP @ WHEEL – WB BA
Fight
7/7 – Birchwood Rd: 4 MALES PUNCHING EACHOTHER
7/11 – Lawrence Lane: DOMESTIC DISTURBANCE
Petty Theft
7/4 – Sand Creek Rd: OCCD 1825..2 BFAS AND 1 BMA..LOSS IS APPROX $1300..SUSV VEH HYUNDAI TUCSON, WHI IN COLOR
7/4 – Balfour Rd – OCCD 10 AGO – 2 CARTS FULL OF GROCERIES TAKEN – SUSP VEH/WHI SUV – SUSPS/2 WMA'S
7/4 – Sand Creek Rd: OCCD 5 AGO – 3 X'S STOLE $600 MERCH LEFT IN SIL HYUN EL
7/4 – Lone Tree Way: OCCD 1 AGO – LOSS $120 OF SHOES – WFA MID 20'S, LONG BLN HAIR LSW/RED TANK, BLU DENIM SHORTS W/ FLORAL PATTERN AND RED CONVERSE SHOES – GOT INTO A GRY SATURN
7/4 – Lone Tree Way: 2 SUBJS STOLE A PAIR OF PUMAS AND LEFT ON BIKES TWDS KOHLS – WMA 602 30'S SHORT HAIR BLN OR BRO LSW/DRK SHIRT AND BAGGY JNS AND HMA 508 LONG CURLY HAIR LSW/SHIRT AND BAGGY JNS – HMA MAY HAVE GONE TWDS TJ'S.
7/5 – Spyglass Dr: RP SAYS HIS CANNABIS DISPENSARY LICENSE NEVER ARRIVED — RP THINKS SOMONE STOLE HIS MAIL — RP TRIED TO DO REPORT ONLINE BUT DIDNT WORK — RP NEEDS REPORT TO GET IT REPLACED
7/5 – Sand Creek Rd: RP'S DGTR WITNESSED 2 JUVS FROM LISTED LOCATION STEAL HIS PHONE LAST NIGHT/ RP NOW AT LISTED LOCATION WENT TO SPEAK TO OLDER BRO BUT IS REFUSING TO GO INTO HIS ROOM TO GET THE PHONE// RP ALREADY CONFIRMED W/THE 2 JUVENILE'S FROM YDAY THAT THEY TOOK IT
7/7 – Sand Creek & Heidorn Ranch Rd: RP STATES SHE WENT W/HER HUSBAND TO WALK HER DOG — LEFT THEIR BICYCLE AT THE CORNER AND NOW IT'S GONE// RED MTN BIKE
7/7 – Timberline Ter: HEFT OF MAIL FROM COMMUNITY MAILBOX/ EACH CUL DE SAC HAS A COMMUNITY MAILBOX/ MAILBOX PRYED OPEN AND THEFT OF MAIL CONFIRMED
7/7 – Balfour Rd: IPAD STOLEN SOMETIME TODAY UNK IF IT WAS TAKEN FROM VEH OR RESD. RP ABLE TO TRACK IPAD AND SAYS ITS IN OAKLEY. RP WILL HAVE ADDRESS TO PROVIDE OFFICERS
7/9 – Lone Tree Way: FEMALE NOW IN CUFFS – HAS A BABY WITH HER AND REFUSING TO GIVE FURTHER INFO OR PROVIDE ID.
7/11 – Brentwood Blvd: WATER TANK STOLEN OVERNIGHT. VIDEO OF A VEH ENTERING LOT OVERNIGHT. POSS VIDEO FROM POWER MART.
7/11 – Balfour Rd: WFA BRO REDISH HAIR CREAM TOP WHI AND BLK PANTS HAS BAG ON HER LEFT SHOULDER —SHE MADE IT OUT INTO THE PKG LOT – THEN SHE DITCHED THE CART —LS TOWDS CVS —NO TAKE.
7/11 – Vivian St.: RP WAS CONTACTED BY DANVILLE PD LAST NIGHT – THEY HAD SOMEONE IN CUSTODY THAT HAD HER MAIL – DANVILLES CASE – THEY ADVISED HER TO CALL US TO MAKE A THEFT REPORT – UNKWN WHEN THE THEFT OCC
Robbery
7/6 – Sand Creek Rd at Villa Amador Apt Complex: HAILED BY CITIZEN – ADVD ROBBERY SUSP WMA ON A SKATEBOARD
Subject With a Gun
7/6 – Sand Creek: XRAY THREATING RP W/ GUN.
Suspicious Circumstance
7/4 – Chaucer Dr: – Occurred on Chaucer Dr, Brentwood. RP REPORTING POSS INTERRUPTED BURGLARY
– HAS NOTHING FURTHER
7/4 – San Donato Ct – OCCD LAST NIGHT 2300 HOURS – RP HAS SURVEILLANCE OF SUBJS STEALING FLAGS OFF RESIDENCES ON ST
Vehicle Theft
7/5 – Bellmeade Way: OCC LAST NIGHT BTWN 2200 HRS -0850HRS// FROM D/W — KEYS WERE LEFT ON CENTER CONSOLE / RP HAS ADDITIONAL SET W/HIM
7/6 – Sand Creek Rd: LS APPROX 1300 HOURS, VEH WAS PARKED TO REAR OF  IS EX AND HAS KEYS 2 PLATES/
7/8 – Brentwood Blvd: VEH LS 30 AGO.. BLK 96 LEXUS COUPE SC400.
Warrant
7/6 – Brentwood Blvd: Officer initiated activity at Hampton Inn
7/7 – Officer initiated activity at Brentwood Blvd/Pine St
7/8 – Officer initiated activity on Lone Tree Way, Brentwood.