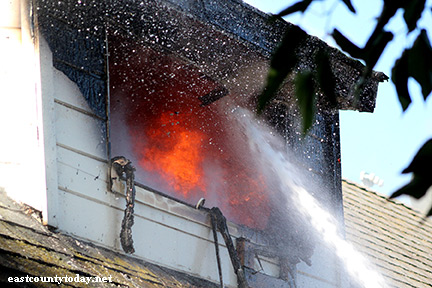 At 8:53 am Wednesday, the East Contra Costa Fire Protection District responded to a report of smoke coming from a home in the 100 block of Sunrise Drive in Brentwood.
While responding, Engine 94 reported smoke from a mile out and upon arrival, reported smoke coming from the home. Shortly after arrival, they reported a working attic fire.
According to Battalion Chief Ross Macumber, the fire started in an attic that was recently converted into a bedroom. The cause of the fire was believed to be electrical in nature.
Macumber stated firefighters did a good job limiting fire damage to the attic area, however, a significant portion of the home sustained water damage. Firefighters also rescued a cat from inside the home.
There were no reported injuries.
Below is video we shot during the fire that was streamed live on our Facebook Feed.