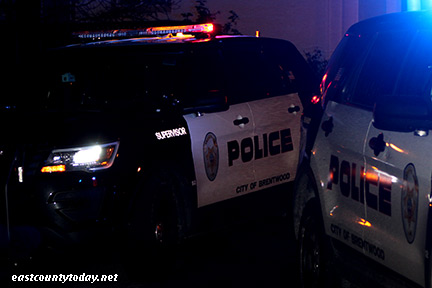 BRENTWOOD, CA – On Thursday, June 1, 2017 at around 1:12 a.m., Brentwood officers responded to the ARCO Station located at 2250 Balfour Road to investigate an assault.
When officers arrived on scene they quickly learned the situation was an armed robbery and the suspect had fled the scene on foot with an undisclosed amount of cash. Officers located a suspect vehicle parked nearby occupied by three suspects.
Two suspects were immediately apprehended and the third fled in the suspect vehicle, nearly striking two officers. Both officers escaped injury and pursued the suspect vehicle for approximately 2 miles. The suspect abandoned the vehicle in the Kaiser Permanente parking lot (4501 Sand Creek Road, Antioch) and tried to flee on foot, but was apprehended by officers within seconds.
Officers were successful in recovering a replica firearm used in the incident and recovered all of the stolen cash.
The ARCO store clerk sustained minor injuries during the robbery but fortunately did not require any additional treatment.
The two suspects immediately apprehended at the scene was a 26 year old, female, San Francisco resident and a 19 year old, male, Sacramento resident, both booked at the Martinez Detention Facility charged with felony armed robbery.
The pursued suspect was an 18 year old, male, Sacramento resident booked and charged with the following felonies: assault with a deadly weapon on officers, first degree robbery, recklessly evading officers, carjacking, and one misdemeanor count of brandishing a replica firearm.
This investigation is ongoing and no additional information is being released at this time.