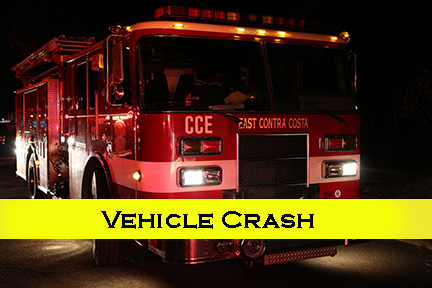 At 9:49 pm, East Contra Costa Fire Protection District firefighters responded to a report of a vehicle crash at Central Blvd. and Minnesota in the City of Brentwood.
Upon arrival, Battalion Chief 5 reported one person trapped and major injuries. A medical helicopter was requested and was scheduled to land at Bristow Middle School.
The patient was being extricated out of the vehicle and airlifted to a local hospital while a second ambulance was also requested. A second medical helicopter was also requested.
At 10:05 pm, Battalion Chief 5 reported 1 major injury patient who was pinned in a vehicle with extrication in progress, 1 moderate injury, and 1 minor injury (walking wounded).
By 10:13 pm, the critical patient had been extricated.
Update:
A 2nd medical helicopter was cancelled. Two vehicles were involved, both with major damage. Three patients were treated and transported. One patient had to be extricated using the jaws of life. One was flown by air ambulance to a trauma center while the other two were ground transported.