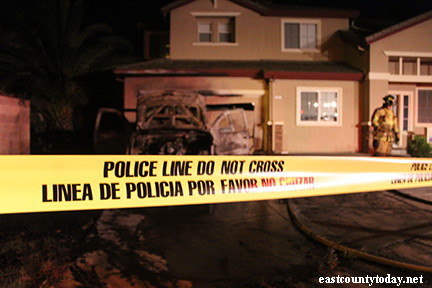 On Thursday morning, the East Contra Costa Fire Protection District responded to a pair of car fires in Brentwood just minutes apart.
The first fire was reported at 3:27 am at 1156 Hollowbrook Court which extended into the garage of the home causing major damage.
Damage included the garage, siding, and part of the roof of the home but firefighters were able to prevent full extension.
As of 4:00 am, it was unclear just how much damage was done to the home.
Minutes later, and less than a mile away at 3:35 am in the 1800 block Highland Way, another vehicle fire was reported. Due to lack of resources available with units committed to Hollowbrook Court, Contra Costa County fire responded from Antioch. Engine 82 was the first fire unit on scene after the Contra Costa County Sheriffs Office reported a fully involved fire was threatening the home.
Firefighters from Engine 82 made quick attack preventing extension to the home, however, the vehicle was a complete loss.
A Contra Costa County Fire Investigator was requested to both locations to conduct an investigation.
It's unclear as of 4:00 am if the vehicle fires were related to a string of other car fires, believed to be set by an arsonist in Martinez, Lafayette and Walnut Creek over the past few days. Meanwhile, other suspicious car fires have occurred in Antioch and Pittsburg in the past several weeks.
No injuries were reported in either incident.
Check back for updates