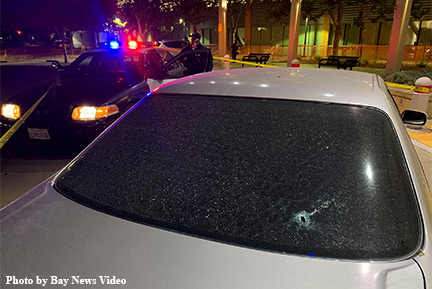 At 7:11 pm Tuesday, the Antioch Police Department responded to a call of shots fired in the area of Hillcrest and Bellflower Drive in the City of Antioch.
According to Corporal Jason Vanderpool of the Antioch Police, while responding, they received a call from an individual saying they were shot while in their vehicle and they self-transported themselves to a local hospital.
At the same time, they had other calls in the area of La Jolla Drive and Morro Drive of shots fired where two Hispanic males were seen fleeing on foot with a male jumping fences through backyards.
Police were able to locate the crime scene on La Jolla Drive and Morro and at approximately 8:00 pm, the hospital pronounced one of the victims deceased. A second person was shot but not considered life threatening.
This is the 9th homicide of 2019 in the City of Antioch.
UPDATE:
Antioch Police have confirmed the victim who is deceased is a 17-year-old female who died at the hospital. A 17-year-old male was wounded, and expected to survive.
Anyone with information is asked to call the Antioch Police Department non-emergency line at (925)778-2441, or Detective Gonzalez at 925-779-6923. You may also text-a-tip to 274637 (CRIMES) using the key word ANTIOCH.
Update #2:
The Antioch Police Department announced Thursday that detectives took a 16-year-old male into custody in the City of Oakley for the murder of a 17-year-old female.
According to Sergeant James Stenger, it was determined this shooting occurred during an illegal drug transaction. The name of the suspect cannot be released because of his age.