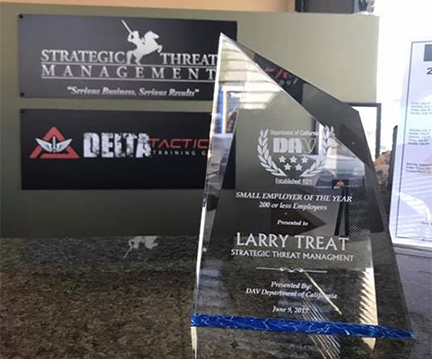 On June 9, Strategic Threat Management (STM) were awarded the Small Employer of the Year for companies with 200 employees or less from the California Department of Disabled American Veterans (DAV).
The award recognizes their support of veterans in the local community through providing outreach and hiring of veterans. Currently, 30% of employees at Strategic Threat Management are veterans.
"We were honored to be in attendance with real American heroes," says owner Larry Treat. "Veterans bring a whole different mindset and work ethic to the job. They have been through formal training, they are team players, leadership is instilled in them and you can spot a veteran a mile away."
Treat himself is a Marine Corps Veteran and feels honored honored to hire other veterans when he can and provide as much outreach as possible on veteran events, fundraisers and hand out informational packets.
Since forming Strategic Threat Management, Treat says they been involved in numerous events such as the Stand Down on the Delta, held numerous fundraisers and countless donations to organizations.
"We are honored that the local veteran community has accepted us so we feel honored to go to great lengths to ensure we can hire veterans whenever possible," said Treat.
Strategic Threat Management provides both armed and unarmed security services for both private and public entities and is located out of Antioch, CA.
For more on Strategic Threat Management, visit them online: www.strategicthreat.com