A man was cited Wednesday after running a red light and killing a man in Colorado.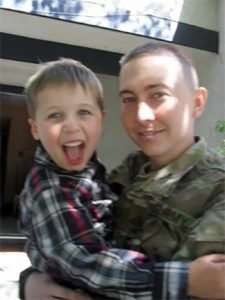 The deceased male was identified by family as Gene Miller, 31, who graduated from Deer Valley High School in 2004 and lived in Antioch until 2012. He was a retired veteran of the United States Army and was stationed in both Korea and  Afghanistan during his time in the service.
He was killed while returning home from the Veterans Affairs Office.
According to Colorado Springs Police, the incident occurred on September 6 at 2:22 pm where a two car crash at the intersection of Platte Ave. and Powers Blvd. Upon arrival officers found the driver of one of the vehicles was deceased. The Major Accident Unit responded to the scene to conduct the investigation into this collision.
It was determined that a dark colored Honda sedan was turning westbound onto Platte Ave. from northbound Powers Blvd. under a green light when it was struck by a white Dodge pickup truck traveling eastbound through the intersection. Witnesses stated the Dodge had a red light at the time of the crash.
Excessive speeds, alcohol, and drugs are not considered factors in the crash. The driver of the truck is identified as Javier Munoz-Zambrana, a 42 year old Colorado Springs man. He was cited for careless driving involving a death along with running a red light. No other parties were injured.
Miller was engaged and to be married in November. He was also one of eight kids and was a twin.
According to a family member, "Gene loved God, his family, and his country more than anything. He was always there to help out a friend or family member when they needed it. His nieces and nephews loved him tremendously and thought he was just the funniest guy ever. He will be forever loved and missed."
Police said this was the 26th traffic related fatality in Colorado Springs this year.
Photos provided by family