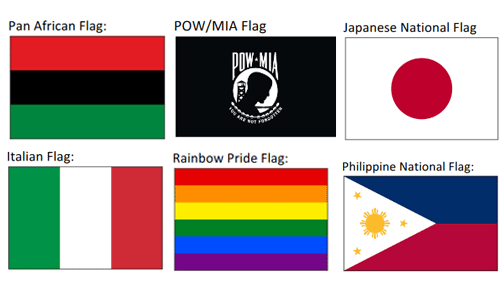 On March 2, the Pittsburg City Council will consider establishing a Commemorative Flag and Proclamation Schedule for the City of Pittsburg
The move comes after the city council established an ad-hoc committee to review the protocol for raising flags in honor of nationally proclaimed monthly observances.
On June 24, 2019, the City Council adopted an Outdoor Flagpole Display Policy that provides guidance and standards for the outdoor display of flags at City flagpoles. Per the adopted policy, the City Council shall only consider a request to display a commemorative flag if the request is made by a member of the Pittsburg City Council. At the June 24, 2019, meeting, the City Council also voted to direct staff to fly the Rainbow Pride flag in honor of LGBTQ Pride Month.
On October 21, 2019, the City Council adopted a resolution directing staff to fly the Filipino and Italian flags in honor of Filipino American History Month and Italian American Heritage and Culture Month, respectively.
On February 5, 2020, staff presented a preliminary commemorative flag schedule for calendar year 2020 to the Community Advisory Commission (CAC). The CAC voted 7-0 in favor of recommending a schedule that included continuing to fly the commemorative flags approved in 2019 during the applicable months of celebration (LGBTQ Pride Flag during the month of June; Italian Flag and Filipino Flag during the month of October), as well as a flag commemorating Black History Month in February, and the Japanese Flag in the event delegates from Pittsburg's Sister City, Shimonoseki, Japan, make a formal visit. The CAC did not make any recommendations regarding proclamations.
Event (Month of Celebration/Event)
Martin Luther King Jr. Day (January)
Human Trafficking Awareness Month (January)
Black History Month (February)
World Down Syndrome Day (March)
National Sexual Assault Awareness Month (April)
National Library Week (April)
National Fair Housing Month (April)
Earth Day and Civic Pride Day (April)
National Night Out (August)
National Hispanic Heritage Month (September 15 – October 15)
Clean Air Day (September)
National Breast Cancer Awareness Month (October)
National Arts and Humanities Month (October)
National Filipino American History Month (October)
National Italian American Heritage Month (October)
National Immigrants Day (October)
* Whenever possible, proclamations shall be read prior to and/or during the month in which the event
Staff Report Documents: