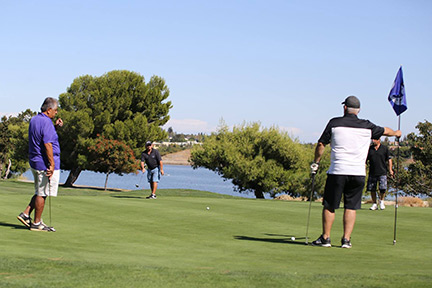 On Friday, with the Statewide Shelter-in-Place in order, the Lone Tree Golf Course and Event Center in the City of Antioch announced it will be re-opening with proper sanitation practices and social spacing requirements.
They also announced that Champions Bar & Grill  are offering lunch starting at 11 AM and until 7 PM for pickup only.  They are also offering  VINCE'S FAMOUS HOMEMADE BLOODY MARY MIX" by the quart for $12.95 (just add Vodka which is not included) — (925) 706-4220 x4.
According to an email that went out Friday,  The Shelter in Place order supports Outdoor Activity and exercise for the health and well being of the public with proper social spacing.  It is in this spirit that Lone Tree Golf Course is reopening with the following limits and restrictions:
Reservations & Payment

All Play is required to call the Golf Shop and at time of reservation, pay for their round of golf with credit card or debit card.  One player calls and pays for the whole group preferably or each member calls in and pays for their fees individually.

If paying at time of arrival (not recommended) there will be a strong chance for delay; please plan ahead and allow extra time with other golfers checking in via phone too.
Note: The Clubhouse area will be closed and remained closed.  The Golf Shop will be Closed.
Only the Bathrooms on the Golf Course will be open.  Please use facilities before coming to property.
Walking Golfers are highly encouraged.
Riding Golfers are one rider and one golf bag per cart! Vital! No exceptions!

This will limit our # of rounds, after all carts are issued, only walking golfers will be allowed until carts are returned.
Again, Tee times with carts are limited!
Walking golfers are not restricted by availability of carts.

For staff safety and sanitation purposes at end of day, All carts must be returned to Clubhouse by 6 PM!
On Course

After check in Golf Staff will bring cart to staging area and leave key in cart if riding.
A hand-wipe towelette dispenser will be in cart staging area for guest and staff use
Staff will maintain 6 foot social spacing minimum.
Cups on the course will be raised 1″ above ground; when ball hits liner, consider putt holed.
Sand traps will not have rakes, please lift and place ball.
Ball-washers and trash cans have been removed; keep trash on person or in cart.
No congregating after round on patio or pavilion areas.

Driving Range

Call golf shop to purchase bucket and give credit card, debit card, or range card # for charges.
Golf shop will call Outside Service who will dispense range balls into tray (Range machine is turned off, Range buckets are removed so no use.)
Every other range-matt open to keep social spacing
Last bucket sold will be 6:30 PM.
No lights on Range at night.
Please call prior to arrival to book a time and pay prior to arrival.  Please have patience when calling, this new process requires more time for staff to follow.
Online Green Fees
We are checking in all players via phone.  There is no access to the Golf Shop or Clubhouse for Golfers.  Help provide social spacing and safety, whether you are a General Public Golfer or one of our three type of Membership.  Pay your green fee for your next round here.
Purchase Here