Antioch, CA — Antioch Speedway had a six division All Star Series racing program Saturday night in memory of five time Limited Late Model champion Larry Damitz.
When the checkered flag flew on the 20 lap A Modified race, it was Nick DeCarlo notching his second straight Main Event win. Sean O'Gara paced four laps before spinning out in Turn 4, handing the lead to Scott Busby. However, DeCarlo took the lead from Busby on the restart and would lead the remaining 16 laps through a pair of mid-race yellow flags. Busby spun out of second on lap nine, handing the spot to Danny Wagner. However, Duane Cleveland made his move from deep in the pack to take second from Wagner by the checkered flag. Following DeCarlo and Cleveland were Petaluma Champion Oreste Gonella, Wagner and Busby. DeCarlo and Wagner won eight lap heat races.
Bob Newberry got his season started on a high note by winning the 20 lap Wingless Spec Sprint Main Event. The 2004 champion started mid-pack while Alan Miranda paced the early laps. Newberry was up to third on a lap seven yellow flag and took second on the restart. Newberry made an inside pass down the backstretch to take the lead from Miranda on lap 11 and went on to score or the victory. Shannon Newton made a late pass on Miranda to finish second. Miranda settled for third ahead of Brandon Burd and Roy Fisher. 2015 champion Kyle Baakie and Miranda each won eight lap heat races.
Mark Garner captured the big Larry Damitz Memorial trophy for the second straight year. Heat race winner Jim Freethy set the early Main Event pace with Garner quickly moving into second. Garner dogged Freethy for the next 10 laps before making an inside pass in Turn 4 to take the lead. Once he got the lead, Garner went on to a satisfying victory ahead of Freethy, Mike Walko, Lori Brown and reigning champion Kimo Oreta.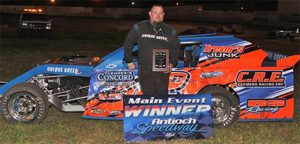 Trevor Clymens impressed with the win in the 20 lap B Modified Main Event. For most of the race, 2016 Hobby Stock champion Guy Ahlwardt looked like he would win. However, a lap 18 yellow flag for debris changed everything. Clymens put the pressure on Ahlwardt on the restart and made an inside pass in Turn 4 to gain the lead.
Clymens went on to win ahead of Ahlwardt, Aaron Crowell, Kenny Neu and Tommy Fraser. Neu won the eight lap heat race.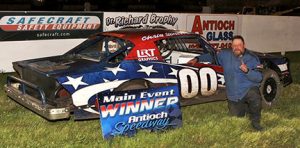 2010 Hobby Stock champion Chris Sorensen outran Michael Cooper to win the 20 lap Hobby Stock Main Event. John Watt led the first two laps before spinning from the lead. Reigning champion Cameron Swank had the lead at that point, but he surrendered it to Sorensen's low pass in Turn 4 on lap seven.
Cooper followed into second and pressured Sorensen for the lead for the rest of the race. Swank settled for third ahead of Watt and Erik Pitschner. Sorenson and Cooper each won eight lap heat races.
Two-time Antioch champion and reigning NCDCA Dwarf Car champion Danny Wagner returned and won the 20 lap Main Event. Wagner also won his eight lap heat race. Fellow heat race winner and 2016 champion Kevin Miraglio shared the front row with Wagner, and it was a Wagner and Miraglio 1-2 finish. Reigning champion Mike Corsaro finished third ahead of Ben Weisz and David Michael Rosa. Rosa was the other heat race winner. Devan Kammermann flipped violently in his heat race. He was shaken up but returned to start the Main Event.
Another exciting lineup of All Star Series racing returns next Saturday night, headlined by the Wingless Spec Sprints, A Modifieds, B Modifieds, Limited Late Models and Hobby Stocks. For further information, go to www.antiochspeedway.com.
Race Results: All Star Series Antioch Speedway
A Modifieds
Heat Winners (8 Laps)-Nick DeCarlo, Danny Wagner. Main Event (20 Laps)-DeCarlo, Duane Cleveland, Wagner, Oreste Gonella, Scott Busby.
Wingless Spec Sprints
Heat Winners-Kyle Bakkie, Alan Miranda. Main Event (20 Laps)-Bob Newberry, Shannon Newton, Miranda, Brandon Burd, Roy Fisher.
Limited Late Models
Heat Winner (8 Laps)-Jim Freethy. Main Event (20 Laps)-Mark Garner, Freethy, Mike Walko, Kimo Oreta, Lori Brown.
B Modifieds
Heat Winner (8 Laps)-Kenny Neu. Main Event (20 Laps)-Trevor Clymens, Guy Ahlwardt, Aaron Cromwell, Neu, Tommy Fraser.
Hobby Stocks
Heat Winners (8 Laps)-Chris Sorensen, Michael Cooper. Main Event (20 Laps)-Sorensen, Cooper, Cameron Swank, John Watt, Erik Pitschner.
Dwarf Cars
Heat Winners (8 Laps)-Kevin Miraglio, Danny Wagner, David Michael Rosa. Main Event (8 Laps)-Wagner, Miraglio, Mike Corsaro, Ben Wiesz, Rosa.