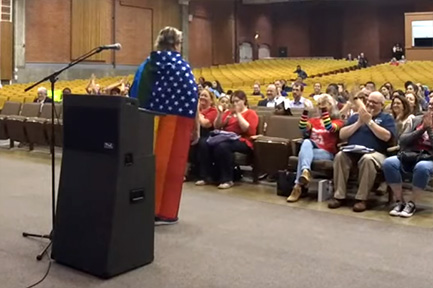 On Wednesday, the Antioch Unified School District approved a resolution via a 3-2 vote that recognizes June as LGBTQ Pride Month and flying the Rainbow Pride Flag at the District office.
During the month of June, the Antioch Unified School District urges all schools and individual citizens to participate in LGBTQ Pride Month and celebrate the identities and contributions of the Lesbian, Gay, Bisexual, Transgender, Queer/Questioning (LGBTQ) community.
During the meeting, two provisions were added from the dais relating to the flying of the flag.
According to Superintendent Stephanie Anello, this was the first year they have brought this resolution forward because they think it is important for the district to recognize their LGBTQ community and to honor them with a resolution.
"This is just a small start; many people do not know that roughly 10% of the population is represented in this demographic. It is also the largest segment of youth that are likely to have suicidal thoughts and we want to show that we proudly support them," said Anello.
Board Trustee Ellie Housholder admitted she was getting "emotional" over this resolution and suggested additional language around the LGBTQ pride flag and Stephanie Anello was on it and added it in.
"It made me really proud to be a part of this District," said Householder. "When you look at the individual level and at the school sites, when you look at the relationship that the teachers and staff have with the LGBTQ youth, I've heard so many positive stories of teachers and staff stepping up and going above and beyond to feel welcome and wanted at their individual school sites and at the District."
She continued by saying the current political climate has made the LGBTQ community scared and shared a few statistics from the Human Rights Campaign where they published a Youth Report stating 77% of teens reported feeling depressed, 95% had trouble sleeping at night, 70 reported feeling worthless and 77% report they have heard their own family members make negative comments about them. She added that according to the Trevor Project, that reported showed that LGBTQ youths contemplate suicide at three-times the rate as their heterosexual counterparts.
"To have this resolution as written is just fabulous, it makes me proud and it makes me feel like we don't do enough to toot our own horn in this District," said Householder who added it's a way to show the community they love all their students regardless of identity or sexual preference.  "I am beyond happy".
Householder then suggested they raise the LGBTQ Pride Flag at the District office for that first week of June saying the resolution is simply encouraging it, but urged the board to consider raising the flag.
Anello added for clarification that the "two edits" suggested by Householder were not included in the public agenda which Householder read at the meeting. Both additions were made available at the meeting.
"It may seem like a small thing raising a flag or having this resolution, but for students and young people who have been constantly been under attack for being who they are, this type of visibility does matter and could be the difference of a young person potentially committing suicide and them not committing suicide just by having their District and community stand behind them and recognize them saying we see you, we love you, we are with you and we stand with you," stated Householder.
Trustee Crystal Sawyer-White stated she was pleased with this resolution and suggested a workshop for the teachers this fall to assist students in need and how to support through throughout the school year.
Trustee Mary Rocha called this a "wonderful resolution" but had a concern if they allow flags to go up, what were the parameters.
"If we put up one flag, would we be putting up different types of flags all the time?" asked Rocha.  "Do we need to write something down so we are covering us?"
Anello stated they do not have a policy on what flags could be flown, they have followed the general guidelines of flags but they could take up the policy in the future.
"It is important that we treat all groups similar and there is a criteria of what we do because we do not want to be in the position of you have a worthy cause, you don't, you do," stated Anello. "But to really codify that in our policy, I will recommend that."
Trustee Diane Gibson-Gray stated she thought that since they didn't have a flag policy, approve the resolution and bring back the raising of flags once a policy was in place.
"If we don't have a policy on flags, I firmly support the group and I think it's a wonderful resolution, but we are opening a door," explained Gibson-Gray. "These are flags I looked up and they are valid flags, Christian flag, Rosh Hashanah, Cinco de Mayo, Planned Parenthood, Confederate Flag, KKK flag, All Lives Matter, Blue Lives Matter, Red Lives Matter, Black Lives Matter, you go on and on. It opens a door that we are not ready to open."
Gibson-Gray stated perhaps they should look at a policy on flags in the future, but recommended they approve the resolution without the flags attached to it.
Rocha agreed to approve the resolution without the flags so they could work on a policy with parameters with it saying she didn't want to eliminate it, but wanted more thought with a flag policy.
Householder shot back saying they could follow the California Ed Code which recognizes June as LGBTQ Awareness month noting there was no KKK Awareness Month or Blue Lives Matter Month.
Sawyer-White explained they have in the past approved many resolutions which included Black History Month and Autism Awareness and now LGBTQ.
Householder added that the language proposed does not state they have to fly the flag, but rather the symbol of the flag further highlights the District's further celebration of diversity. Householder stated passing the resolution shows support, but hoped they could then have a flag raising celebration.
"The fact we are even looking at this resolution is a big step forward for us. But these are things we are already doing in a district we are already doing to promote visibility in the district," said Householder noting she didn't believe it will open up a can of worms like people think.
Rocha stated she recommended they approve the policy as written and then work on a policy for raising flags in the future. Gibson-Gray added anyone could bring the request to raise a flag forward.
"I don't want this to be a test case. I am absolutely for this resolution, just omit the flag and then try again. Come up with a policy," said Gibson-Gray.
Jack Rednour-Bruckman, an Antioch resident and Executive Director at the Rainbow Center in Concord, spoke in favor of the resolution. She shared how 1 in 4 teens who commit suicide are LGBTQ which are the statistics reported and asked the board to think about the unreported.
"They didn't kill themselves because of their orientation or identity. They killed themselves because of the stigma, the shame, and the violence, and the bullying directed towards them," explained Rednour-Bruckman.
She added this was a big deal and the flag represents diversity, tolerance, acceptance and inclusiveness and the LGBTQ is not an organization, but about the community at large and what they stood for.
"I don't preach to convert anyone or to judge anyone, live and let live and we should all be judged by our character," said Rednour-Bruckman.
Deb Hubbard, Vice President of the Antioch Education Association and an AUSD teacher for 22 years, spoke in favor of the resolution by also wearing the Pride flag.
She shared how when she was 32-years-old and came out to her parents, she was afraid of losing her family—instead they embraced her. She further shared coming to this District 22-years ago, she didn't come out right away.
"I realized my colleagues didn't really get to know me because I was hiding this secret," explained Hubbard. "Three-years ago under Principal Lindsay Wisely, I said I was coming out in front of all students and to get ready. Here is why, because the previous spring I was bullied at the age of 55-years-old by students at my own school because they were trying to out me to other students. I realized that when I have a secret, that is bullying me. So please open this door to the closet for all of our students. We are 10% of the population."
She noted that more than 1,600 students within the district are LGBTQ, more of them have gay parents.
"When you fly this flag at every school, and for those of you worried at Elementary Schools, honey I can't make a straight person gay any more than you can make me straight," said Hubbard.  "This flag needs to be flown at every school. It is 2019, grow some courage and put the flag up at the District and at every school."
The Board then passed the motion to include the flag as part of the resolution in a 3-2 vote with Crystal Sawyer-White, Gary Hack, Ellie Householder in favor and Diane Gibson-Gray and Mary Rocha voting against.
Board Resolution: Click here