On Sunday at 8:40 PM Antioch Police were dispatched to the 700 block of K Street on the reports of shots being heard. As officers were responding, additional reports came in of a subject down.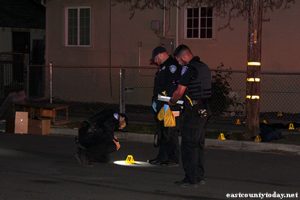 Upon arrival officers found a 23 year-old male suffering from at least one gunshot wound.
According to Antioch Police Sergeant Tom Fuhrmann, officers rendered aid until emergency medical services arrived and transported the male to an area hospital where he underwent surgery. Shortly after surgery the victim died as a result of his injuries.
This case is still under investigation. No further information will be released at this time.
Anybody having information related to this incident is encouraged to contact Det. Gonzalez at (925) 779-6923. You may also text a tip to 274637 (CRIMES) using key word ANTIOCH
This is the third homicide within the City of Antioch in 2017. The previous two homicides occurred on: