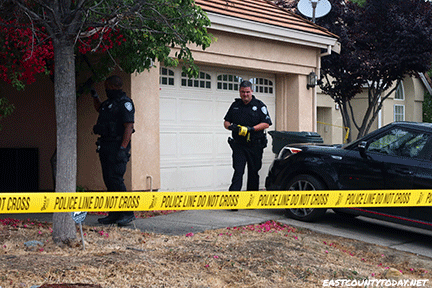 The Antioch Police Department is on scene of a fatal shooting on Iron Peak Ct in the City of Antioch after a report of shots fired around 8:30 am Monday.
It was reported that at least one person was dead after sustaining multiple gunshot wounds and police had one person in custody.
Contra Costa County Fire Protection District firefighters arrived on scene and began to provide life saving measures, however, the subject succumbed to the injuries at the scene.
No other information was released at scene. Antioch Police were expected to release information later Monday.
This was the second fatal shooting Monday and its unclear if they are related in any way. Police responded to 1111 James Donlon Blvd. at 1:33 am where a 36-year-old man died and and a 23-year-old man was wounded. More info on that shooting
11:05 AM UPDATE PER ANTIOCH POLICE
On 5/18/20, at approximately 8:30AM, Antioch police officers were called to a residence in the 1900 block of Iron Peak Court for a male subject who had been shot.
It was determined there was an argument between roommates. During the argument one of the roommates shot the other roommate. A 43-year-old male, was declared deceased at the scene.
Detectives are currently interviewing a 43-year-old male who is considered a person of interest at this time.
Anyone with information is asked to call the Antioch Police Department non-emergencyline at (925)778-2441, or Detective Smithat 925-779-6876. You may also text-a-tip to 274637 (CRIMES) using the key word ANTIOCH
UPDATE #2 (May 21, 2020)
On 5/20/2020, this case was presented the Contra Costa County District Attorney's Office. Marc Alexander Siegel was charged with one count of murder -Penal Code 187(a)–along with a firearm enhancement –Penal Code 12022.53(d)-.
The deceased was identified as Michael Moreno, 43-year-old.
Siegel is being held at the County Jail in Martinez with bail set at $2,000,000.