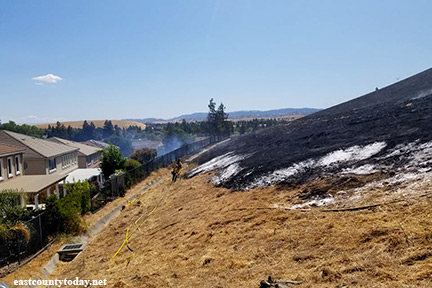 At 1:20 pm Monday, Contra Costa County Fire Protection District firefighters were dispatched to a report of a vegetation fire in the 2400 block of Covelite Way off Whitetail Drive in the City of Antioch.
It was reported that brush and trees were on fire and CONFIRE reported a column of smoke was showing as they were responding.
It was reported that the fire was behind multiple homes and by 1:29 pm, a structure protection alarm was issued. At least one person was injured after sustaining smoke inhalation.
It was reported that at least 3 fences were on fire with the fire running up the hill.
Just before 2:00 pm, it was reported that forward progress was stopped and they were going to begin mop up duties for the incident.