With a freshly minted high school diploma in hand, Shagoofa Khan, 18, has spent her first summer post graduation preparing for her run as an Antioch Unified School District Board Member Trustee.
This upcoming election season, Kahn will be running alongside fellow Antioch resident Ellie Householder, 25. The pair have received outspoken support from Antioch's Mayor Pro Tem Lamar Thorpe, as well as Council Member Monica Wilson.
"I encouraged both of them to consider running. When it became clear that the two incumbents were not seeking re-election, I offered my full support. They would be a huge asset to the board of trustees because they bring a recent and fresh perspective about the lack of youth programming, the need for a teacher force that's more reflective of Antioch and Oakley, and how the district can better support teachers," said Thorpe.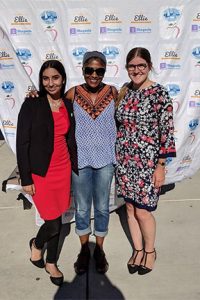 On August 4, Thorpe and Wilson hosted a campaign kick-off party for Kahn and Householder. At the event, which was streamed live on Facebook, Thorpe expressed sentiments of admiration for the pair, dismissing any notion that Kahn and Householder are too young for this position.
"People who have been around for decades have been delivering nothing. What do you mean she's too young? We need new ideas in our school district," said Thorpe.
Kahn, who is a Dozier-Libbey Medical High School graduate and was also named Antioch Youth of the Year, says her aspirations for this position are to strengthen the K-12 schools in the district as well as redirecting the focus of the AUSD to the students and their needs.
"We need more people who are connected to the students, who are there to look at the greater things and promote student excellence," said Kahn, of those in positions of power in the school district.
Some of the changes Kahn hopes implement if she is elected were influenced by her involvement with Local Control Accountability Plan (LCAP), which is also where she met Householder.
"I have known Shagoofa for over two years now and I met her through our LCAP work…She is an extremely talented, intellectual, and passionate woman who cares as much about Antioch as I do," said Householder about her running mate.
The pair have both been involved with LCAP for several years, and together their experience gives them a thorough look at, and grasp of, the inner workings of the AUSD. But Kahn's involvement in both school and district wide organizations and programs goes beyond her work with LCAP.
She was also involved with Parent Teacher Student Association, Positive Behavior Intervention and Support, and worked as a Tobacco Prevention Trainer, and for a short time this summer, worked as an intern for Contra Costa County Supervisor Diane Burgis. Her experience in these positions prior to her run for AUSD Board Member Trustee, she says, has given her the experience she needs.
Kahn is heavily focused on providing better materials for students, promoting a positive school culture and environment, and offering social and emotional support to students.
"We're trying to work on getting more training for the office aides to have better customer service…A lot of parents complain about how the office aides treat them," said Kahn, citing the importance  parent happiness and satisfaction in the district.
Further, she explains, that students should be the highest priority.
"We have no psychologists at our schools. They do have them for the special-ed, however, we do not have them for the regular students. Suicide rates are going up because students are depressed…we need more people who are qualified to be there at our schools and to be there for the students. Those are some things that I have definitely been wanting to see more of, and hopefully when I become a Board Member Trustee, I would definitely look into those," said Kahn.
Householder also cites similar concerns for schools and the district as a whole.
"I believe we need new leadership in order to make our good city, a great city. I have always valued education…I am running on a platform to expand before and after school programs to reduce youth violence, enhance school safety to ensure safe learning environments and demand high academic achievement," said Householder.
To critics of her goals for the AUSD, Kahn says, it is all possible through hard work and taking action.
"The support is there. We have different organizations willing to do things for free. It's just the fact of working and looking for those solutions, looking for those organizations that would be willing to come to our schools and work for the students and help support the students…You need to go out there and find the money, you need to go out there and find the solutions. People are all talk, but where is the action," said Kahn.
Khan hopes to inspire others in the community, especially young people, to follow suit in  running for a position if they too want to make a difference.
"If I do get this position, I want to inspire young Muslim-American women, younger generations, to run and to take a stand. We need more leaders in our city, we need more leaders in  our country. We need to stand up against bigotry, and racism, that our government leaders have," said Kahn.
For more information about Kahn and Householder's run for AUSD Board Member Trustee, visit their Facebook Pages at Shagoofa for Antioch School Board, and Ellie for Antioch School Board.

Alexandra Riva is an East Contra Costa County resident who is a senior at UC Berkeley where she is pursuing a Bachelor's Degree in Media Studies with a minor in history. She is a graduate of Dozier-Libbey Medical High School in Antioch.