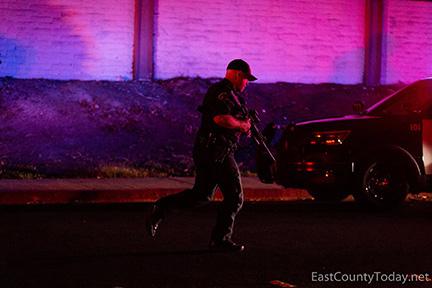 At 7:52 pm Monday, an Antioch Police officer was shot in the head and is in stable condition according to preliminary information.
(Most recent update — click here).
The incident took place at Deerfield Drive near Fawn Hill Way in the City of Antioch. Police are currently in the area searching for the suspect. The officer was reportedly taken to a nearby hospital.
9:00 pm Update
The Antioch Police Department and multiple agencies have a home surrounded with a suspect refusing to come out. Several homes were evacuated.
2:30 am Update:
The man reportedly has surrounded, awaiting more info.
4:00 am Update by Antioch Police:
Antioch Police responded to the above location for a report of a man with a gun.  While on scene, a 32-year-old male resident, shot one of the responding officers, striking him in the head.  The officer was rushed to an area hospital, where he was treated and later released with minor injuries.   Numerous area police agencies responded to the scene and set up a perimeter.
After a 5-hour stand-off, the suspect surrendered to police and was taken into custody without incident.  The suspect is currently in custody at the Contra Costa County Detention Facility.
Any further information or additional press releases will be provided by the Investigations Bureau at (925) 779-6939.
All photos courtesy of Michael Pohl