On Sept 29 at about 11:02 am, Fremont Police patrol units were dispatched to do a welfare check on the residents of an apartment in the 3900 block of Monroe Ave.
Upon arrival, officers discovered a deceased female in her sixties.  The investigation indicated this was a homicide.  The level of violence involved in the homicide was severe.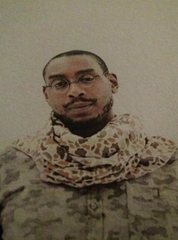 As a result of the investigation, a suspect has been identified in the homicide:  Omar Malik Pettigen, age 31.  Pettigen is the son of the deceased female.  Detectives have obtained a warrant for the arrest of Pettigen for the homicide.
Pettigen is an African-American male, age 31, approximately 5 feet 11 inches tall; about 150 pounds; brown eyes and black hair.  Pettigen is a Fremont resident.
Pettigen has been known to frequent Oakland and San Francisco, and may have access to firearms.
If you have information of his whereabouts, please contact your local law enforcement agency or the Fremont Police Department at 510-790-6800 immediately.
UPDATE:
On Sunday, October 4, 2015, at approximately 5:45 am  the Kensington Police Department received a call of a suspicious male with a duffel bag on the back porch of a residence on Lake Drive. Officers located the male walking along the roadway and detained him.  The male was identified as 31 year old Omar Pettigen, who was wanted in connection with the September 29 homicide that occurred in Fremont.  Kensington Police took Pettigen into custody on Fremont's homicide warrant without incident.
Fremont Detectives transported Pettigen to Fremont where he was interviewed.  Pettigen was booked into the Fremont Jail this evening on the charge of murder.
Fremont detectives are confident there are no outstanding suspects in this case.
We would like to thank the Kensington Police Department for their assistance.
Pettigen will be arraigned at the Fremont Superior Courthouse on Tuesday, October 6, 2015, at 2:00 p.m.