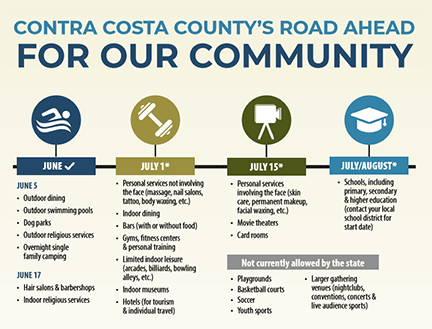 As Contra Costa County approaches the July 1 target to reopen businesses and activities, Contra Costa Health Services is anticipating a potential delay because a spike of coronavirus cases is occurring.
Supervisor Diane Burgis confirmed the possibility of a delay on Friday morning.
"Based on current trends, slowing down the reopening may be warranted. While a decision won't be made until Monday, I want to make local businesses aware of the possibility of a delay so that they can hold off on rehiring employees and ordering food and other supplies. I don't want them to suffer additional economic hardship from a reopening and subsequent close."
Supervisor Burgis also noted that "What is happening right now is the result of interactions that happened weeks ago. As things have opened up, we have seen increases in cases. It will be easier to slow down the reopening than to shut down again later."
"It's not just about Contra Costa County," Burgis continued. "We are right in the center of the Northern California Mega-Region. What impacts the region impacts us, and vice versa. We're already seeing the effects of our residents traveling throughout the region for work, services and recreation. I appreciate the hard work that everyone has already done and thank you for working with us to reopen safely."
What is unclear is if the county will keep the policy as is or revert back to stricter policy. Supervisor Burgis could not provide an answer, noting that the health officials will make that call.
During the past seven days, the number of COVID-19 patients in hospitals across the county has increased 42%.  The seven-day average number of newly identified COVID-19 cases has increased from 39 a day to 68 a day.
According to the state website, as of June 24, there were 195,571 positive cases of COVID, 5,733 deaths in California.
Here is the county breakdown as of June 25:
Alameda – 5,398
Santa Clara – 3,871
Tulare County – 3,656
San Francisco – 3,252
San Mateo – 2,996
San Joaquin – 2,803
Contra Costa – 2,591
Sacramento – 2,519
Stanislaus – 2,130
According to a statement from Governor Gavin Newsom on June 22nd, in the past 14-days, the state has recorded 35.6% of all the cases.  In San Joaquin County, they have seen a 24% increase in the number of new cases since June 14.
Some recent headlines:
Today's news comes the same day as Florida and Texas have closed bars due to the outbreak of COVID-19. With Friday's tally, Florida now has reported nearly 123,000 coronavirus case, with more than 32,000 of them confirmed in just the last seven days.
Press Release via Contra Costa County
Statement from Contra Costa County Regarding COVID-19 Reopening Timeline
Contra Costa Health Services (CCHS) is evaluating whether the county should continue its current reopening timeline, due to recent data showing COVID-19 activity is increasing in the community.
CCHS is closely monitoring key data indicators that show how the virus is spreading in the county and will announce a decision about the timeline Monday.
During the past seven days, the number of COVID-19 patients in hospitals across the county has increased 42%.
The seven-day average number of newly identified COVID-19 cases has increased from 39 a day to 68 a day. The positivity rate of test results – the percentage of COVID-19 tests that came back positive – has also increased. This suggests the change is not simply due to more testing, but indicates a true increase in community spread.
We're also seeing a shift with more young people testing positive. In June, 55% of cases were 40 years and under compared to 38% for that group in April. It's a sign that younger people are playing a major role in driving the increase in new cases and potentially infecting vulnerable individuals. This highlights why it's important for everyone to avoid social gatherings, observe physical distancing and wear masks or face coverings when around others.
CCHS encourages all residents to get tested. Increased testing for COVID-19 is a critical part of the community effort to slow local spread of the virus, and necessary to continue reopening in the future.
Contra Costa's data are consistent with increases in COVID-19 activity now being experienced in communities across the state and the nation.
There is concern that these increases may lead to a surge in very ill people that could overwhelm the local healthcare system. We realize many people are eager to resume normal activities. However, if we adjust the reopening timeline, it will be because we have a chance to prevent the pandemic from getting out of control in the county.
Any change to the timeline would immediately affect businesses and activities that are currently scheduled to resume July 1, including indoor dining, bars, gyms, hotels and some personal care services, including nail salons and tattoo parlors.
CCHS is releasing this information today to provide businesses and residents as much time as possible to prepare for a potential change to the timeline.
With the Fourth of July weekend approaching, CCHS also reminds everyone that it's a healthy choice to observe physical distancing when outside the home – maintain six feet of space whenever possible – and to wear face coverings. Anyone who feels sick should stay home. People should also wash their hands frequently.