On Tuesday, after a heated three-hour debate, the Brentwood City Council unanimously agreed to appoint the second highest vote getter in the recent mayoral election to the vacant council seat. This now clears the way to have Karen Rarey accept and be appointed to the position.
The move came after a testy meeting between public commenters (approx 60 emails & 40 speakers), city council members jabbing back and forth at one another and two failed motions—at one point, Councilwoman Jovita Mendoza accused Mayor Joel Bryant of shutting her down because she was a female.  In the end, Vice Mayor Johnny Rodriquez caved to prevent spending money on an election and agreed to the second highest vote getter.
Back on December 15, the council punted a decision on how to move forward with filling the 5th council seat in favor of a survey. The council could not come to a consensus on the following three options:
The council will decide between an all-mail special election which would be held on May 4, 2021 at a cost between $140,488 and $200,640
or could do a polling place/mail ballot special election on Nov. 2 at a cost between $200,640 and $280,896.
Or, the council can elected to perform an appointment process to fill the vacant at-large seat. In this process, applicants would apply for appointment and qualified applicants would be interviewed at a Special City Council meeting with applications due January 4 and interviews on January 7
According to the City of Brentwood, since 1949, there have been 18 vacancies on the Brentwood City Council, and these were filled 16 times by appointment. The two vacancies filled by special election occurred when the vacancy resulted from a resignation, not an election vacancy (1984, 2005).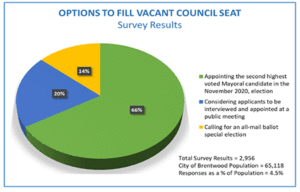 The survey the council put out to the public showed that 66% wanted former councilmember Karen Rarey appointed. She ran against Bryant in the mayors race but lost by 590 votes.
City Council Meeting Recap (Council Discussion)
During council discussion, Councilmember Jovita Mendoza stated it was important that they hear what the residents had to say and that she didn't see this as a compromise between the council, but rather their own ethics, values and morals and was going to stay true.
"You will always know what I think, you will always know who I am," stated Mendoza who continued saying she didn't like residents being referred to as special interests. "I am so proud of the engagement we have in the city. Its amazing to me."
She explained the people of Brentwood are not special interest saying that special interest groups are lobbyist who have an organized organization with membership dues and lobby. She then stated this was a "motley crew" of people who didn't know each other.
Mendoza argued that money is uncomfortable for people to talk about but they had to look at campaign contributions because it influences while highlighting one of the callers was a big donor to the campaigns of Bryant and Rodriquez.
"So I have to sit here and wonder why is someone who donated to your campaign coming out and saying these things," stated Mendoza. "We have to talk about campaign donations, they do influence our decisions, there is no way they don't and I am going to keep talking and saying what I say."
Mendoza said she will align with the people, the 3,000 residents, in supporting the second highest vote getter in the mayoral race.
Councimember Susannah Meyer stated she was passionate about speaking on behalf of people who typically do not have representation, who don't have a voice, and she would not back down on something she believes in.
"Stop acting like children, agenda, learn to compromise, and find common ground, hypocrisy, propaganda, special interest, not dealing in reality, those were things that were said about me and my beliefs in dealing with this vote," stated Meyer. "You all know I am in support of the second highest vote getter for placement into the council. I think our residents have spoken out as many times as they have and the numbers they have, I could not live with myself, I could not go to sleep with at night if I didn't respect their voices."
Meyer was critical of a comment that accused her of not doing enough for equity and inclusion as she explained she was the one who requested this survey be in Spanish and a phone voicemail voice message for those uncomfortable with using online resources.
She explained they needed to be respectful of the 3,000 people who spoke during COVID and the holiday season with less than 2-weeks to respond, along with dealing with mysterious propaganda and yet people still had 66% in support of highest vote getter.
"I am going to say for a second time I am in support of Karen Rarey, the second highest vote getter, I think at some point we need to talk about setting a precedent for this," stated Meyer. "What the people want is what we are supposed to give them."
Vice Mayor Johnny Rodriquez thanked the community for all their input, however, stated he had concerns with the survey.
"For me the survey was more of an advisory survey. It's like having an advisory board in an organization, its an advisory for me," stated Rodriquez. "It wasn't a survey, where what the survey says that's it."
He was critical how there was an error in the survey that wasn't caught until the last few days highlighting how an application and appointment process would cost $200k.
"The timing of the holidays, a large portion of the community is not hear at this moment. A lot of them go to their families, a lot of them leave the country, a lot are not around. A lot are not here. That's a concern, this was 10-days," stated Rodriquez who admitted he has always had a concern with surveys saying a lot of times it's the loudest group who participates. "At the end of the day, it is what it is."
Rodriquez was also critical of the historical context of this process stating the last three times they have done this, there have been three different ways to do it in terms of appointment versus second highest vote getter or a special election. He argued the city had no precedence for selecting a vacant council seat.
He then said he ran for election to serve the community.
"I am not part of any group, any developer, any alliance, any coalition, any special interest. When I ran, I did not run on a platform of any of those, I got support from many groups which is minimum support but I wasn't apart of any groups," explained Rodriquez. "I ran because of lack of representation in the community, a lack of diversity on the council. My thing for running was bring a new voice and perspective on the council, I didn't run for nobody else."
Rodriquez then stated his reason for wanting to select the interview and application process.
"I want to bring equal representation to our community," said Rodriquez. "I really struggle with all of our council members and mayor will be living in one area. From someone who doesn't come from that area, that is very difficult for me. When we talk about equality, that is not equality or equity within the council and representation of the community."
He then highlighted how he walked as many as 200 homes to see where people stood on this and said 98% of people didn't even know about the survey saying there was no flyers, did not go on social media or read a newspaper.
"I don't know why a application and interview process would be so political," asked Rodriquez. "Obviously, Councilmember Mendoza and Councilmember Meyer have been transparent and honest about what you guys feel and I appreciate that and value the opinion of a woman, I work with many of them… if we did an application and process I know for a fact you would not let anybody in there that you felt that had a special interest and I am okay with that because that is your opinion and visa versa and I agree, I don't want anybody to do this or that for any group, coalition, or developer, for any whatever group that is out there. I would like to select somebody with the right intentions for Brentwood."
He argued Karen Rarey could put in an application to be interviewed, along with others, but it would give others also an opportunity to see what they could do for Brentwood and represent the community.
"All four of us would be a part of the process and I don't know how there would be any backdoor politicking going on," states Rodriquez.  "I know neither one of you would let that happen and neither would the mayor… I just feel it's the right thing to do and when we talk for equal representation of the community."
Mayor Joel Bryant defended his track record and all his votes are public stating he answers to God. He also said he has been accused of a lot of things, including lying, yet the conversation was public record and has proven that its not the case.
"Anyone who knows me knows I have worked very hard to keep a good clean name," stated Bryant. "Unfortunately, if I have to eventually take this into a next step to prove it, I can legally prove it because when you are an elected person you don't just get to say whatever you want. Every word that comes out of your mouth you have somebody's attorney attached to it. When people come say things in public comment, they don't have to have any element of truth to anything they are saying and yet as an elected person we are required to uphold the standard of truth. So the things people may think or assume or say just because its said loudly doesn't mean it's true."
Bryant stated he doesn't represent any individual or group other than the community and would not want someone representing special interest appointed to the council but wanted someone who had morals, a free thinker that loves Brentwood.
Bryant stated the application and interview process saves a lot of money, but it also gives people the opportunity to step up and be scene and be heard noting that in the process the second highest vote getter could be appointed, but the rest of the community who is not residing in one side of town could also be represented.
"I still feel that the appointment and interview process is very fair because all of us are going to have to vote and find an induvial that we all have confidence in to represent the community in an outstanding way," stated Bryant. "I know that there are a lot of people that can do that. I have confidence none of us are going to allow special interest group to come over and take over the decision-making process of our city."
Bryant reiterated they were they decision making body and that they do not live in a democracy, but rather a republic that is the people elect them to listen to them and make a decision. He continued by saying the United State was set up by having two opposing opinions come together to make a solution that is a moderate solution that both sides could find benefit.
"I think we need to try and do that here because I know everyone here has said they don't want to spend that kind of money," stated Bryant. "We can use that money for a lot of significant benefit to a lot of local families and businesses."
Bryant urged them to begin discussion a solution in which Mendoza replied she was still uneasy based on comments made by Rodriquez earlier in the meeting.
"The last comment councilman Rodriquez stated was your community trust you and my community trusts me. He is again and again said that he wants representation on his side of town when no one else has said that so I am not comfortable with him ever giving anyone on the west a fair shake," stated Mendoza who admitted they were going to end up dead-locked.
She accused Bryant and Rodriquez of flipping on their position on "sample size" given the debate during Measure L.
"I am just so saddened right now because you don't care about the voters. Again, you go back to an application process which is a farce," stated Mendoza who suggested they just move onto an election.
Mendoza then made a motion to have Karen Rarey fill the seat as the second highest mayoral vote getter with Meyer offering a second. That motion failed in a 2-2 vote with Bryant and Rodriquez dissenting.
Mendoza then made a motion to hold a May 4 mail election which was seconded by Meyer. That failed in a 2-2 vote with Rodriquez and Bryant dissenting.
Rodriquez stated this was going to a special election and was not comfortable spending as much as $280k on a special election and this was not going anywhere.
"We have businesses, we have families that are suffering. We have other things we can do with that type of money. I do want to say though that I am not comfortable taking the second mayoral vote getter but I am not comfortable taking the money from the people," stated Rodriquez who said as a community the city will lack representation. "Its sad we are in this position."
Rodriquez continued stated he would love for anybody to have an opportunity to be on the council regardless of the district they live in and urge the council to begin doing the work of the people.
"So I am okay with moving forward, but honestly I am not very convinced with it but I know it's a 2-year seat just to move forward so we can do the real business of the city," stated Rodriquez who agreed to take the second vote getter for mayor.
Mendoza requested Rodriquez to repeat his motion which didn't please Rodriquez who then made a statement.
"I can honestly say nobody is going to bend here and this is going to become $280k expense that we can use for the rest of the community and I am going to be honest with you councilmember Mendoza I don't feel that this is not a special group that wants Karen Rarey in there and I am not worried about being reelected in two years. I am really not. My thing is I know for us to spend this kind of money during a pandemic is very unfair to our community and its sad we would have to go there because nobody wants to bend," stated Rodriquez who said he would not say anything bad about Rarey but could have given more people an opportunity to sit on this council and wished Mendoza would think the same but they didn't.
Rodriquez then stated they move forward with the second vote getter in the mayoral race who then asked of Mendoza heard it that time.
Mendoza replied "thank you" who seconded the motion.
Meyer then chimed in to correct Rodriquez on her name stating its "Meyer" and not "Meyers" who appreciated Rodriquez change in position.
In a roll call vote, the motion passed in a 4-0 vote in which Bryant stated he would support it in an effort for unity and do what is best for Brentwood.
Mendoza Accuses Mayor Bryant of Cutting Her Off Because She is Female
At around the 50-51 minute mark in the meeting, Vice Mayor Johnny Rodriquez interrupted public comments after a speaker stated he was not running a licensed non-profit. This prompted a response from Rodriquez asking legal if they could speak out against "lies" and "untruths" at which point he said he would never harm Jovita Mendoza's family.
This prompted Mendoza to respond.
Mayor Bryant tried to gain control of the meeting in which Mendoza then accused Bryant of allowing Rodriquez to continue and carry on because "he was a male".  Bryant then muted the entire council to take a moment to cool off.
When asked for statement by Mendoza on her accusation that the mayor shut her down because she was female while allowing Rodriquez to continue because he was male, or if an apology would be offered she explained:
"It was a genuine thought given that Johnny was given ample time to air his grievances during public comments, which is against the meeting rules. If the rules did not apply to Johnny they should not have applied to me, especially given Johnny's seniority and experience with meeting protocol. And no apology is needed.  I mentioned that council meetings are the only time when we can openly discuss issues, and at times it will go sideways, and that's ok, we will always get back on track. I leave all of the emotions behind and start fresh with each meeting," said Mendoza in email.
In a follow up, she was asked if it was wrong to accuse the Mayor of shutting her down for being female. She replied:
"I don't even have an opinion about that…so no comment It's how I get in the moment – I'll move on and won't worry about it," said Mendoza in an email. 
Bryant was asked to explain why he shut down the discussion and for a response to the accusation as to why Mendoza was shut down.
"The reason that I stopped the cross conversation was this. First, I always try to allow for a reasonable amount personal expression of opinion from each member. Keeping in mind that we are required by law to stick to the published agenda. Although Vice Mayor Rodriguez addressed some comments that were directed toward him, he did so while speaking about his decision making process on the agenized item. When the conversation changed from the agenda item to a side conversation that was not on the agenda, then it is the job of the Chair to bring council back to the agenda," stated Bryant.

The council then moved back into its regular discussion.